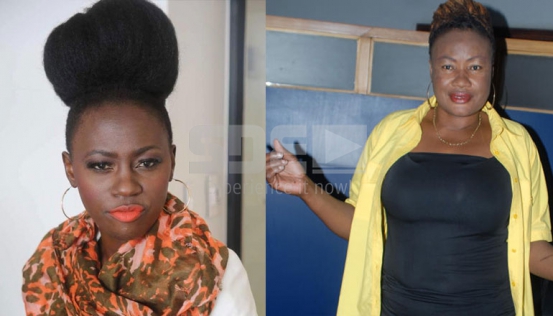 Dunia Mbaya singer Princess Julie and self-proclaimed 'Miss Moneybags,' Akothee are at loggerheads.
According to Akothee, trouble started when she offered a helping hand to Julie.
"I saw it in media that she needed help, so I asked my younger sister to get her number. I even consulted one of my friends who asked me to be careful with her. But I went ahead and contacted her and invited her to come for a holiday in my home in Mombasa," Akothee wrote on her Instagram page.
Akothee claims that she wanted to help her and gauge her situation.
"I sent her money to go to the hairdresser, buy a few clothes and the rest for transport for her and her son. They arrived in Mombasa safe and sound. I accommodated them for five days in my house, not even at the guest quarters, since I wanted her to feel like part and parcel of me."
Akothee claims that tension started when Princess Julie raised havoc after her son allegedly took a picture of her and uploaded it on social media.
"Stop posting my photos with Akothee on Facebook, people will see her with me and think she has given me millions and there is nothing she has helped me with!" claims Akothee.
Akothee claims she offered Julie a sound system to help her make some money until she was stable, and was planning to build her a house later.
"She stood up with pride, claiming 'do you know who I am. I am Princess Julie.' My kids came running downstairs in shock thinking we had a fight. Yes, I am a human being. I could not stand seeing them both in my house. I gave them a driver who dropped them at the bus station. I gave her some pocket money and I was done," concluded a disappointment Akothee.
However, speaking to The Nairobian, Princess Julie claims that Akothee wanted her to sign a contract that would see the two record remixes of her hit songs.
She claims she declined the offer.
"I don't deny that Akothee hosted me at her palatial home and gave me some money, which I appreciate. But I bluntly refused to get into a contract with her, " she told The Nairobian.
Princess Julie further claimed that Akothee wanted to post photos of her on social media and wanted Kenyans to believe that she (Julie) had received financial help and was leading a comfortable life.
"She only gave me Sh10,000. What hurts me most is that she made people, including Good Samaritans like Suzanna Owiyo and Jaguar, who were willing to assist me, believe that she had come to my aid fully, which was not the case. If I knew what I was getting myself into, I would not have accepted her invitation. It now appears she was more interested in using me," Princes Julie alleged.
Related Topics