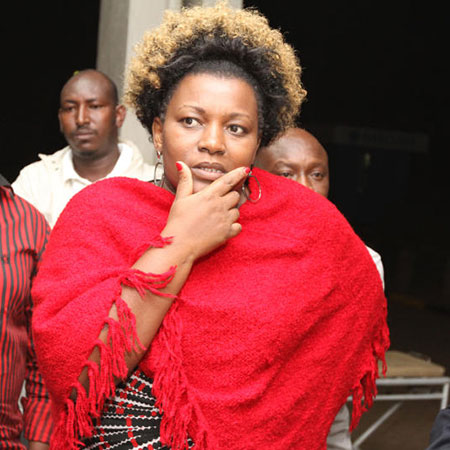 Nairobi Women representative Rachel Shebesh express her feelings when she saw some of the Nairobi Eastleigh Bomblast victim being received at the Kenyatta national hospital after blast killed six and injured several. This was on 31/03/14. PHOTO BY PIUS CHERUIYOT
Nairobi Womens' Rep Rachel Wambui Shebesh is an eloquent, if combative speaker and political brawler. At full throttle, her hair literally 'stands out' like the mane on a lion. She leans forward, jabs a finger in the air and let's rip.
During her stint in Parliament, she spoke 986 times as many men cowered on the backbenches. Born in 1 July 1971, in Nairobi, Shebesh attended Lavingtone Primary School from 1977 to 1985. S
She then went to Kianda School before proceeding to London College of Art and Design between 1991 and 1993. She enrolled for a bachelor of arts, in Political Science at the University of Nairobi in 2007.
Shebesh was appointed in 2007 as the UN Champion for disaster risk reduction in Africa, where her main role is to promote synergy between disaster risk reduction and climate change adaptation in Africa.
She works closely with African parliamentarians to obtain political commitment to disaster risk reduction policies. She is also the Chair of the African Parliamentarian Initiative for Climate Risk Reduction (APICRR).
Shebesh is a member of the Pan African Parliament, and Rapporteur in the committee on Gender, Family, Youth & People with disability-Pan African Parliament (PAP). The mother of three is also the Vice-chair of the African Parliamentarian's Network against Corruption (APNAC).
When not in Parliament, Shebesh is a dedicated champion for the Kenyan Disability Network and a special adviser to UNIFEM at the Kenya office.
She is the Vice Chairperson: African Parliamentary Network against Corruption (APNACH), Kenya Chapter and Assistant Treasurer: Kenya Women Parliamentary Association.
She is also a Life Member, League of Kenya Women Voters Member, The Pan-African Parliament, Kenya National Assembly Library Committee and the Kenya National Assembly Procedure and House Rules Committee. Before joining politics, Shebesh served as an administrator at Marion Schools and ran a fashion and design company.
Related Topics