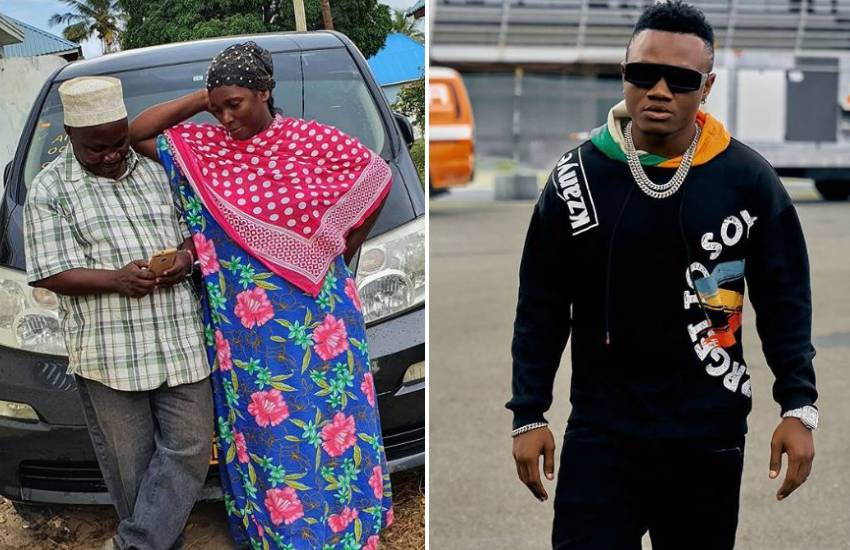 Barely a week after Tanzanian singer Mbosso moved his parents to a new house, the Hodari crooner has whipped out a new ride for his folks.
According to a statement he shared on Instagram, Mbosso underscored what many go through to uplift the lives of their kin and reiterated that such struggles will one day pan out.
Noting that dreams do come true, Mbosso engaged with his over 2.9 million followers in prayer, hopeful of a grander future.
"Mwenyezi Mungu atutimizie ndoto zetu vijana wote tunaopambana kwa ajili ya wazazi wetu na kesho yetu pia" Inshaallah." Comment "Amini Inshaallah" kama unaamini kuna siku utatimiza ndoto yako yakuwapatia zawadi yoyote wazazi wako," he wrote.
Read Also: It's stupidity - Mbosso on Kenyan who traveled to Tanzania to marry him
Real name Khan Kilungi, the singer in March on the headlines after he adorably handed his parents the keys to the house he built for them after making it bigtime.
"Alhamdulillah Rabbi Alaamin". Nina kila sababu ya kumshukuru Mwenyezi Mungu kwa kunipa nguvu na mimi ya kutimiza ndoto hii niliyokuwa naiyota kila siku kwa ajili ya wazazi wangu. Leo hii wazazi wangu wanaanza kukaa kwenye nyumba ambayo mtoto wao nimewajengea kwa Jasho langu, asante Mola wangu"," said Mbosso.
He added that whilst the house is by no means a mansion, the joy it brings is unparalleled.
"Pengine ni kijumba Kidogo sana kwa Wengine ila kwangu ni kitu kikubwa sana maana sikuwahi hata kutegemea kama ipo siku na mimi nitajenga hata kibanda kwa ajili ya wazazi wangu "Wallah sikuwahi tegemea "Allahu Akbar " Mungu ni mkubwa," he went on.
The singer who first tasted success with the now-defunct YaMoto Band further pleaded with his fans not to let him go as they are part and parcel of his success story.
"Asanteni kwa kunisapoti, asanteni kwa kuusapoti mziki wangu. Asanteni sana maana bila ya nyinyi nisingeweza kutimiza hili ... Naombeni msiache kunisapoti Kijana wenu , bila ya nyinyi mimi si kitu," wrote the singer.
Generous to a fault, he two months ago footed the hospital bill of one of his biggest Kenyan fans, Mzee Jamal Ismail.
Read Also: Diamond gifts Lavalava and Mbosso sleek new cars
The late Ismail, or as he fondly referred to as "Mzee wangu wa Nipepee", died at the Coast General Hospital after health complications.
"Kupitia wewe ulifanya watu wazima wote waanze kuwa Mashabiki zangu kila sehemu…naumia mzee wangu," grieved Mbosso.
Months earlier, the WCB signee had during the Wasafi Festival in Mombasa, in a celebration of their friendship, invited the deceased on stage to share his glory as a top performer from the rich roaster presented by WCB that year.
Related Topics