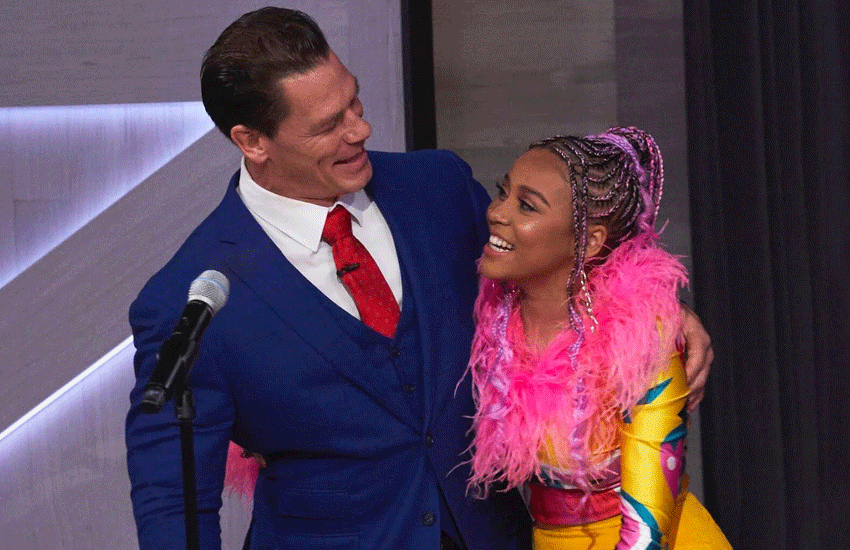 South African rapper Sho Madjozi has finally met her icon, WWE wrestler John Cena.
Cena surprised Madjozi in California as she performed her hit single "John Cena" on 'The Kelly Clarkson Show'.
Her reaction on realising that the popular wrestler whom she dedicated the viral hit was on set, behind her, as she sang her heart out, was priceless.
"What do you mean? You said he's not here," she screamed excitedly at Kelly Clarkson in the episode that has been widely shared online.
Just as he did when he previously appeared on The Ellen DeGeneres Show, Cena grooved to the enchanting tune to the delight of the audience and millions of Madjozi's fans worldwide.
"I don't know if he posts for himself but on his page, he put a picture of me and he doesn't say anything, he doesn't caption or tag me or anything. I love him, I don't know what I will do if I see him", said Madjozi on opening up to her admiration for the WWE star.
The 27-year-old Limpopo native released the John Cena track in August this year and has since become an online sensation, especially in Kenya, for her catchy, flowery Swahili.
Thanks to her strong punchlines, beats and well-arranged Swahili lyrics, the song continues to garner popularity among netizens.
'Unajifanya hunioni labda mimi John Cena, ulinifanya mfungwa wako labda mimi Madiba' she sings.
Sho Madjozi first appeared in the music scene in 2017 with her debut single "Dumi HiPhone" produced by PS DJz and quickly became a must-play track for in her home country- South Africa.
In March last year, she released one of the biggest songs of the year, "Huku" which saw the rapper become a household name across Africa.
She recently became the first female South African artist to win a BET award, and, by extension, the fourth South African artist to win a BET award for Best New International Act.
Related Topics