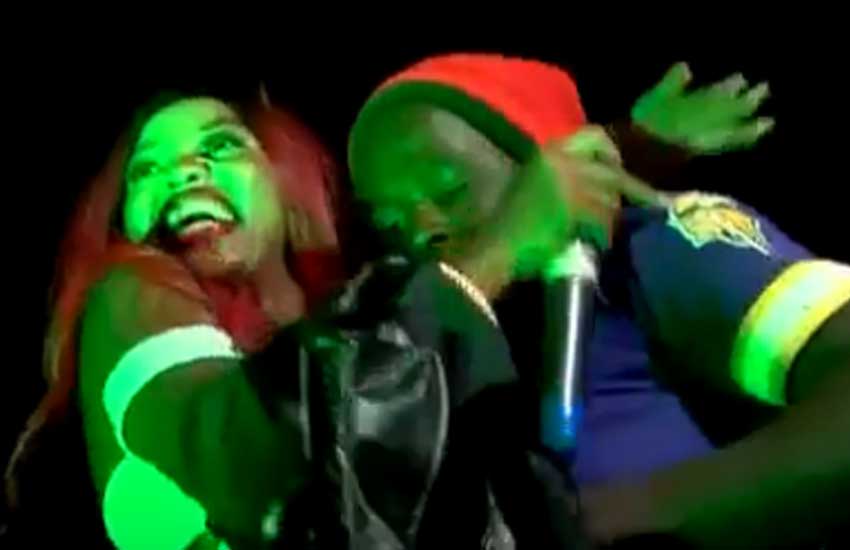 Controversial Ugandan singer Spice Diana left fans speechless during a recent concert after calling two fans on stage and allowing them to grope her.
The singer, in a video that has now gone viral, is seen calling a fan on stage to dance.
The fan, donning a Daunte Culpepper Minnesota Vikings' Jersey and carrying a tumbler half full with booze, steps up on stage and enjoys a steamy dance with the singer, caressing her body as the crowd watched in amazement.
A few minutes later, Diana calls yet another fan on stage, this one hyper than the first. Seconds after stepping on stage, the fan walked straight to Diana and whispered something in her ear.
She's then seen pointing at her chest with a "this one" face, then continues to show the man and lets him fondle her before chasing him off the stage.
The Twebereremu singer, however, is not new to such controversy. While releasing her new video Bwebityo a few weeks ago, the singer was forced to address rumours that she's sleeping with fellow singer Weasel.
"I am not sleeping with Weasel but also, whoever I am dating is my personal business," Diana said. She went on to add that the two are just musical friends who enjoy each other's company.
Watch the video below:
Related Topics