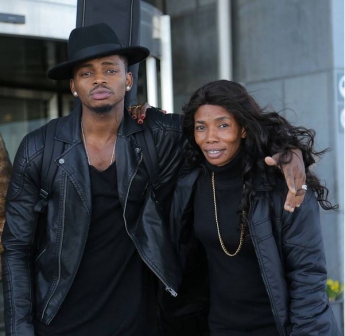 By Wesley Kipng'enoh (@Wess_kipp)
Tanzanian star Diamond Platinumz has revealed why his mother accompanied him on his world music tour in Europe dubbed From Tandale to the World.
Diamond who performed in eight cities across Europe said it was time his mother got to know how it felt to have a celebrity singer for a son.
"All this time, my mother has not been able to travel to Europe or abroad in that matter but has religiously been listening to my music at home." He said.
He pointed out that it was important that they go together because according to him " life is short": "Inaweza kuwa kesho au kesho kutwa nikadondoka nikafa halafu mama yangu akabaki tena kuisikia nikaona ni bora kwenda kutoana ushamba kabisa (I might fall and die and she(my mother) will sadly be left listening to my music as opposed to being their physically with me. So I thought best we go with her so we could both get urbanized the European way)
The "Ntampata Wapi hit maker added that he would continue with his world tour with three shows coming up in the United States.
His European Tour had been riddled with controversy after it was claimed that the artiste had had a misunderstanding with his partner Zari.
It was said that Diamond's mum came in handy as she had to talk to the two who have disagreed about some fans who had dance with Diamond on stage. The report had further indicated that the two had slept in separate rooms owing to the disagreements.
Related Topics