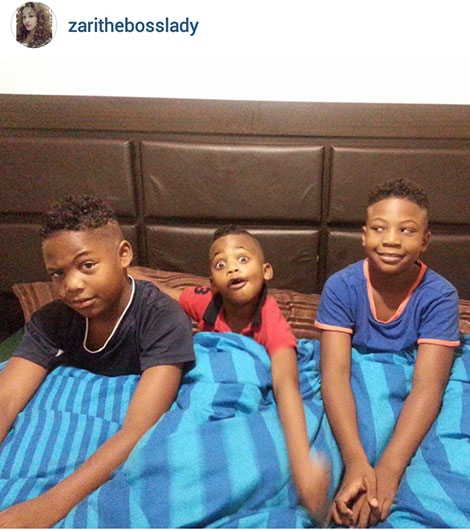 By Brian Okoth (@BrianOkoth2)
Ugandan socialite and business woman, Zarinah Ntale, best known as Zari, is a mum of three boys whom she loves and would do anything for.
The beautiful 41-year-old recently posted a photo of her three boys on Instagram. She captioned it with words showing the extent she would go to ensure her kids enjoy utmost comfort: "Good morning family. With all the money the family trust fund has, my boys could use a new imported family maid, cleaner, nanny, chef, gardener and much more from USA. All duties to be assigned by me and the boys."
Fans did not hesitate to show love and admiration to her children:
Juribeuty: Mashallah! Watoto wazuri. Mungu akueke zaidi, Zari.
Mariatuku: Beautiful kids
They_call_me_Mainda: Cute babies!
Hawah.Saidi: Wow! Your soldiers are looking smart. Congratulations Zari.
_hk_quaa: I love these boys, I wish they were my brothers
Mgonimdaku: You are blessed to have good-looking boys, Zari
Nanzree: Mother's love for handsome soldiers
Zari Hassan is pregnant for her boyfriend, Tanzania's Diamond Platnumz, and is yet to reveal her unborn child's gender. However, she recently posted a photo of a baby girl's dress on her Instagram handle, perhaps a hint of the unborn baby's gender.
Related Topics