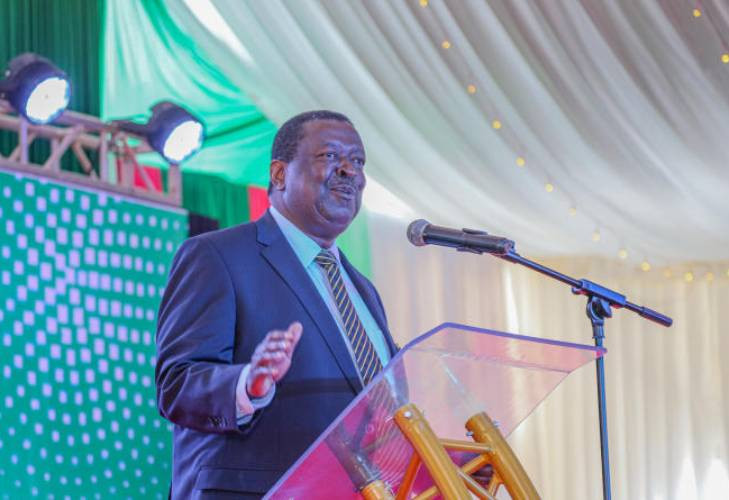 Prime Cabinet Secretary Musalia Mudavadi has expressed Kenya's unwavering commitment to supporting neighboring countries in their pursuit of long-lasting peace and stability.
He made the remarks while representing President William Ruto at the Summit of Heads of State and Government of the Signatory Countries of the Framework Agreement for Peace, Security, and Cooperation (PSC) for the DRC Congo and the Region in Luanda, Angola on Saturday, June 3, 2023.
The summit serves as a platform to assess progress and discuss new developments following the 11th session held in May in Bujumbura, Burundi.
Mudavadi emphasized the importance of collaboration among African nations to tackle the root causes of conflict and foster a more peaceful and prosperous continent.
"Kenya's commitment to supporting its neighbors in their quest for enduring peace and stability aligns with the African Union's objective of promoting African solutions to African problems. By working together, African countries can address the underlying causes of conflict and construct a more tranquil and prosperous continent," said Mudavadi.
During the summit, Mudavadi presented Kenya's stance on efforts to restore peace and stability in the DRC Congo and Sudan.
Heads of state and government from various African nations called upon conflicting factions in the DRC to engage in significant and sincere dialogue with the aim of resolving the ongoing conflict.
Accompanying the Prime CS were Aurelia Rono, the Principal Secretary of the State Department for Parliamentary Affairs, Andrew Mujivane, the Charge D'Affaires at the Kenyan Embassy in Angola, and a team from the Kenyan Foreign Affairs responsible for the DRC Peace Process.
Mudavadi departed the country on Friday to attend the two days summit.
Related Topics