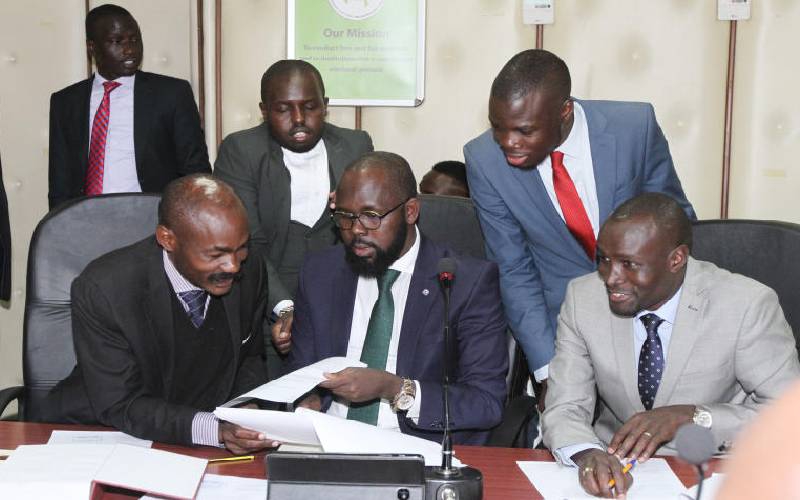 Two Independent Electoral and Boundaries Commission (IEBC) official gave conflicting statements before the Dispute Resolution Board hearing the appeal by Jubilee's Macdonald Mariga's over his eligibility to vie for Kibra seat. Appearing before the board chaired by Wafula Chebukati, Starehe IEBC registration officer Ismael Yassin said Mariga was an eligible voter and was in the system after being registered on August 26. Armed with the Biometric Voter Registration System (BVR) machine, Yassin told thew board that indeed Mariga was in the system. "On August 26, he came to our offices and I issued him with Form A, took his biometrics, before giving him the acknowledgement slip," he said.
SEE ALSO: Akombe: Chiloba warned me over testifying in Msando death probe
Yassin, however, could not explain how he managed to capture Mariga's details in the BVR kit without the footballer's signature. "That was an omission, we only realised that he (Mariga) had not signed the form after he had left," Yassin told Chebukati who wanted to know why the footballer did not sign the form.
Due diligence
However, another commission's official maintained that after a thorough scrutiny of the Kenya Integrated Election Management System (KIEMS) kit, she failed to find Mariga's details leading to the invalidation of his candidature. Kibra IEBC Returning Officer Beatrice Muli said that the commission took Mariga's documents through the same process other candidates underwent but unfortunately, his name was missing from the KIEMs kit.
SEE ALSO: Ezra Chiloba: After polls storm, I found new purpose in farming
"We received Mariga document on September 10 and put them through the nomination process using our checklist but could not find his details," she said. Muli said that the only way to know if a candidate is a registered voter is through checking his details in the KIEMS, a test Mariga failed. "Upon presenting his ID cards, his details could not be found in the KIEMS, I had no otherwise," she said. Mariga's legal team led by Elisha Ogoya had challenged Muli's decision to invalidate his candidature terming it illegal. "The complainant has acknowledgement slip issued by IEBC, he was a holder of that slip as at the time he represented his nomination papers to the respondent. The validity of the slip has not been questioned at all," argued Ogoya.
SEE ALSO: IEBC likely to use KIEMS in 2022 elections- commissioner
"Mariga applied for registration on August 26 after the vacancy was declared on August 14 and IEBC gazetted the by-election on August 16, two days later. But Muli insisted that by law, the applicant's details must be forwarded to IEBC headquarters for verification before being updated in the KIEMS which is the voters' roll recognised by law. "The application is pending and is yet to be captured in the roll. The law is clear and that is what I followed," she said. Muli is reported to have been prevailed upon by Chebukati to clear Mariga but declined, saying in the event of anything, she will be held personally responsible. "The law states that IEBC election officials will be held personally liable for any electoral offence." The IEBC will issue a ruling on the appeal on Monday next week.