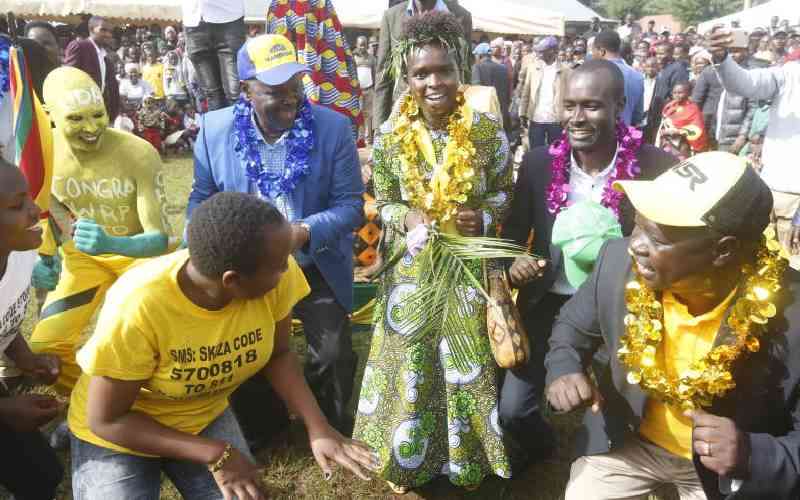 The nomination of Martha Karua as the running mate of former Prime Minister Raila Odinga was a watershed moment for a country that is still grappling with wide gender gaps.
It was a culmination of many years of small steps forward, some tokenistic – Cabinet and parastatal appointments – and others legal, including constitutional guarantees for gender inclusivity. Together, all these measures generated a momentum for change that may mark yet another milestone on Tuesday when Kenyans go to the polls.
This is not only if Azimio La Umoja-One Kenya coalition, under which Ms Karua, belongs forms the next government, but also if Kenyans put more women into elective offices in next week's elections.
Putting more women into these political offices in the upcoming polls, analysts say, matters.
This is because, as former US President Barack Obama put when he visited Kenya in 2015, you can't have a team that is playing without half of its players.
"Equal or increased representation of women will lead to a blending of visions, and paves the way for the adoption of more comprehensive and inclusive solutions than if they're conceived from only one perspective," says Chryspin Afifu, the Gender & Women Economic Empowerment Specialist at the International Centre for Research on Women (ICRW).
Studies show that when women find themselves in leadership, they tend to make people their priority. This is unlike men who tend to make power their priority.
"This is what Kenya needs to heal, to build back better economically, improve health outcomes and compete at global level in the happiness index," says Afifu.
So far, the numbers do not look good with women elected to Parliament barely meeting the constitutional threshold of one-third representation.
There are several elective positions in Kenya. But save for the 47 county woman rep positions where women compete amongst themselves, their numbers are low in the other positions such as governor, member of the National Assembly or senator. This has remained a sticky issue whose impasse was never solved by the outgoing Parliament.
Of the 47 governors in 2021, only three were women, or a dismal 6.4 per cent.
These were Charity Ngilu of Kitui County, Anne Waiguru of Kirinyaga and Anne Kananu of Nairobi City.
There were more women senators, 22 out of 67, in 2021. But this was largely due to the legal requirement that political parties nominate women to the Senate.
Of the 349 members of the National Assembly, only a fifth, or 75, were females.
At ward-level, women comprised more than one-third of the positions at 33.6 per cent of MCAs in 2021, official data shows.
Although the proportion of seats held by women in Parliament has increased from 9.82 per cent in 2010 to 21.6 per cent last year, it is still low compared to global average of 26.1 per cent, according to a World Bank report, Kenya Gender Landscape.
This, reckons Afifu, could change in this election if women, who make up a huge chunk of the voters, can organise themselves and determine the next leadership that will be responsive to the country's priorities.
Gender-based violence
The World Bank report noted that despite some progress made by Kenya, gender gaps, gender-based violence, and disadvantageous social norms facing women and girls persist.
Consequently, the 2022 report adds, gains in human capital of women and girls remain untapped.
According to ICRW, turning human capital investments into economic gains means addressing multiple barriers to women's economic empowerment, "including improving their voice and agency."
Various studies have shown that gender parity leads to collaboration and paves the way for more inclusive solutions especially as economies recover from Covid-19 pandemic, which has demonstrated that women are more resilient and could turn around economic opportunities and improve livelihoods both for their households and the economy.
Moreover, according to ICRW, creating leadership environments with gender parity leads to healthier, stronger and more consensual decisions.
There is also an increase in leadership qualities like empathy, compassion, communication and collaboration that become part of the DNA of the country, says Afifu.
Independent Electoral and Boundaries Commission (IEBC) 2017 data shows that women accounted for 46.6 per cent of the 19.6 million registered voters. With the current 22.1 million voters and overall increase of 12 per cent from 2017 expected to participate in Tuesday's polls, the percentage of women voters is estimated at 48 per cent, a figure that cannot be ignored.
During the launch of the voter registration exercise early in the year, IEBC Vice-Chairperson Juliana Cherera stated: "Women make a great contribution in the social and economic space. Why don't we make the same in the political space? Keep on pushing because very soon we might achieve the two third gender rule."
Indeed, there is some progress that has been made on enhancing gender equity. The World Bank data showed that 71 per cent of females aged over 15 years in 2019 were in the labour force compared to a global average of 46.3 per cent.
This was close to 75.6 per cent of males that were in the labour market.
However, the gap is wider when you look at the wage employment with 42.8 per cent of females compared to 58.4 per cent males had jobs that offered a regular paycheck.
Data from the Kenya National Bureau of Statistics (KNBS) showed that of the 79,909 Kenyans in wage employment that took home more than Sh100,000 in a month, only 29,807, or 37.3 per cent, were women.
These economic gaps could easily be cured with increased political representation of women.
Afifu regretted that while women constitute slightly over half of the country's population, they represent only 23 per cent of MPs against the constitutional minimum threshold of 30 per cent.
Access to resources
Dr Joy Kiiru, an Economics lecturer at the University of Nairobi, says this disconnect between women voters and women leaders boils down to two reasons.
One, she said, is the cultural norm that women cannot lead. It is an idea that even the womenfolk themselves have swallowed hook, line and sinker, hence the statement: 'women are their own enemies.'
"This is the idea that if women lead, things are not going to go properly," said Dr Kiiru.
Second, the don explained, is the gender gap in access to resources. Elections in Kenya are very expensive. Voters tend to be lured with goodies such as handouts.
"Women do not have that kind of money. And so they cannot even attract a crowd. The only way this can change is if we have more women… and change our idea of leadership," she said.