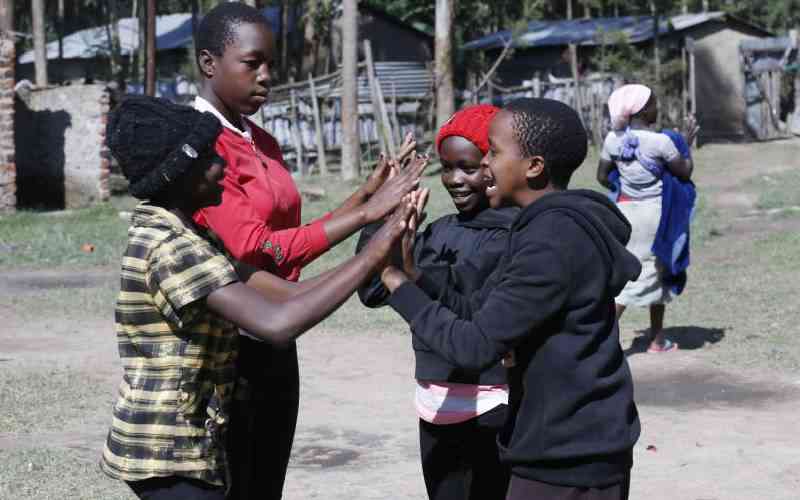 Parents and teachers were Monday, August 1 caught unawares by the sudden closure of schools by Education Cabinet Secretary George Magoha.
Magoha said schools must close Tuesday, August 2 as opposed to his earlier communication that the institutions would close on Friday, August 5.
Many parents were Monday evening coming to terms with the announcement that also indicated that students will be required back in school two days after the election.
"Schools and parents are advised to ensure that learners from all basic education institutions proceed on their half-term break effective Tuesday, August 2, and resume on Thursday, August 11. This communication supersedes any earlier communication," said Magoha in a circular dated August 1.
Parents who spoke on Monday expressed concerns over the safety of their children and the abrupt expenses they have to deal with.
Most said they were planning to send their children bus fares by Thursday, August 4.
The announcement also created anxiety among parents who have to pick up their children from school.
Beatrice Waithera, a parent in Nairobi, lamented the manner in which the ministry had handled the situation.
Not practical
"They should have told us much earlier so that we make the necessary arrangements. It has been such a headache making my sons' travel arrangements. I think the ministry is becoming irresponsible," she said.
Nicholas Maiyo, the National Parents Association chairman, captured the sentiments of most parents.
He said travelling a day after elections will not be practical, and urged Magoha to reopen schools on August 15.
"Announcement of the presidential results is likely to be on August 10 or a day after. Travelling by public means immediately will pose a challenge to teachers and students," Maiyo said.
Maiyo said that such abrupt communication creates a burden on parents.
"When schools close, parents are often asked to facilitate the learning of children at home and can struggle to perform this task. This is especially true for parents with limited education and resources," he said.
James Maina, a teacher in Nanyuki, faulted Magoha for creating unnecessary confusion among stakeholders in the education sector.
"The ministry is able to plan much better for the date instead of giving abrupt notices as if the date of the election was an emergency," he said.
It also emerged that learners were to sit mid-term examinations before proceeding on a break.
Kenya Union of Post-Primary Education Teachers Secretary General Akelo Misori said the closure will seriously disrupt the delivery of the curriculum.
"Most schools had scheduled internal exams ahead of the original closing date on August 6. Parents with children in boarding schools had made travel arrangements based on the original calendar," Misori said.
School managers also weighed in saying that they had planned to keep children in school until Friday. Those who spoke to The Standard said they would be counting losses, especially on perishable goods that had been procured to sustain learners for a week.
Kenya Secondary Schools Heads Association (Kesha) national chairman Kahi Indimuli said many schools purchase food in bulk to save them from the unstable food prices.
"Most schools purchase their supplies in advance and in bulk due to unstable food prices, meaning most of them have huge stocks with them and regular interruption will affect them," he said.
He said the early closure has left parents and school heads grumbling.
Magoha, however, explained that the announcement was a government position.
"I hereby convey the government's decision on the immediate closure of all basic learning institutions with effect from Tuesday, August 2 to ensure that preparations and conduct of the upcoming elections are carried out seamlessly," stated Magoha.
A teacher's union also weighed in, faulting the rush decision by Magoha.
Kuppet termed casual, the manner in which the Ministry of Education announced the closure of schools.
"The school calendar is not a property of the Cabinet Secretary for Education which he can shuffle as he wishes. The calendar is a pertinent planning tool for schools, parents and learners themselves," said Misori.
Misori said it is not logical for the schools to open just a day after the exercise, noting reopening of schools still hangs in the balance.
"The Cabinet secretary wants schools to re-open on August 10 – a day after the elections. This is outright impractical since the elections will take nearly a week to conclude. Moreover, parents need reasonable time to assess whether their children can travel and settle in school safely," he said.
Misori said the government's rationale for the closure is totally lame and wondered who it consulted before arriving at that decision.
"The immediate question is consultation with who? Any stakeholder with a legitimate interest in the school calendar would have advised against the hasty decision,'' he said.
The development comes as IEBC gazetted more than 200 schools that will be used as tallying centres. These include Jamhuri High, St. Theresa's Girls, Aquinas High, Friends School Chavakali, Isiolo High, Kangaru Girls, Nyeri Primary, Kiambu High, Mang'u High, Thika High, Moi Girls Kapsowar, St. Patrick's Iten, Kabiyet High, Samoei High, Burieruri High and Maua Girls.