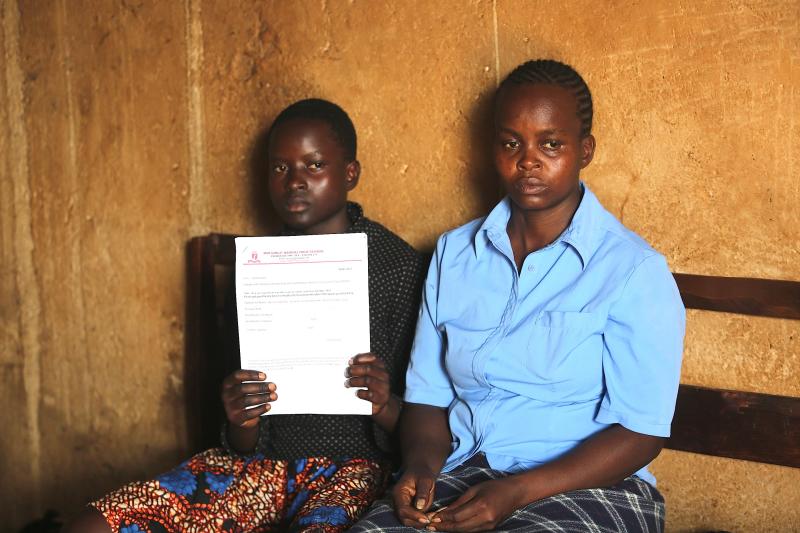 Two siblings who scored 413 and 378 marks in last year's Kenya Certificate of Primary Education (KCPE) examinations have not joined Form One for lack of fees.
"This may be the end of the road for us; our dreams will be shuttered if we fail to get support," said Lonah Agape, who obtained 413 marks. She added: "I felt happy after receiving admission letter from St Brigids Kiminini Girls."
Her sister Ann Veronica is supposed to join Bishop Njenga Girls. Their parents, Aggrey Akoyo and Pamela Akoyo, are jobless and have been doing menial jobs in Kimbo, Lugari, Kakamega County, to earn a living. "The girls have applied for scholarships and bursaries unsuccessfully. We appeal for help," said Mr Akoyo,
Agape wants to become a teacher and Veronica pursue nursing after completing secondary education.
Brighton Kivutia, another student who scored 352 in 2020 and repeated Standard Eight in 2021 for lack of school fees, is not sure of joining Form One for lack of fees, even after scoring 388 marks.
Kivutia is expected to join Maseno School, but his parents have no money to pay fees or buy requirements. "I appeal to well-wishers or government to help me continue with education and achieve my dream of becoming a doctor," said Kivuta.
His ailing father John Simiyu said the family had spent a lot of resources on his treatment. "We sold our property to meet medical expenses, now there is nothing left."
Ms Janipher Abwao, a teacher at Kivutia's former school, said the child was disciplined and hardworking.
Still in Kakamega, The Standard found Lilian Karani stranded at an eatery she runs, a Form One admission letter for her daughter Sylvia Akinyi in hand.
At the next table in the small room where Karani operates the business was Akinyi, who sat her Kenya Certificate of Primary Education examinations at Shirongo Primary School in Kakamega County last year. She scored 327 marks despite numerous challenges.
"Akinyi would have scored better grades had the situation at home been better," Mr Musa Ndavane, her class teacher, who told us of the eatery, said.
"She is a very hard-working, bright, and polite girl. She has endured a lot of difficulties in her home life; making do with the little her mother can get from a small eatery business that is on its knees at Butali market," he said.
Mr Ndavane said a determined Akinyi would walk 3km every morning to school and back in the evening. "She comes from a poor and troubled background. I put her on a school feeding programme to help her concentrate on studies. I also exempted her from most school payments and there were times I paid motorbike riders to take her home in the evening. This girl can do better given a chance," Mr Ndavane said.
"My daughter performed well and got an admission letter from Moi Girls High School Nangili, but I lack school fees," Ms Karani said.
The woman is still struggling to pay school fees for three of Akinyi's siblings in secondary school after Covid-19 messed the business that sustained them. "I can no longer afford to pay fees for my children. Most of the time they are sent away for lack of school fees. This eatery used to sustain us before Covid-19 hit. I have spent all the money I could have used to increase my stock and now I have nothing to sustain my business. In fact, I have no place to call home. I live in a small house a sympathiser allowed me to occupy after I was kicked out of rental houses several times," Karana says.
It is in the house Meshack Omollo, a businessman, donated to them that Karani and her children now live in. Karani's only wish is that her children get a good education, which she says she is unable to provide.
"I feel sad every time I look at my daughter, fully aware that she will not be joining secondary school because of poverty. Look at her, she feels bad that her mates will be joining secondary school while she remains at home."
"I cannot apply for any bursary because ideally, a student has to report to school first. Unfortunately, I do not see my daughter going to her school unless someone comes to my rescue. I do not have a single cent on me".