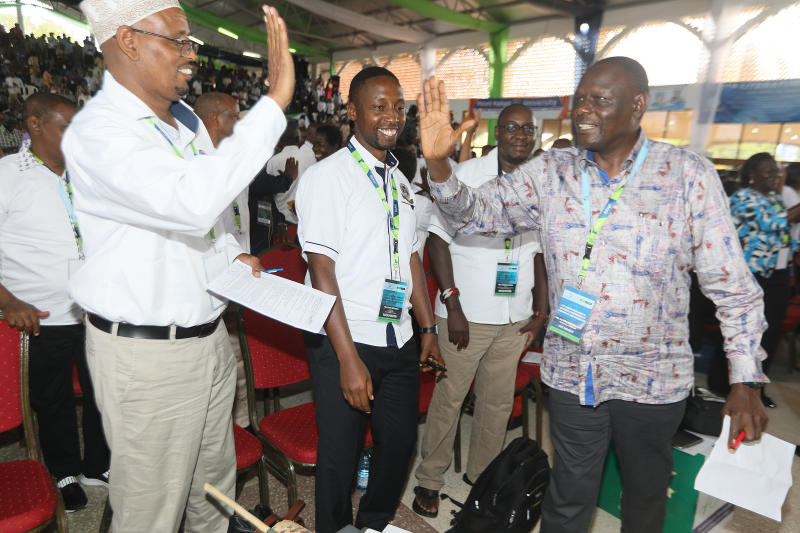 Secondary schools with huge student populations should have up to four deputy principals to enhance management.
Kenya Secondary Schools Heads Association (Kessha) chairman Indimuli Kahi, who spoke at Sheikh Zayed Children's Welfare Centre in Mombasa yesterday during the association's 45th annual conference, said the management of such schools has become more complex.
"Secondary school principals face the risk of losing their jobs as they appear inefficient. One of the reasons that brought about these challenges is the 100 per cent primary school-secondary school transition policy which has massively increased the student population," Indimuli said.
He said schools that have two deputy principals should be considered for another two to effectively run the institutions noting that the student population in some of these schools has reached 3,000.
"We need additional deputy principals for the smooth running of schools and to lessen the burden on the principals," said Indimuli.
He added: "In some of the schools, we have two deputy principals who are in charge of academics and administration. We need to consider adding another two."
"The job of a principal is very risky today. If you blink an eye you are gone. If a school is burnt, the principal takes the whole blame."
At the same time, Indimuli lamented over what he termed the demotion of principals without warning. "This is punitive and should be reviewed," said the official.
"We are urging the Teachers Service Commission to first issue a warning to a principal who errs instead of removing them from their positions," said Indimuli.
He also called for the introduction of the position of a 'senior chief principal' as part of reforms. Indimuli expressed concern that many principals have stagnated in grade D3 and urged TSC to introduce the new grade and facilitate their promotion.
On medical allowance, the principals claimed there have been discrepancies between them and their primary school counterparts in some parts of the country. He claimed some of their primary school counterparts enjoy the benefits while they do not.
He also lamented that they have had challenges accessing health services and asked TSC to intervene. " Members have called me at night after failing to get services in a number of hospitals," Indimuli said.
TSC directors present said all teachers must be under the Teacher Professional Development (TPD) training as a statutory requirement.
They also pointed out that the number of teachers who have been promoted to the position of chief principal has increased from 72 to about 3,000 since 2010.
Director for Quality Assurance and Standards Reuben Ntamburi said TPD is a requirement under the law and no teacher will escape it. He also said teachers will continue to pay for the programme until parliament allocates funds.
"TPD is required under the law. The elephant in the room is the Sh6,000 for training. We are making efforts to convince parliament to allocate funds for it," he said.
Dr Ntamburi said TSC has picked four universities to undertake the training of teachers on TPD, online. This will happen over five days from May 9.
TSC director for Human Resource Management and Development Julius Olayo said hardship allowances were stopped by the Salaries and Remuneration Commission following the outbreak of Covid-19.