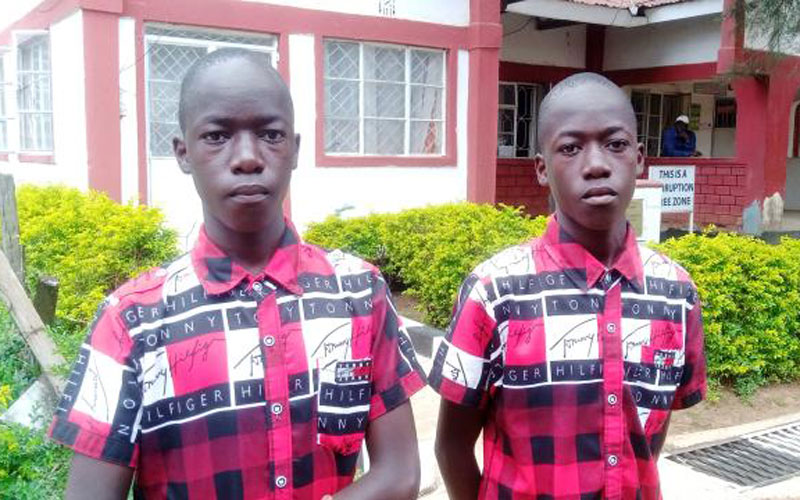 Identical twins who scored 410 and 397 marks in the 2021 KCPE exam at Bungoma DEB Primary School have been selected to join the same national school.
Collins Simiyu Mukhwana and Joseph Simiyu Mulongo could not hide their joy when they learnt that they will both go to Kabianga Boys High School.
In their schools selection, Mukhwana had picked Kapsabet Boys as his first choice while Mulongo had selected Friends School Kamusinga. "We chose different schools but we are lucky to be placed in the same school," said Mulongo.
"I'm really delighted because this is like a miracle. We had chosen different schools but seemingly God had a different plan. I am happy that I will get to experience high school life with my twin brother," said Mukhwana.
He said he will work hard to realise his dream of joining Harvard University and pursuing architectural engineering.
"It will be an amazing experience to compete with my twin brother in the same school," said Mulongo.
"It came as a shock at first because we did not expect to be called to the same school as we had different marks. This is a unique occurrence that gives us a reason to work even harder."
Mulongo said after high school, he aspires to join Oxford University and become a neurosurgeon.
The twin's father, Chrispinus Sakwa, said he has another set of twins sitting KCPE exam in December at Bungoma DEB Primary School and he hopes for good results.
But Sakwa said he was worried because it will not be easy to pay school fees for four children in secondary school.
He has urged well-wishers to give his children scholarships to enable them go through high school smoothly.
"It is indeed a blessing for me and my wife to see our twins perform well and be called to a national school. We are happy that they have been selected to join the same school because it now cuts the transport cost for us during visiting days," said Mr Sakwa. "It is, however, hectic to have two sets of twins joining high school in May and early next year."