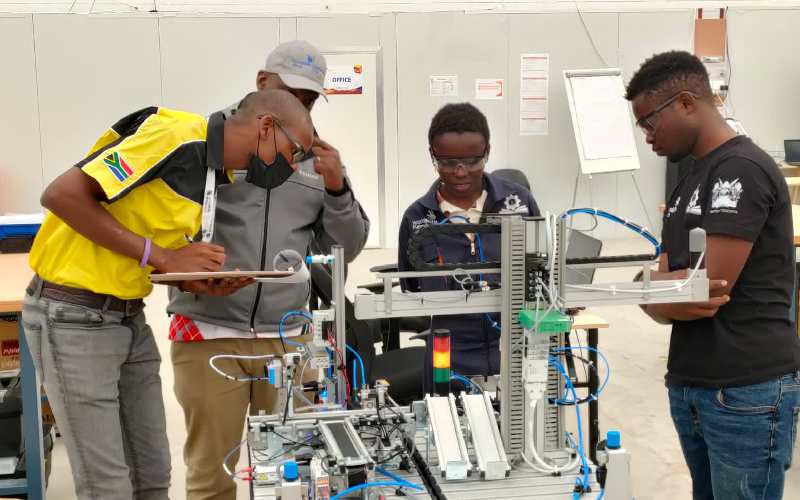 Two young Kenyans flying the Kenyan flag high at the World Skills Competition Africa in Namibia say they have come a long way to losing their drive in making the world a better place.
The World Skills Africa Competition has been going on in Swakompund, a coastal city in Namibia since Monday.
Maxwell Kipruto and Victoria Wanjiku who are mechatronics engineering students at Dedan Kimathi University of Science and Technology and Kiamu Institute of Science and Technology are representing the country at the continental competitions.
The two were chosen after emerging the best in two categories of the World Skills Competition; the University students competition and the TVET students competition.
Wanjiku is a second-year student taking a diploma course in Mechatronics Engineering.
Despite facing challenges as a woman in a male dominated field, she expresses her optimism of growth in the sector as she prepares to represent Kenya in the global World Skills Competition in ShanghaI, China later this year.
"Every time I visit my village and someone asks what I study in college they get amused by my reply. They start asking a lot of questions. Some even end up saying that I am scaring the villagers with complex words (anashtua wanakijiji)," she says jokingly.
"I get a lot of discrimination for my gender because sometimes if I fix a screw, a male partner will always have to come and check if it is tight enough. Sometimes when someone is required to climb onto some things you will hear someone saying that women should not climb up. It was not my choice to be a woman but it was my choice to be an engineer," she adds.
While expressing a lot of optimism in the growth of mechatronics in Kenya in a few years to come, she has urged Kenyans to accept that the world is fast changing and developing therefore anyone can do anything despite their gender.
"I discovered Mechatronics brings together mechanical, electrical and robotics engineering. That fascinated me and I decided to take up the course and since then my interest and skills have been growing. I knew it was a male dominated career but I knew I would pull through," Wanjiku told The Standard.
On the other hand, Kipruto, a fourth-year student at Dedan Kimati University.
Kipruto says that he cleared his KCSE from Maseno School in 2018 then driven by passion, he took up mechatronics engineering which at the time, was a new course in the Kenyan tertiary learning academic curriculum.
"I decided to take up Mechatronics Engineering in University then when I decided to join the competitions where I faced off with students from other institutions. I emerged the best in the University category, Victoria was also the best in the TVETS category and we were picked to form a team that would represent the country," he said.
He said they were competing against three other countries some of which had been part of the World Skills for more than 20 years.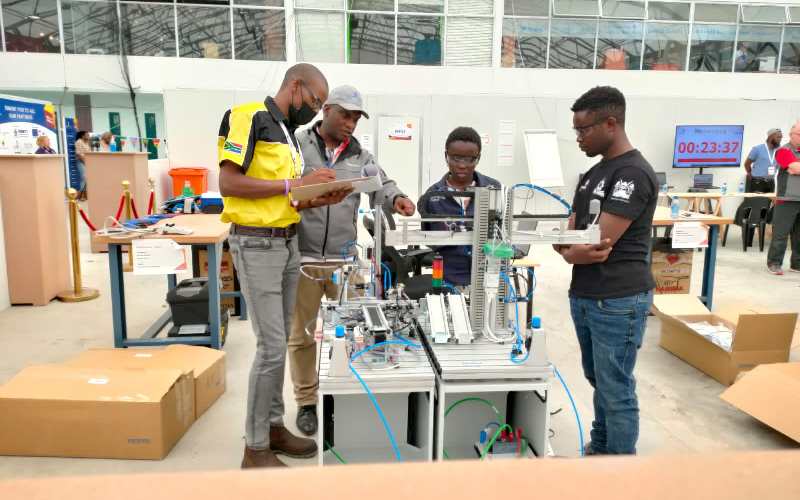 Kenya joined the competitions barely five years ago and to him winning was not a priority but learning new skills that he would come and share with other learners back home.
He also urges other youths to find platforms that nurture, support and help grow skills that can be monetised so as to eradicate youth unemployment and also support in the running of factories in the country as opposed to importing skills from developed countries.
Mechatronics is a multidisciplinary field that refers to the skill sets needed in the contemporary, advanced automated manufacturing industry.
At the intersection of mechanics, electronics, and computing, mechatronics specialists create simpler, smarter systems. Mechatronics is an essential foundation for the expected growth in automation and manufacturing because it deals with robotics, control systems, and electromechanical systems.
Mechatronics specialists can do quite a bit across multiple disciplines and have a solid base from which to grow.
Mechatronics specialists know both mechanical and electrical engineering fundamentals—they speak both languages—so a mechatronics specialist can work with both mechanical and engineering teams.
Mechatronics specialists work with massive industrial robots, smaller robots in pick-and-place operations, control systems for bottling or packaging of food and drink products, drones, designing control systems for rides in amusement parks, and prototype development.
Some mechatronics specialists are employed in firms where it is necessary to design and maintain automatic equipment. This includes industries such as manufacturing, mining, aviation, robotics, defence, and transport. Other mechatronic specialists are employed by large manufacturing companies involved in high-volume production. Many new career opportunities are on the horizon due to technological advances.
The skills, if widely embraced by the youth in Kenya and supported by Bothe state-owned and private tertiary institutions, could be a major solution to the country's processing and manufacturing sector which has been challenged by equipment malfunction on many occasions.