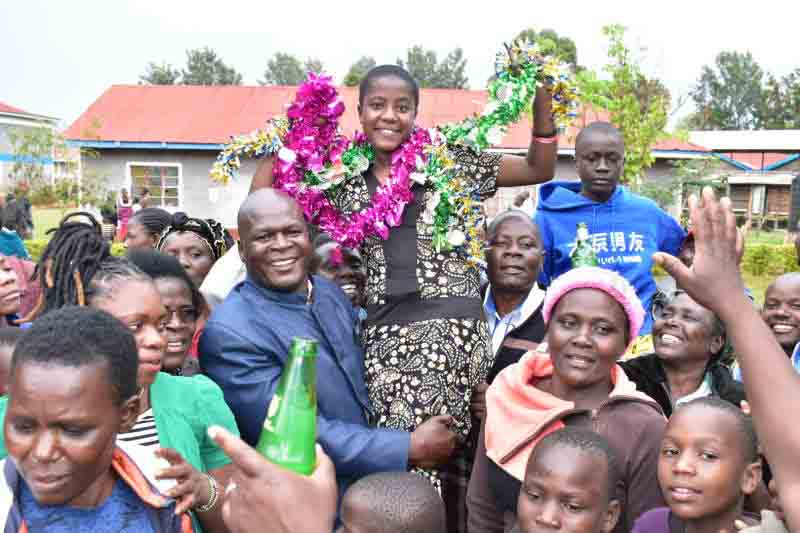 Her middle name 'Buyanzi' means happiness or joy in the Luhya dialect. And true to that name, joy is what Charity Buyanzi Kwoma brought to her family and school.
She posted impressive results in the just-released Kenya Certificate of Primary Education exam results.
Buyanzi sat her exam at Holy Family Misikhu Girls Primary School near Webuye town, Webuye East Constituency, Bungoma County.
She scored 426 marks, becoming the third-best candidate nationally and the best in Western.
The 14-year-old said she expected to perform well but she didn't expect to be among the top students in the country. Her parents and teachers say they expected a stellar performance.
"She is the lastborn in my family. I have three sons. Her mother and I desired a girl and when she was born, we named her Buyanzi which means happiness.
"We were happy that God had answered our prayer for a daughter," her father Julius Wanyama said.
Mr Wanyama added: "And the girl has been a source of joy to us. She is well mannered, God-fearing, cultured, and always willing to learn."
When The Standard visited the school on Webuye-Kitale road in Webuye East, Buyanzi, who wants to be a neurosurgeon, was with her former classmates, teachers, and the headmistress.
They were deep in prayer, thanking God for the good performance in the KCPE exam results released by Education CS George Magoha in Nairobi on Monday.
"We thank God for Buyanzi's good performance. She has brought joy, not just to her family and school, but to the community as well," the school's headmistress Stella Khakina said.
Buyanzi said while she expected to do well in the exam, the performance was better than she had anticipated. "It is the first time my name as being mentioned in the media. I was elated when the Education CS listed my name among those who had done well in the 2021 KCPE exams.
"I dedicate the success to my family, school, and my community," she said.
Mr Johnston Were, the deputy head teacher, said the girl has been exceptional since she joined the school in 2018. She had previously been in a private academy.
"She is polite and inquisitive. She is also a hard worker. Her commitment is exceptional. It's not a surprise to me that she scored such good grades," Mr Were said.
He added: "She was not just good in class. She also has exceptional good oratory skills. I believe she can make it both in the arts and sciences."
Buyanzi's class teacher Ms Josephine Nyaboke said she noticed her love for books and was also punctual. "She was among the best students. She will go far," Ms Nyaboke said.
Ms Penina Khaemba, Buyanzi's mother, said: "She has been a source of joy for us since she was born."
Mr Joel Wosula, Buyanzi's spiritual father from Deliverance Church Mukuyuni, said the girl and her stellar performance are products of prayers.