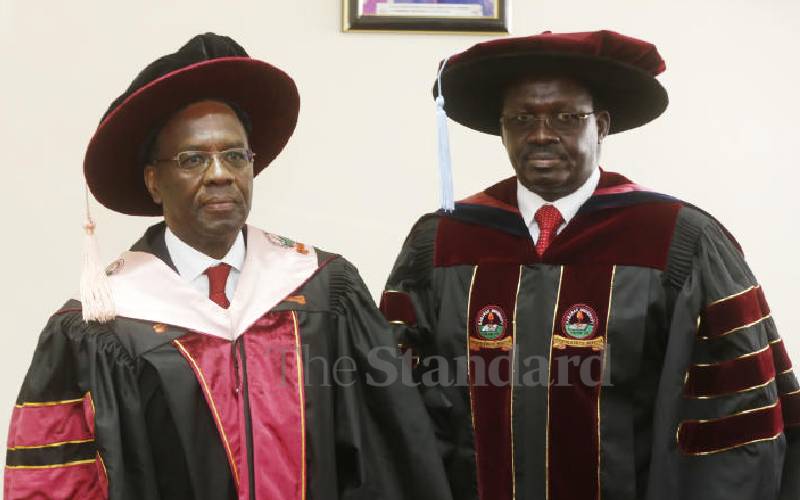 Former Chief Justice Willy Mutunga shared his rich experience and journey in championing radical legal education, transformative constitution, and social justice in Kenya.
In a speech delivered during his inaugural lecture at Kabarak University, Mutunga delved into his academic journey, the growth of academic law schools in Tanzania, Uganda and Kenya.
Prof Mutunga was appointed to the university's Department of Public Law in October last year.
"On October 1, 2021 Kabarak Governing Council appointed Prof Mutunga as Professor of Public Law at Kabarak. It is a historic moment in the institution to host the fist inaugural lectures since the inception of the University in 2000," Kabarak University Vice Chancellor Henry Kiplagat said.
In his lecture, Mutunga delved into trenches of constitutionalism, human rights and social justice activism.
He shared his experience spanning four decades, experiences that brought about transformations and others that inspired debates.
"I am sure there is an ongoing debate on whether lawyers should respond positively to applications under Article 35 (access to information) of the Constitution on their client's accounts. Debate on law and morality has never been closed. My criminal practice was not without a debate on law and morals."
Mutunga talked about the journey to shaping Africa's governance and social transformation to improve governance.
"In East Africa, struggles for social justice, constitutionalism, and human rights owe a lot of firsts to activists. I believe transformation can be funded on condition that those who seek grants have transformative agenda," he said.
Mutunga rose to become Kenya's thirteenth Chief Justice who held office between 2011 and 2015.
His reign at the helm of the Judiciary will be remembered for the fight against corruption.