Uhuru praises Kabarak, says its holistic training key in graft fight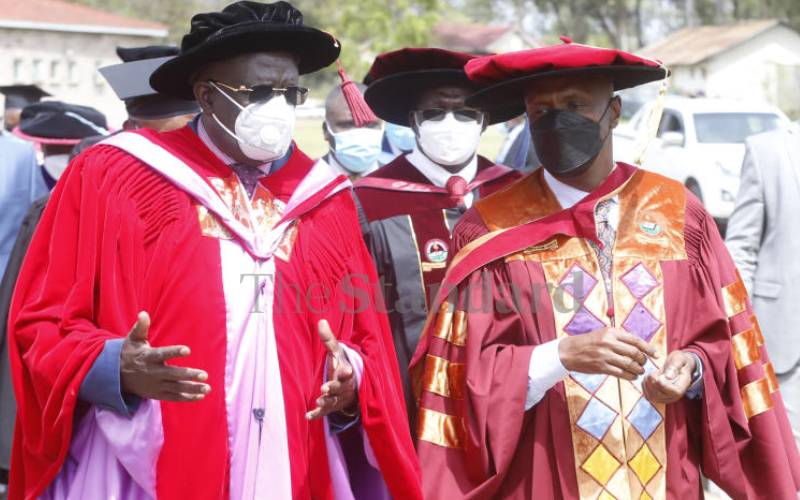 President Uhuru Kenyatta has lauded Kabarak University for its commitment to offering holistic training to students.
In a speech read by Education Cabinet Secretary George Magoha during the institution's 17th graduation ceremony yesterday, Uhuru said education offered from a biblical perspective was key to overcoming corruption, terrorism, greed and immorality.
"Our universities churn out people with critical skills for driving our development agenda. However, to succeed, we need people of outstanding integrity and moral values," said Uhuru.
The president said instilling moral values among the youth will go a long way in addressing challenges facing the modern world.
He urged university and college students against embracing retrogressive practices and instead engage in practices that would build the country's reputation.
"All institutions of learning are challenged to counsel their students, especially teenagers, and ensure they harness their talents. The achievements celebrated today are a reflection of efforts made in yesteryears," he said.
He underscored the significance of Public-Private Partnerships in the education sector to provide practical skills to students on whom the country is banking on to drive its development agenda.
"Kabarak is among the leading institutions that have aligned their programmes with the Competence-Based Curriculum and continue to partner with the public and private sector to equip students with the requisite practical skills," he said in the speech.
Kabarak University has this year recorded its highest ever number of graduands since opening its doors to pioneer class in 2002.
Baringo Senator Gideon Moi, who is also the university's chancellor, presided over the graduation ceremony. Over 1,800 students graduated.
"It is a pleasure to celebrate the graduation of 1,814 candidates who are being conferred with degrees and awarded diplomas and certificates, having drunk from this fountain of knowledge established 21 years ago," said Gideon.
In December 2020, the university graduated 696 students, a decrease of 25 per cent compared to the previous year, which was attributed to the impact of Covid-19.
"I am gratified to see the university blooming with the increase in student population and academic programmes that are in tandem with the market needs and national aspirations. Top scholars joining the university will certainly stimulate further growth while placing the institution in the league of top universities on the continent," Gideon said.
He urged graduates to uphold patriotism, integrity and excellence.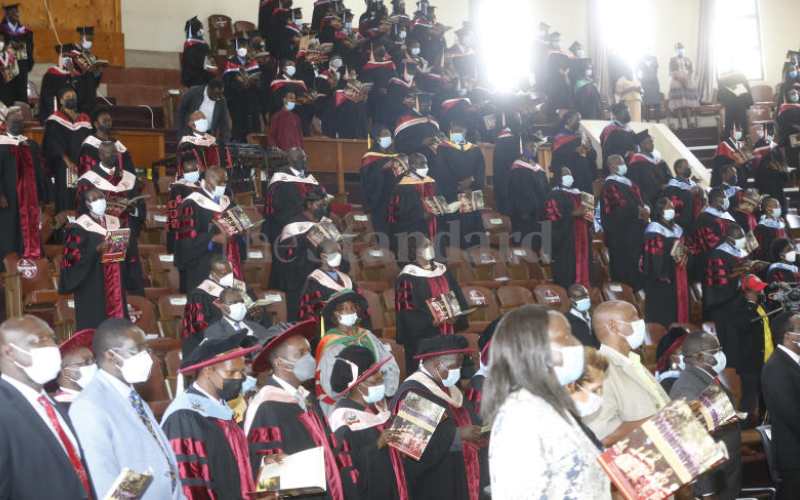 The institution's first cohort of pharmacy students graduated yesterday. According to officials, offering programmes in medicine and health sciences was one of the dreams of the institution's founder, former President Daniel Moi.
Kabarak University vice-chancellor Henry Kiplagat said the number of students had increased significantly this year.
"One of the effects of Covid-19 on the university was a drop in student enrolment by 27 percent to 7, 480 in September 2020. We have surmounted this challenge. Our enrolment has increased to an all-time high of 10,017 students," said Kiplagat.
The Institution's Governing Council Chairman Dr John Kibosia noted that the University achieved 80 percent of all targets within the five-year strategic plan despite the onset of the pandemic.
"Going forward, the council has approved an ambitious but realistic university five-year plan for 2022-2026, which will be launched at the beginning of the year 2022," Dr Kibosia said.
Magoha on his part faulted parents for handling their children in velvet gloves leading to increasing truancy and schools unrest in the country.
"Parents today treat their children like an egg and believe they can't do anything wrong. What we are having are grown-up babies in schools yet we expect teachers to teach them," said Magoha.
He maintained that the national exams will be held early last year despite pressure by a section of stakeholders to postpone them.
"Exams will be in March and we will not change the timetable. The exams have been set taking into account that they are being taken during a pandemic. We shall shortly afterward have a transition as we learn to live with Covid-19," said Magoha.
Among the achievements the institution recorded this year include a partnership with the Kenya Institute of Curriculum Development to sensitize the University on Competency-based Curriculum and its implication for University education.
In August this year, the university also signed a Memorandum of Understanding (MoU) with the International Cancer Institute (ICS) in a deal that will propel Kabarak to be the first institution of higher learning in Sub-Saharan Africa to roll out programs in oncology pharmacy.
The partnership will see the university develop and offer specialized postgraduate programs in Oncology pharmacy as well as to conduct research in Oncology.