Give us e-books, not textbooks, school principals tell State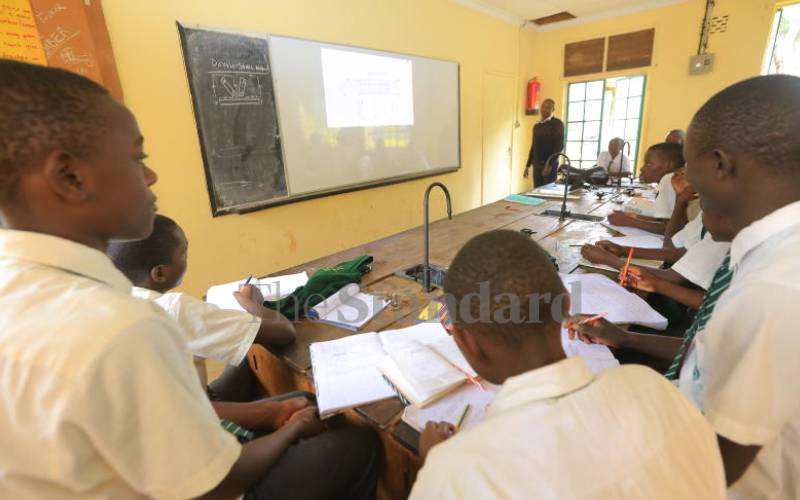 School heads in Nyamira County want the government to revise its policy on provision of learning materials and start providing digital content instead of books.
"Currently, we no longer need textbooks for our learners because if we are honest with moving forward in adopting ICT in our schools, then the government should be supplying us with e-books instead of the text books," Jared Monyancha, the principal of St Thomas Moore Riang'ombe Secondary School, told The Saturday Standard.
Nyaikuro SDA Mixed Secondary principal Eric Gwara said the government should move fast in developing digital content "that is trendy and more captivating" to learners.
"The modern learners are entertainment-oriented and thus digital content should be developed in such manner that it can be well appreciated and absorbed," Dr Gwara said.
Rangenyo Girls Secondary School principal Lydia Onyoni said enhancing computer literacy among learners will improve enrolment in science subjects among female students.
"For example, in my school, girls previously had negative attitudes towards physics and other science subjects. But after introducing computer studies, we have witnessed a rise in enrolment in optional science subjects," Ms Onyoni said.
The school heads spoke even as it emerged that a biting shortage of computer teachers and lack of technology-based learning facilities are some of the major impediments facing the implementation of digital learning.
In the county, only about 20 out of 400 secondary schools offer computer studies as an examinable subject, according to records by the Kenya National Examinations Council.
Still, only a few learners are allowed to continue with the subject up to Form Four.
But the situation is likely to improve after Andrew Wemssy Foundation, an international NGO, donated computers to a few schools in the county.
Among the beneficiaries were Nyambaria High and Nyansiongo Boys, which got 20 desktop computers each.
Nyambaria High Principal Boaz Owino said the school has been limiting the number of learners enrolling in the subject to 20.
At Nyansiongo Boys, only 50 students will sit for computer studies in this year's KCSE exam, according to the principal, Ezekiel Okeyo. Sironga Girls principal Evah Odhiambo said the school has 60 computers but they are still not enough. Ms Odhiambo also said the school has three computer teachers against a requirement of five.
In the last three years, Global E-Schools and Communities Initiative, through the African Digital Schools Initiative programme, has been empowering teachers from select schools to adopt digital learning.
Already, 400 teachers from Nyamira, Narok, Taita Taveta and Kiambu counties have been trained on development of digital content.