Public university staff stare at layoffs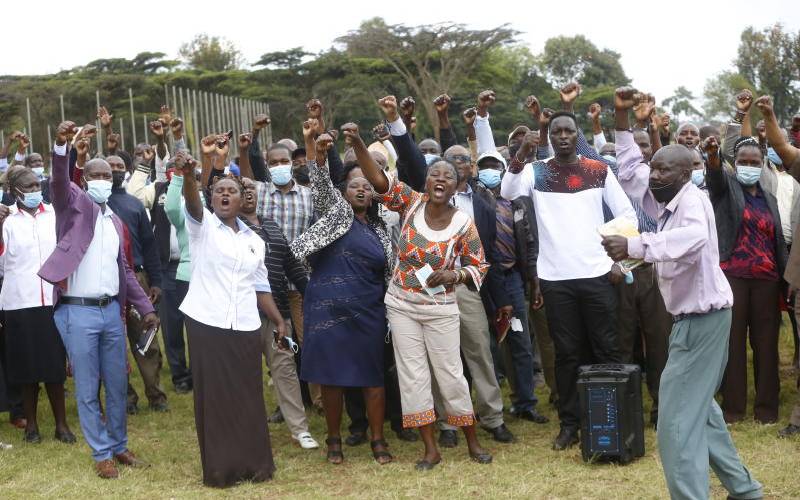 The government has proposed retrenchment as one of the measures it might take to manage a huge wage bill in institutions of higher learning that are choking under billions of debts.
The government has also proposed the rationalisation of academic programmes and the merging of universities to clean the mess in universities.
It also wants the universities to adopt a new funding formula and come up with fresh targets for internally generated funds.
In 2019, Cabinet Secretary George Magoha told MPs that job cuts were not an option as he pitched for university reforms.
He said the wage bill in universities was weighing down the institutions.
Part of this, he said, should entail merging some institutions, cutting down management positions, and retaining essential offices.
"The tough decisions will come with some of you losing jobs. You may not be VC's, but you will still have your salaries," Magoha told VCs in reference to mergers of institutions.
Kenya has 74 universities, of which 31 are public universities and six public constituent colleges.
Declared redundant
This means that there are some 31 VCs across the public universities. Each university has up to four DVCs and all constituent colleges have principals as managers.
In one of the meetings, Magoha asked the VCs to identify the staff to be sent home and positions to be declared redundant with a clear staff exit plan.
In the strategy, the government proposed that the exercise targets non-teaching staff who are not critical to the universities core mandate of imparting knowledge.
This means that the old staff who have not upgraded critical skills would be targeted.
The problem of staffing, Magoha said, is compounded by concerns that most universities do not meet the ideal 70:30 ratio of academic staff to non-academic staff and in some cases, a university has up to 86 per cent of non-academic staff.
There are about 30,000 workers in public universities. The National Treasury had sanctioned the layoff, saying it remains one of the key solutions to addressing the mess.
However, there is a catch: "Some universities have bloated administrative staff, and re-organising human resources at these universities will require allocation for downsizing," said National Treasury Principal Secretary Julius Muia. In a recent report, the Universities Fund (UF) said staffing accounts for a huge chunk of expenditure in universities.
"In almost all universities, expenditure on university staff salaries is the main component of expenditure and accounts for over 80 per cent of overall expenditure by the universities," said Monari.
Accurate staff data in public universities remains a huge conversation even as plans by the Universities Fund to set up a central data system get underway.
In a recent meeting with National Assembly Education, National Treasury, and vice-chancellors, University Education PS Simon Nabukwesi maintained that staff rationalisation must be done.
In the 12-point document, Nabukwesi said to make universities sustainable, there needs to be staffing rationalisation by outsourcing non-core services such as accommodation and catering.
In addition to staffing, Magoha also proposed a merger of academic programmes, arguing that many universities exist on duplicated courses that can be offered by stronger and solid institutions.
He said the many programmes lead to mass hiring of staff that bloat wage bills. According to the Ministry of Education, out of the 11 educational fields taught in the universities, only two fields –Law and Engineering, Manufacturing and Construction are not duplicated.
Five educational fields- Education, Arts, Humanities, Information and Communication Technology (ICT), Social Sciences, Journalism, and Information and Business Administration are offered in more than 75 per cent of the universities.
Magoha said fields on Services, Agriculture, Forestry, Fisheries and Veterinary, Natural Sciences, Mathematics and Statistics and Health and Welfare are offered in 54-69 per cent of the universities.
In its report, the Universities Fund also proposes that as part of reducing costs, the universities should consider and effect Public-Private Partnerships (PPP) in the provision of some services in all universities, especially those central to the core mandate of the university.
"Accommodation of students and other services may be considered along the lines of PPPs. These may include detaching the student's accommodation from the universities and turning it over to a private partnership," said Monari.
PS Nabukwesi also proposed that the Differentiated Unit Cost (DUC) funding levels be increased to 80 per cent, translating to Sh73.91 billion. Presently, the funding is done at 55 per cent translating to Sh41.907 billion.
In addition to these, the ministry argues that the grants allocation to HELB is enhanced to match the increasing number of students admitted to a university.
The PS also argued that the crisis in universities shall be addressed if the government adopts performance-based funding, which he said, is a globally accepted best practice.
Universities Fund, in its ongoing review of DUC, has proposed performance-based funding, where more money will be allocated to universities that are efficient.
The key performance indicators attached to this form of funding will be the four-year graduation rule and the employability rate of one year after graduation.
Universities' research outputs such as the number of doctoral and post-doctoral graduates, the patents and licenses issued and research publication units for a specific year will also be considered during the funding.
The number of industrial attachments and internships facilitated within the industry by the university and the number of joint programmes with industry, commerce, and civil society organisations each year will also be considered.
Also to attract more funding will be the number of female students enrolled in STEM, persons with disabilities, and students admitted from disadvantaged backgrounds.
Monari said debt in universities as of April 2021 was Sh56 billion.
However, he said that the reliance of universities on government funding led to most universities shifting their focus from their niche areas to low-cost programmes and opening satellite campuses which resulted in high-cost expansion.
Monari said that to ensure a sustainable and responsive university sector, the Universities Fund is initiating short-term and medium-term measures.
"Under short term measure, the Universities Fund has been lobbying the government to increase funding to public universities as national strategic assets to maintain the status quo of funding levels for universities," said Monari.
He said this will at least keep the impending crisis at bay and allow the sector to seek out other ways to finally reform the status of financing universities in Kenya.
"In line with this, the Universities Fund is considering stopping funding of all new infrastructure and development projects and completing the stalled projects," said Monari.
Overall, Monari said that mechanisms are also being established for monitoring and evaluating the government-funded programmes and projects, for instance, by the creation of grants accounts that will be audited to ensure the funds are utilised for the specific purpose.
He said this will ensure that monitoring and evaluation is carried out annually, on a timely basis, and the results thereof will be made public.
This will enhance transparency and accountability in the financing of universities.
Overall, Universities Fund proposes that universities are encouraged to employ some measures to alleviate the current financial stress.
"The Universities Fund commits to support universities in facilitating the implementation of some of the measures.