Varsity dropout toils at building sites, hopes to go back to school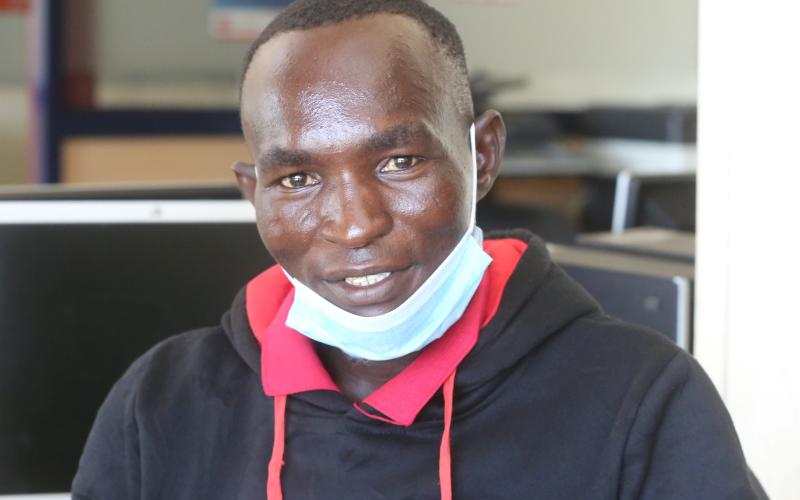 Martin Oluoch realised life was not a walk in the park when he dropped out of an engineering course at Moi University.
The manufacturing, industrial and textile engineering student was in his second year when the Higher Education Loans Board (HELB) suddenly stopped funding his education.
"I knew my dreams had been shattered after my endless trips to Helb offices in Nairobi bore no fruit," he says.
It was around the same time when Oluoch, an orphan, lost his elder brother and guardian in a road accident.
He has now resorted to manual work at construction sites to eke out a living and save some money while nursing the hope of going back to class.
"I bind steel rods at construction sites and mix mortar. Sometimes, the menial jobs are hard to come by," he says.
Oluoch, the third born in a family of six, sat his Kenya Certificate of Primary Education (KCPE) exam in 2000 and scored 443 out of a possible 700 marks at Nyakado Primary School in West Alego, Siaya County.
"My troubles started that same year following the death of my father. My mother died two years later," he says.
As fate would have it, he could not join Form One due to a lack of school fees. Oluoch then spent two years at home in Obambo village.
"I relocated to Kisumu town where I started hawking water on a cart to raise school fees," he says.
After five years, Oluoch had saved some money, but it was not enough.
"I went back to my former primary school and requested to be allowed to repeat Standard Eight in 2007," he says.
He scored 370 out of possible 500 marks in the KCPE exam of that year.
One of the clients he used to supply water to in Kisumu town offered to help him secure a Form One slot at Kisumu Boys High school.
"I continued hawking water every evening after school so that I could pay my fees," he says.
When he sat his Kenya Certificate for Secondary Education (KCSE) exam in 2012, Oluoch scored A- of 77 points.
"That was about 11 years after my parents died. They would be happy to see their son score good grades," he says. Oluoch was full of expectations when he was admitted to Moi University in September 2013.
Elder brother dies
He received Sh37,000 from Helb for the first academic year and, for the first time, he felt joyous.
"My woes started in the second year. Helb failed to disburse money to my account, prompting me to visit Anniversary Towers. They told me the issue had been resolved, and money would be wired to my account in two weeks. But that did not happen," says Oluoch.
His elder brother helped him raise Sh40,000 for the second-year fees but he died in a road accident shortly after.
Things worsened at the beginning of the third year. For the first semester, he could only raise Sh19,000, being savings from his hustles.
"I could not pay a single cent during the second semester, and that forced me to discontinue my studies," he says.
Dr Erick Oyondi, who is in charge of the Manufacturing, Industrial and Textile Engineering Department at Moi University, described Oluoch as a hardworking student who was disciplined and focused on his studies.
"We understood him when he requested to defer the course so that he could go and look for money to clear fees then continue with studies. We are fully aware he is an orphan," says Dr Oyondi.
He said Oluoch had disclosed to them that there were Helb application issues he was supposed to sort out.
Efforts by The Standard to reach Helb for a comment were futile as our calls went unanswered, and emails requesting information about Oluoch's case were not responded to.
After his efforts to raise fees failed, Oluoch went back to the village a distraught man and resorted to doing menial jobs.
"I could earn between Sh150 and Sh200 every day after hard work, but that was not enough to take care of me and my grandmother," he says.
The death of his grandmother last year only served as a reminder of his bitter past.
Now he works as a casual labourer at a construction site in Kakamega.