Moi University lecturer innovates maize dryer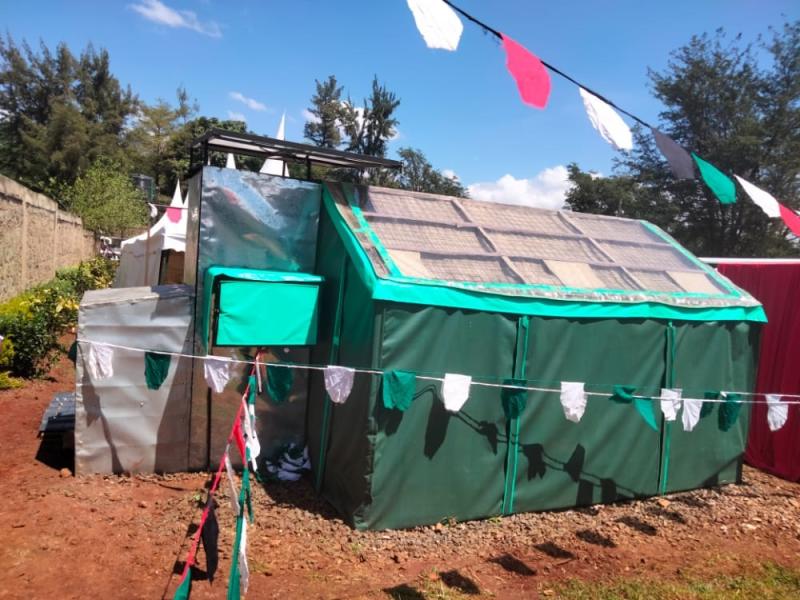 A university lecturer has improvised a dryer that uses less energy to dry maize immediately after harvest.
Isaiah Etemo Muchilwa, a lecturer in the department of Mechanical Production and Energy Engineering at Moi University in Eldoret, says the dryer will reduce post-harvest losses by over 30 per cent.
According to Dr Muchilwa, the dryer dubbed Etemo, after his middle name, will revolutionise the agricultural sector.
The dryer is made of steel rods, pieces of blanket and fans. It can be powered by charcoal heat, firewood or a mini generator.
A standard machine can dry up to 12 tonnes of maize within a week.
Muchilwa, who pursued his master's and doctorate degrees in Germany, says he learned that most of the challenges farmers in Kenya experience are unique to the region and require local solutions.
He noted that imported dryers are designed to dry shelled maize, noting that maize crop begins to rot due to high humidity while still on the cobs.
The lecturer said having experienced most of the challenges, he was motivated to research for a home-grown solution.
Together with partners from Germany, Muchilwa came up with the technology that taps heat from the sun during the day. At night, it uses charcoal or firewood.
"We usually harvest our maize and keep them in stores until when the weather is dry for us to shell, since you cannot shell when the cobs have not yet fully dried," he noted.
However, added Muchilwa, the produce begins to grow moulds and poisonous fungi due to high humidity experienced within the tropics, thus contaminating the cereal with aflatoxins.
The technology, he said, enables farmers to instantly dry the cereals after harvest and within their farms before even shelling.
He observed that this helps reduce post-harvest losses by over 30 per cent, adding that the technology can dry between 10 and 12 tonnes of maize from 34 per cent moisture content to less than 14 per cent in one week.
Muchilwa said his team combined research and skills from jua kali artisans, who welded the machine.
While the ordinary dryer takes shelled maize and charges Sh34 per percentage drop in moisture content, Muchilwa notes that those who buy the machine will only require maize stalk or other matter for firewood.
Currently, he added, a single dryer with capacity to dry up to 15 tonnes costs about Sh500,000.
He said his team can customise a smaller one that will retail at Sh100,000 to make the dryer affordable to farmers.
Muchilwa, who is in the process of patenting the technology, said the machine can also be used to dry cassavas, vegetables or even converted to dry timber during other seasons.
Home-grown solutions
He noted that with the changing rainfall patterns, the technology will help farmers maximise returns from their ventures.
His appeal to the government is to reduce the taxes levied on imported steel, which is used to make the machine so that the burden is not transferred to farmers.
Muchilwa appealed to farmers to embrace the technology, noting that the 'Buy Kenya, Build Kenya' approach will motivate people to find home-grown solutions to challenges facing them.
A maize farmer from Kiminini sub-county Benjamin Wanyama who has used the technology to dry his produce recommended it saying he was able to reduce moisture content from 25 per cent to 12 per cent in one week.