Students leaders sworn in at Moi Educational centre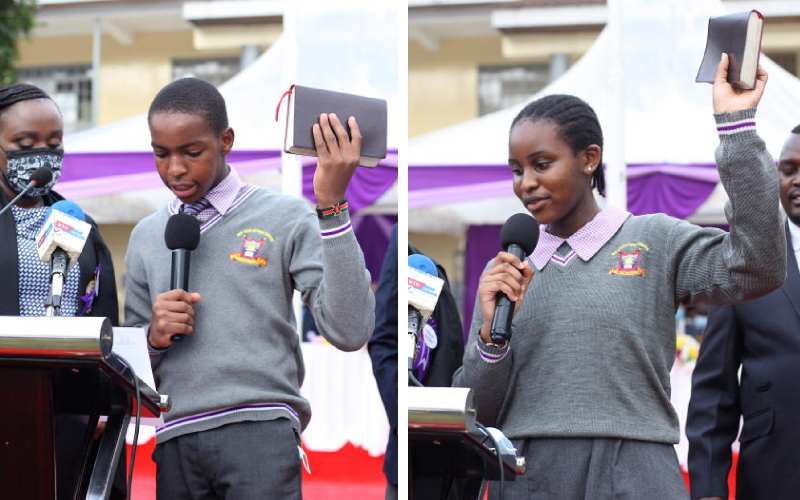 As she walked to the dais amid applause and cheers from fellow students, Theresa Aling'o knew indeed it had been a good run. A triumphant race for presidency that she clinched by a landslide.
And the school management at Moi Educational Center in Nairobi, the students and all guests gathered at the assembly ground waited patiently for the newly elected president's inauguration speech.
Aling'o and her deputy Adrian Gesicho were sworn in by Milimani Senior Resident Magistrate Caroline Muthoni on behalf of the entire student council that consists of over 100 leaders from Grade One to Class Eight.
"I am very excited and, on behalf of the student council, I am delighted to start the journey to serve our fellow pupils in what we promised," said the 13-year-old president in her speech.
Aling'o garnered 903 votes out of the possible 1,273 votes.
The inauguration ceremony held on Thursday was the climax after a month-long electioneering that led to voting. The poll was conducted by the school's electoral board under the guidance of the Independent Electoral and Boundaries Commission (IEBC).
The role of IEBC to offer technical support, civic education and election materials was meant to to be a microcosm for professionalism as well as foster a culture of democracy and good governance in schools.
The school board chairperson Paul Chemng'orem congratulated the student leaders and lauded the organisers, noting that the democratic process was meant to inculcate leadership at an early age.
"My message to new leaders is that you have started a good journey. The passion showcased by the students is a good indicator of quality leadership," said the board chair.
Mr Chemng'orem urged the school management to allow the student council to take an active role in education.
The elective positions in the annual election included president, deputy president, governors and their deputies to represent all classes, three senators, cabinet secretaries in charge of various departments such as dining, ICT, library, timing keeping, sports and environment.
During the campaign period, contestants were allowed to seek votes in other classes. Those seeking topmost positions were given a chance to sell their manifesto to the voters during school assemblies.
In bid to ensure fairness and gender balance, Aling'o was deputised by a boy.
The School Principal Christopher Opuodho said the process entrenches the democratic principles among children at early age, gives them a sense of belonging and educates them on the need to participate in peaceful elections.
He described the newly elected president as an intelligent student with cordial relationship with other children.