Special report: Why there is no common verdict on CBC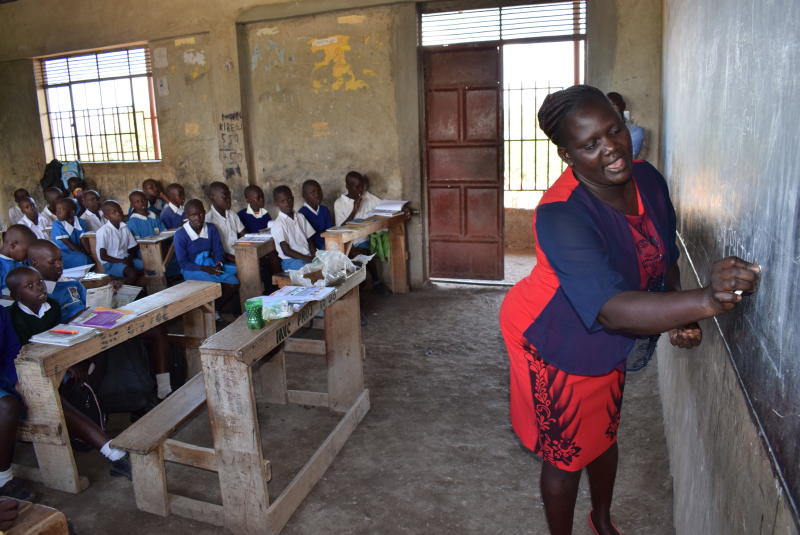 Joseph Francis rarely gets free time these days. His social life is dying. Reason? Francis has to rush back home after work, almost every day, to help his five-year-old daughter with homework.
Francis says the Competency-Based Curriculum (CBC) has come with many challenges, including increased homework that involves parents. However, he does not mind it. Francis thinks CBC will better prepare learners for the future because of its nature of developing their competencies and enhancing their understanding of core values and important issues around them.
"It is exciting, going through homework with my daughter. I am also happy that learning under CBC is involving. Sometimes, the children are involved in cleaning the local market. They are also learning how to read the Bible and colour," says the Mombasa resident.
He adds: "At times, my daughter would get home and tell us it is time to clean up. She would then lead us into collecting garbage around the home. Children are also involved in cleaning up the beach, from time to time, as a way of giving back to the society which I think is a good idea."
CBC, under the 2-6-3-3 system of education, was unveiled in 2017 to replace the 8-4-4 system of education which had served Kenya for 32 years. CBC was aimed at shifting emphasis from the tradition of chalk-and-talk teaching to focusing on the pupil, by learning in groups and not just memorizing facts.
However, not all parents are happy with CBC which they say is expensive, is being implemented haphazardly, disadvantages pupils whose parents are illiterate and those who have no access to internet and electricity. There have also been concerns that teachers were not adequately prepared for CBC.
Mwero Bagala, a fisherman Port Reitz Creek in Miritini says CBC has presented him with a major headache as he is unable to help his child with homework.
"I never went to education due to lack of school fees. CBC is also making young children perform tasks I think are for adults," says Bagala.
He adds: "I am the sole breadwinner for my family. I find it hard to provide for my family at the same time required to print documents and buy items required by the school. It is expensive for me."
Some of the teachers The Standard spoke to across Mombasa say they are ready to implement CBC. A teacher, who does not wish to be named, says learners were initially apprehensive about CBC but are now embracing it.
Mohamed Hussein Mohamed, from Mvita in Mombasa, says while CBC is exciting, it is also a big challenge to working parents who are struggling to find time to take their children through homework. His daughter, Fatma, attends Dar Al Naeem School. Sly Philip, a mother of one, says CBC has created room for her to bond with her child. "Parents are also learning new things, thanks to CBC," she says.
Some stakeholders in Mt Kenya region say CBC is good, but must be subjected to regular reviews.
However, some parents in the region have termed the new curriculum an expensive venture. They say they are forced to dig deeper into their pockets to buy some of the teaching and instructional materials, including books.
"We are also concerned about the push and pull between the Education CS and some stakeholders over CBC, it is not doing anyone any good," said a parent who sits in the Board of Management of one of the local schools, adding: "Most schools lack teaching and learning materials and parents are forced to shoulder the burden."
Justus Ikaba from Murang'a County, says he is happy with CBC but concerned about the many demands schools are putting on parents.
"My daughter seems to be enjoying CBC but the cost of the materials needed is too high for parents, especially in the face of the Covid-19 pandemic," says Ikaba.
Valentine Wanjiru, from Nyeri town, accuses teachers of taking advantage of CBC to abdicate their roles.
"Teachers appear to have forgotten their duties as the parents take up teaching," says Wanjiru.
Robert Kiihu, from Karatina, Nyeri County, also feels the financial and teaching burden has been left to parents. Some of the pupils sampled in the region say they are enjoying the new system of education, especially the part where parents are involved in some of the learning activities, including homework.
Some teachers and school administrators in Meru County say their efforts to make CBC work are being stifled by lack of teaching materials. Area Kenya National Union of Teachers executive secretary Caxton Miungi says CBC is a good idea, but poor implementation will hurt the programme.
He says the lack of teaching and learning materials is a major concern for stakeholders. Meru County Secretary Rufus Miriti, a former district education officer, urges the national government to increase infrastructure in schools. Margaret Wairimu, a mother of a Grade Three pupil in Murang'a, laments that some assignments pupils are given are expensive.
"One day, a teacher asked my son to buy four different paints and brushes. I felt it was too much," says Wairimu.
Technology Primary School headteacher Beatrice Wachira says most of her teachers were trained on how to implement CBC. The government has also provided learners with textbooks, she adds.
Murang'a County Director of Education Annie Kiilu says she is impressed by how teachers have embraced CBC. At Nyeri's Giakanja Primary School, nursery school teacher Mirriam Muthoni, says CBC is inadequate and cannot impart children with basic literacy skills. To some parents in the Rift Valley, CBC is a nightmare. But there are those who are happy the new plan has given them a chance to participate in their children's learning, beyond paying school fees.
"I was not involved in the learning of three of my children who went through 8-4-4. However, I am actively involved in the assignments of my other child and I like it, thanks to CBC," says Susan Kosgey.
To Peter Njuguna, a parent at Utafiti Primary School in Kericho, the system is costly.
"I am also concerned by the timing of releasing the list of required textbooks. We need the lists early to avoid last-minute rush," says Njuguna.
Utafiti's headteacher Herbert Rosanna says lack of internet has posed a major challenge to the implementation of CBC. The school has 180 pupils. But Prof Wilson Langat, the vice-chancellor of Kericho-based Kenya Highlands University appreciates the new system.
"There are many good things about CBC. We only need to tighten the loose ends. If the Government can provide adequate funding to address the shortage of teachers, teaching aids and classrooms, there will be no issue with CBC," says Langat.
Teachers, pupils and parents in marginalised parts of Baringo County, including the drought-stricken Tiaty, are not having it easy. Teachers say CBC has been a mountain for them in the absence of facilities and teaching aids. Lilian Keter, the headteacher of Cheptunoyo Primary School, says her institution faces many challenges that are making CBC rollout a near impossibility.
"A good number of parents here cannot read or write. How then will they assist their children in doing homework and other assignments as dictated by the new curriculum? It becomes even more complicated for us since this area has poor internet connectivity," says Ms Keter.
Many schools in the area lack classrooms. Children learn under trees, sitting on stones. Yet implementation of CBC requires that every child should have a seat and access to a desk. The movement of families in this pastoralist region from one area to another in search of water and pasture has complicated the CBC rollout. Lack of electricity at AIC Chemoril Primary School has made learning difficult, according to deputy headteacher Juliah Kitilit.
In Narok County, learning under CBC is hardest hit in special needs institutions. High levels of illiteracy among the pastoral communities are also compromising CBC. Twenty-three-year-old Jane Naserian, a mother of three, says she never went to school and cannot, therefore, read or write.
"I am forced to ask a neighbour to help my child with homework. But the neighbour does not always help because she has children of her own who need her attention," says Naserian.
John Kipees wants the Government to go slow on the implementation of the new curriculum. Levi Otenyo from Lurambi sub-county in Kakamega accuses the Government of rushing the implementation of CBC.
"A lot of things were not considered. It is these same issues that are threatening it," says Otenyo.
Janes Kemuma, a parent at Egesieri Primary School in Nyamira, terms CBC a big burden to parents.
"One day, my son, a Grade Four pupil, was asked to buy a flute. I don't know what that is and where it is found. And did I even have the money to buy it? I told him to tell the teacher we could not find the flute," says Kemuma.
Dolphin Kerubo says she was one day torn between buying her Grade Four son a set of watercolours and food for the family. She didn't have enough cash. She bought food.
[Philip Mwakio, Phares Mutembei, Boniface Gikandi, Lydia Nyawira, Nikko Tanui, Yvone Chepkwony and Robert Kilplagat, Robert Amalemba, Stanley Ongwae and Anne Atieno]