CBC: Yes, the train left the station, but serious issues still abound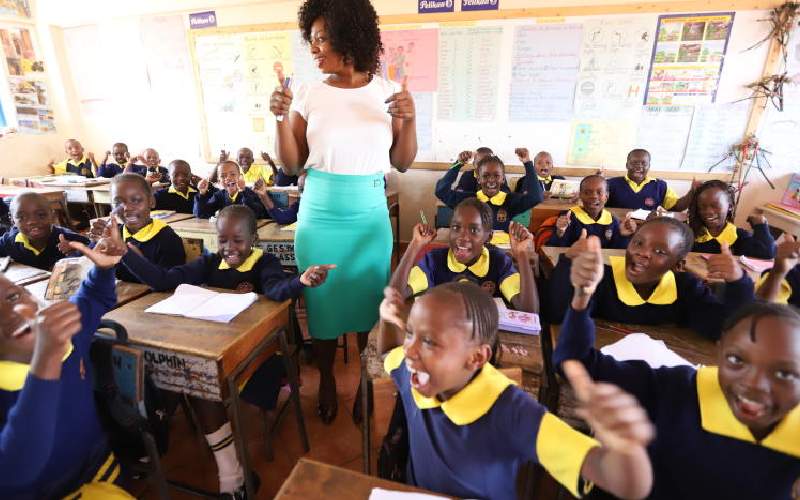 When Education Cabinet Secretary George Magoha likened the Competency-Based Curriculum (CBC) to a train that had left the station, we knew that the die had been cast.
For a country that takes casually the views of its people, the CS meant that there was no listening to dissenting voices. He may have been wrong, for concerns about the new curriculum continue to gather momentum every day.
For some, it does not matter how long ago the train left the station, what matters, is that if we discover we are headed in the wrong direction, then it does not matter how long we have been on the road.
Rather than act defensive, it is time the Ministry of Education allowed the public to comment on the running of this train, for in it are their aspirations too. Even if it were headed in the right direction, passengers on this train must be allowed to point out issues affecting its movement.
Reforms in national education system or curriculum are majorly based on legal requirements and needs of a country. The fact that reforms have to occur after a particular time is not in dispute, considering the transient nature of the world's socio-economic paradigms.
And when such reforms come, they must be well thought out against an array of prospects and possibilities. This brings us to certain aspects that have not been clearly articulated by the new order.
Frankly, our national philosophy of education has often eluded us. We seem not clear of the purpose of education, the kind of education that we ought to bequeath our offspring, and the role of educators.
Whenever Kenya Institute of Curriculum Development (KICD) and the Ministry of Education officials explained the idea of competencies, they did so in a manner characteristic of a king who had discovered a magic wand that would redeem his subjects.
Many were made to believe that the new system would unconditionally render everyone productive. Far from it. The secret lies in our understanding of and commitment to the proposed curriculum.
A clear understanding of CBC will make all parties – parents, learners and the government – aware of their duties and responsibilities towards the success of the programme. The 8-4-4 system, for instance, had an implicit philosophy of self-reliance.
Practical subjects such as Home science, Art and Craft, Music, Agriculture, Wood Work and Metal Work were offered as from primary school level. Most of these were dropped owing to lack of material support from government, and a claim that both teachers and students were being overworked. The skills (competencies?) would remain elusive since many players were unwilling to do their part.
Simple explanation
Was the 8-4-4 system competence-based? A simple explanation of competencies will do. Whereas there are several constructs of competencies, two are relevant to us.
The first and commonest is the behaviourist construct. This refers to observable and measurable behaviour displayed by an individual by virtue of being able to complete a given task. It is tied to specific content, structure and assessment, and may prove irrelevant to a variety of contexts owing to its narrow and specialist nature. Here, flexibility is next to naught.
Next is the generic construct. It refers to the competence that is detected through theoretical examination. Whereas the bearer may be knowledgeable and capable of thinking critically, contextual application of such knowledge cannot be guaranteed. He/she will simply regurgitate the acquired knowledge, especially in oral interviews, in an attempt to prove their capability. Such knowledge is often general and unprogressive. The 8-4-4 one had degenerated into this.
The world is in a state of flux. As we give CBC a try, we should do so with a clear conception of the role of education. Viewing competencies in a narrow framework of expedient economic rationalism may cost our future. It is true that our children need skills and competencies that will aid their survival. It is equally true that competencies, specifically technical ones, are job-specific.
Assuming that certain individuals are allowed to venture into their areas of interest at an earlier stage, akin to specialism, has the curriculum been designed in a manner that will enable them retrain in case their competencies become obsolete? In other words, how will the curriculum prepare our children for adaptability? How does it contribute to their preparedness for life-long learning, a 21st century requirement for progressive education? Which foundational skills shall the curriculum provide so that the resultant products are capable of learning, relearning and unlearning as long as they live?
Singapore, which we often quote, provides vital lessons through her CBC. Her basic education subjects all learners to science, mathematics, digital literacy and English language before they are allowed to pursue their differentiated pathways in specialised schools, technical schools, polytechnics, and universities.
There are also institutions specifically for Continuing Adult Education. Here, life-long learning is a reality. That is why Singapore pounces, typical of the tiger that she is.
Kenya will not pounce while seated. It must be awake to the requirements of the new curriculum. There is need to subject all learners to basic and compulsory essential knowledge, regardless of their interests, a strategy that will allow them to retrain just in case their trade becomes obsolete.
Plumbing, for instance, is not all about joining and laying of pipes. It requires the plumber to be acquainted with basic knowledge in urban planning, and also have technical skills of detecting leakages. He/she should have the capacity to learn such. Above all, he/she should possess soft skills and good character.
The earliest graduates of CBC, at least at secondary level, will enter the job market in the year 2028. A lot will have changed. Unless we are careful, we may end up training individuals who will be replaced by machines, rather than those who will operate them. Some of our woes are attributed to poorly equipped training institutions, including our universities of science and technology which boast of workshops that resemble medieval museums.
Up its game
For the training envisaged by CBC to make sense, the government ought to up its game in terms of national planning. Manpower training will be useless unless the market is guaranteed. The dream of industrialisation must be vigorously pursued.
A limping economy makes nonsense of skilled labour. We launched Vision 2030 in 2008, only to discover later that it could not be achieved through the 8-4-4 system.
As we dialogue on CBC, let us remain awake to the problem that we are running away from: the 8-4-4 products. They are with us, and will continue to be churned out till 2027. Are they eternally condemned?
Part of the solution to their problem applies to CBC: workplace learning. The few firms that provide opportunities for graduate trainees should be supported. Further, more have to be established so that they provide authentic learning environments characterised by linkage between education, training and industry.
Today, students are finding it hard to find placement for industrial attachment. Are we educating children first so that we figure out what to do with them afterwards? Most products from the outgoing system have foundational skills that are versatile; hence they can be retrained with ease. CBC should thus incorporate elements that will support values, adaptability and life-long learning, characteristic of a transformational model of competencies. May we have more national dialogues on CBC.
Osabwa teaches at the Alupe University College and Dr Wesonga at the University of Kabianga
How to make money to love you back
Your money mindset drives the decisions you make about saving, spending and handling cash. Chasing money as an end leads to accumulation of pains.