University of Eldoret expands its e-learning module for more reach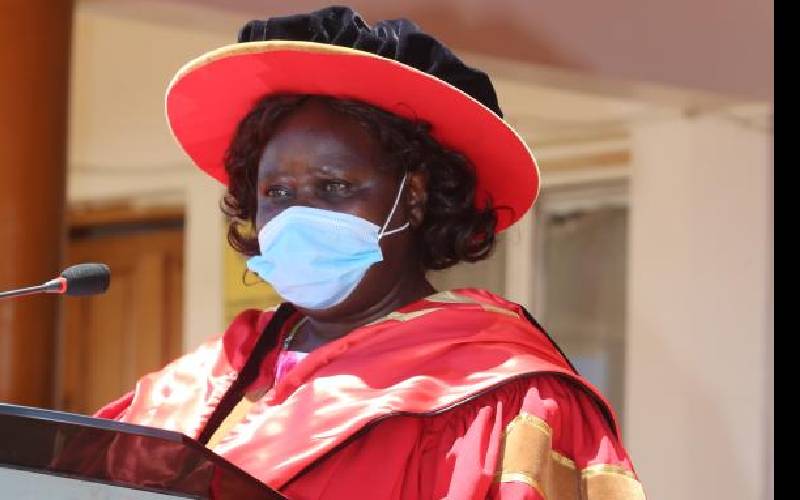 University of Eldoret is upgrading its Open and Distance e-Learning (ODeL) programme to ensure students undertake their courses without delay.
In its bid to achieve this, the institution is currently training more than 300 lecturers and students to ease its application on learning protocols in all platforms.
Vice Chancellor Prof Teresa Agenga said the institution has expanded the infrastructure to cater for 8,000 learners from the initial 2,000.
The VC said the university uses the Model platform for the blended mode of learning and many online software's. The software will be used for the virtual classrooms including BigBlueButton, Zoom and Google Meet.
"Through the blended mode of teaching and learning, we have been able to proceed with our academic activities. We have put in place strategies to redeem the time lost in 2020, through digitisation, while focusing on our mission," said Agenga.
She added: "We are also providing quality education, training, research and consultancy in Science, Agriculture and Technology to meet the needs and aspirations of a dynamic society."
The ICT Authority through their partnerships with Huawei has offered to train the staff in the specialised areas of ICT Security, Internet of Things, Big Data, Cloud Computing, and Artificial Intelligence for free.
The VC said the institution held its first virtual national conference in wetlands under the theme "Wetlands and Water".
The venture, she added, was in collaboration with National Lands Commission (NLC), International Union for Conservation of Nature (IUCN) and other conservation agencies and partners in May, 2021.
The conference came up with collated findings, which formed the platform of coming up with policy statements aimed at informing policy makers while addressing matters to do with wetlands conservation.
"We are currently pursuing options to enable students' access e-Learning devices, including laptops and affordable internet data bundles. In addition, our students and staff have access to discounted internet, an initiative by the Kenya Educational Network Trust (KENET)," she said.
Agenga further said that in order to continue adhering to the MOH protocols on containment of Covid-19 pandemic, the University continues to observe all the protocols, saying they have produced the UoE alcohol-based (540 L) sanitizer.
Simon Nabukwesi, Principal Secretary State Department for University Education and Research said the government had awarded University of Eldoret's Town Campus accreditation as a Technical and Vocational Education (TVET) centre by TVETA, the regulatory body.
He said the Government was impressed with the current performers, an encouragement that resulted of its offering of Diploma in ICT, Diploma in Credit Management and Diploma in Accounting.
"Despite the Covid-19 challenges, the students, lecturers and support staff have worked tirelessly to ensure that we achieve our academic goals," said Nabukwesi.