Commission cautions school heads against flouting fee guidelines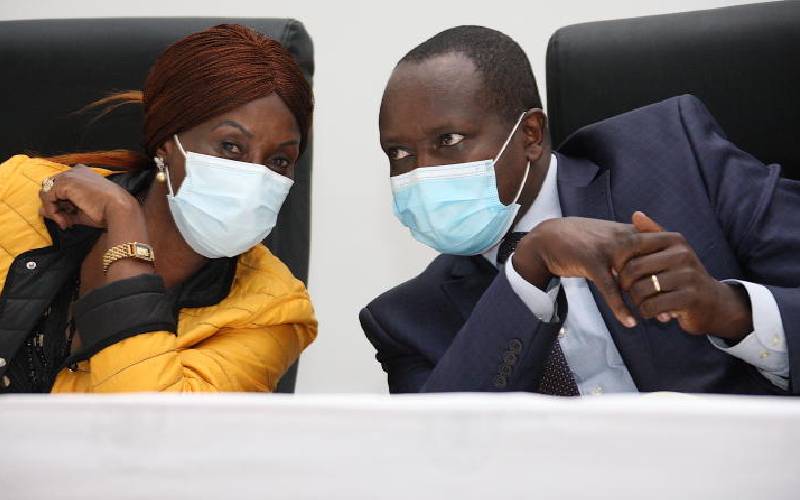 The Teachers Service Commission (TSC) has put school heads on notice over fees increase.
Commission Chief Executive Nancy Macharia said no child should be sent away for higher fees and cautioned that teachers found flouting fees guidelines will be punished.
Dr Macharia said her office was already investigating schools identified by the Ministry of Education for levying fees against government directive.
"I direct that all heads of schools stick to stipulated school fees and avoid loading parents with unnecessary levies," said Macharia.
The directive by Macharia comes barely a week after Education Cabinet Secretary George Magoha urged TSC to punish its staff found flouting the fees guidelines.
Speaking when he flagged off Elimu Scholarships last week, Prof Magoha said Covid-19 pandemic affected the school calendar with the academic year reduced by nine weeks.
"Based on this and in consultation with the president we agreed to reduce the fees chargeable in schools," said Magoha.
He said national schools will charge fees less Sh8,500 and the rest of schools will charge fees less Sh5,500.
The details are further contained in a circular released by Basic Education PS Jwan Julius to all school heads.
"Following the shortened academic year from 39 weeks to 30 for the academic year commencing on July 26, 2021 to March 4, 2022, the Ministry of Education has revised fees payable by parents," read a circular.
This means that parents with students in national and extra-county schools located in major towns will pay a maximum yearly fees of Sh45,000.
These include schools in Nairobi, Mombasa, Nakuru, Kisumu, Thika, Nyeri and Eldoret.
This has been revised from the previous structure in which the fees was around Sh55,000.
Parents with students in county and sub-county secondary schools besides the seven mentioned major towns will pay an annual maximum fees of Sh35,000.
And parents whose children are in special needs schools will now part with a maximum of Sh10,860 yearly.
To school heads breaching the guidelines, Magoha said: "It's better if TSC takes action on those teachers who hike fess. If they don't, the government will."
He said the fees guidelines are breached by a small fraction of teachers who must not be tolerated. "It's only 1-2 per cent of teachers. We cannot allow them to send away children because they have nowhere to go," said Magoha.
Macharia said all TSC field officers must work with school principals and Ministry of Education staff to ensure all learners selected to Form One are admitted to realise the 100 per cent transition from primary to secondary.
She said no child should be locked out because schools are charging higher fees.
"The TSC is investigating a few allegations that some teachers are not complying with government directives on fees. Action will be taken on those found culpable," said Macharia.
She was speaking after releasing a status report on teachers' preparedness for reopening.
Kenya Secondary Heads Association national chairman Kahi Indimuli said parents must commit to pay fees arrears to help schools run.
"Let's not cheat ourselves. Even though we have lowered fees as directed it must be paid and parents must assure us that they will pay," said Indimuli.
National Parents Association chairman Nicholas Maiyo said parents were ready to pay fees but will not accept additional levies.