KeMU opts for technical courses as number of degree students drops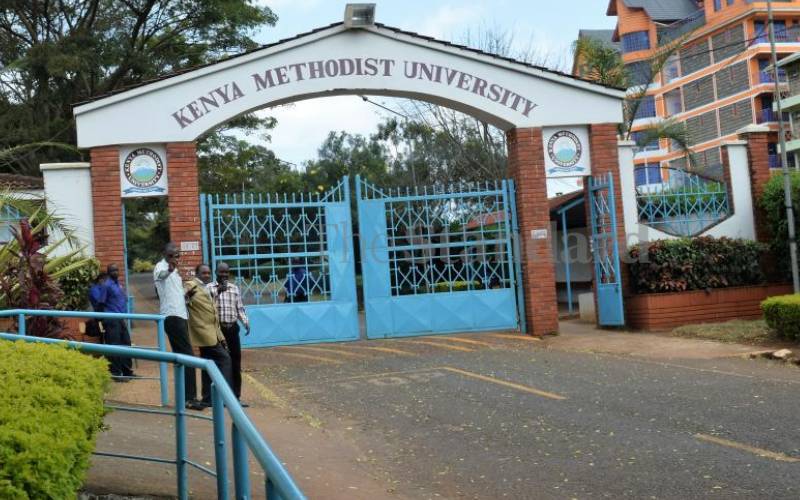 Cash-strapped Kenya Methodist University (KeMU) has become one of the first private institutions to start offering technical courses as the number of students enrolling for degrees continues to dwindle.
While in the past technical courses were a preserve of the technical training institutes or polytechnics, students are now able to access the courses at the university.
KeMU Vice-Chancellor David Gichoya said after the acquisition of the Technical and Vocational Education and Training Authority registration, the institution has enrolled students for various technical programmes.
Prof Gichoya, who was flanked by Methodist Presiding Bishop Joseph Ntombura, who is the university's chancellor, said students who attained Grade D+ in the Kenya Certificate of Secondary Education (KCSE), are eligible to enroll for various courses at the institution.
"We have students for various programmes, from certificate to diploma level. After acquiring a diploma, one can advance to a degree or upgrade through to a PhD," said Gichoya.
"We started with a strategic plan which we launched in 2019. TVET is in Meru town campus. It gave us certification to admit students. We have programmes from certificate to diploma. We are telling students who have done KCSE that they can start from certificate then upgrade to diploma, degree all the way to PhD."
Gichoya encouraged interested students to enroll saying a low achievement at KCSE need not curtail their journey to earn degrees.
KeMUs Technical and Vocational Training Institute will be located in Meru and has started offering various courses in three levels: skills certificate, artisan certificate and craft certificates.
"This means the university is not going to run short of students because so many students out there sometime do not qualify (for direct university admission)," said Bishop Ntombura, on the sidelines of Africa Methodist Conference Heads of Conferences Summit.
Nicholas Riungu, the Director of the TVET Institute, said the first batch of students had started training in various technical courses, including horticulture, hatchery, agricultural extension, food and beverage and others.
He said the fees were affordable, with a certificate course pegged at Sh28,000 per semester and Sh32,000 for a diploma, adding that though majority of the new students were from Meru, those from Eldoret and other areas have applied for the September intake.