School joins Standard's newspaper programme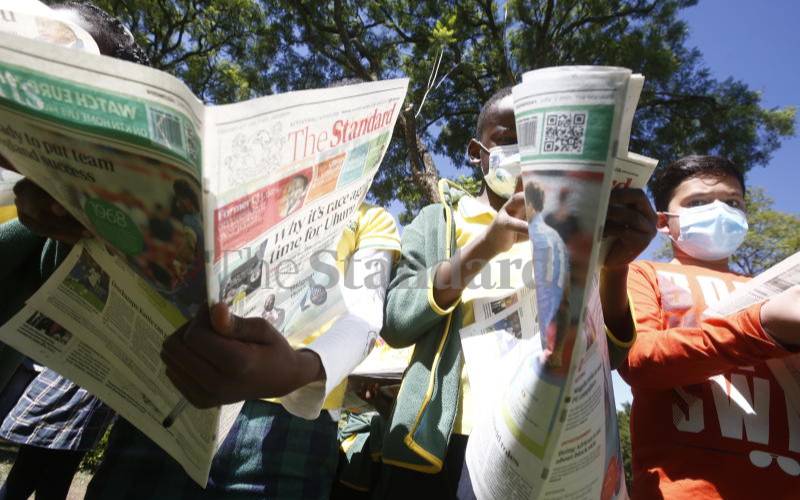 The Standard Group Plc yesterday launched the Newspaper in Education (NiE) programme at Kipepeo School in Milimani estate, Nakuru County.
Led by General Manager Sales and Distribution Moses Ochola, the group gave over 90 copies of newspapers to the pupils in the school.
Ochola also donated a cheque of Sh28,800, translating to over 500 newspapers to the school to ensure the learners get access to The Standard Newspaper.
Kipepeo is among 258 other schools that have partnered with Standard Group to gain access to the newspaper.
Ochola said that the schools that have subscribed to the 'NiE' programme pay Sh4,800 per month to access newspapers for their learners every Tuesday.
Schools can also pay Sh14,400 to access the newspapers once every week over a year.
"The newspapers contain exam series that help learners improve in languages, math and social sciences," said Ochola.
He said since the launch of the programme in January 2017, schools that subscribed had an improved performance in examinations.
"We saw improvements in the results of the 2020 Kenya Certificate of Primary especially in schools that have subscribed to the programme," said Ochola.
He added that the schools attributed the good performances to the introduction of the newspapers.
Miheso Musimbi, the school's headteacher said schools must always endeavour to open a learner's mind through different methods which help them expand their knowledge.
"We make students creative, imaginative, and wise and newspapers can play a major role in helping pupils grow intellectually," said Musimbi.
He thanked the company for partnering with the school and said that the pupils were eager and ready to learn through the newspaper.