Construction of Ida Odinga library to resume after stalling for two months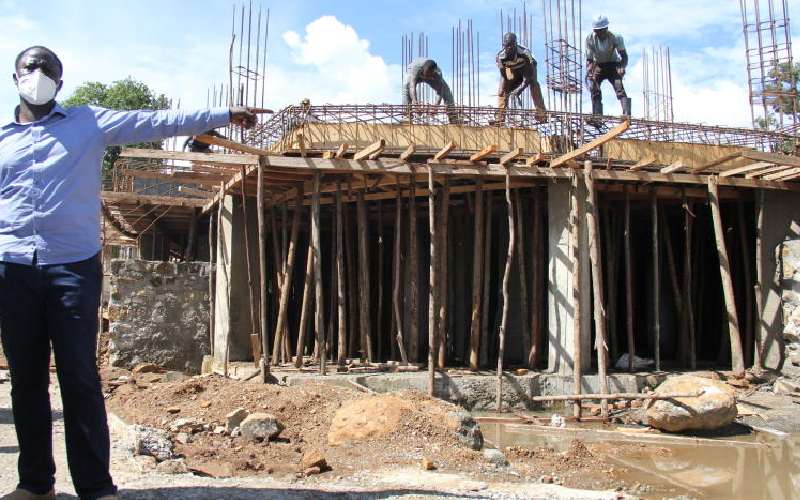 Construction of stalled Ida Odinga Library, Research, Innovation and Resource Centre at the Ogande Girls' High School is set to resume.
This is after Kenya Power and Lighting Company agreed to relocate power lines that were hanging directly below the building.
Ogande Girls gained prominence in 2020 when its most famous alumna, the wife of ODM party leader Raila Odinga, sought to build a state-of-the-art library to support the school's academic pursuits.
However, the construction stalled for about two months as power lines were hanging directly over it.
The school's principal Mrs Jennifer Otollo said the power lines had become a safety threat for students and teachers as they had passed through tree branches in the school's compound.
She spoke to The Standard, following a visit to the school by KPLC Managing Director and CEO Bernard Ngugi.
With Ngugi's visit, Otollo said proved to be quite important for the school's ambitions, as the MD committed that the electricity company will cater for the costs of rerouting power lines that have stalled construction of the new library facility: famously known as Dr. Ida Odinga Library, Research, Innovation and Resource Centre.
"The CEOs help is welcome because construction of the facility has stalled for over two months. The power lines are hanging loosely, directly over the construction area, and thus construction had to stop," Otollo said.
"In 2017 we had a scare when a branch fell on the lines following heavy rains; causing sparks to fly," Otollo said.
The school, she said had been given a quotation of approximately Sh1.5 million to successfully reroute the power lines, moneys Otollo said the school did not have.
Ngungi, who was responding to a request for engagement by the school, was also impressed by the school's improvement in academics, advising the students to "Continue with the focus and discipline as your present actions will determine your future."
The school where Mama Ida Odinga schooled is among schools that posted remarkable improvements in the 2020 KCSE examinations.
"In 2019 KCSE we posted a mean score of 5.8 (a C plain). This year our mean score rose to 8.4 (a B plain). It is an encouraging performance as we chart a path for greater success in the future," Otollo told The Standard.
She credited last years' performance to among other people, Mama Ida, "For attracting influence and giving numerous inspirational talks to the students."
The school produced its first-ever A-student and will be taking 297 students to university (students with C+ and above), 200 more than they performed with 2019 KCSE exams.
The Sh.350 million Library, Research, Innovation and Resource Centre was to be completed by mid-2022 (in 18 months). The stall, Otollo notes, will arguably stretch completion time beyond that period.