Graduation in limbo over university council dispute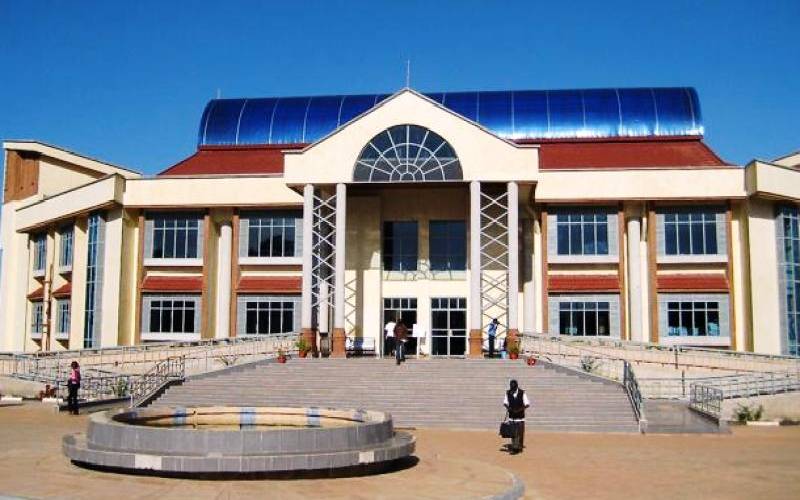 The fate of students at Masinde Muliro University of Science and Technology (pictured) who were to graduate next month hangs in the balance following a legal tussle between the institution and a former employee.
Employment and Labour Court judge Stephen Radido revoked the appointment of Jane Musangi as the chairperson of the University Council, a move that could see plans for the institution's 16th graduation ceremony on June 11 abandoned.
The council is mandated to oversee the graduation of the students and its absence could cripple plans at the expense of the students.
The court also cancelled the appointment of Stephen Mutoro, Connie Mogaka, Joshua Onyango and Gad Kiragu as council members of the university after their appointment by Education Cabinet Secretary George Magoha on March 20, last year.
"A declaration is hereby issued that the decision by the Education CS to gazette and consequently appoint Dr Musangi and the other council members contravened the national values and principles as envisaged under Articles 10 and 232 of the Constitution and is therefore null and void," Justice Radido's ruling of April 7, this year states in part.
Following the court ruling, Dr Ahmed Diriye is the only council member since his appointment had been made earlier.
Yesterday, Dr Jairus Odawa, the Universities Academic Staff Union (Uasu) MMUST Chapter Chairman, said the ruling was a big blow to the institution since students will have to wait longer to graduate.
"We have been working very hard to ensure that students finish their courses and graduate in June, but it is now clear that our efforts are in vain as there is no university council to oversee the process," said Dr Odawa.
At the same time, workers at the university are worried that their promotions will not be effected in the absence of a substantive university council.
"Such endless court cases have affected the growth of MMUST by demotivating the hardworking staff and students. We are really worried because ongoing interviews for promotions have now been disrupted once again," said Dr Odawa.
Uasu has also made a formal complaint to the Judicial Service Commission (JSC) to have the judgement that suspended the University Council reviewed on grounds that it was not made in good faith.
"There is persistent interference with Mmust management through court injunctions since 2017, which has brought instability to the university. Our biggest frustration is that some of these cases are filed by persons who have no stake in the academic section of this university," read part of the letter to JSC.
The management of the university is now caught up in the mire not knowing what to do with the Acting Vice Chancellor Prof Solomon Shibairo putting on a brave face that the graduation ceremony will go on as planned.