Question of trust raised in teacher-driven CBC exams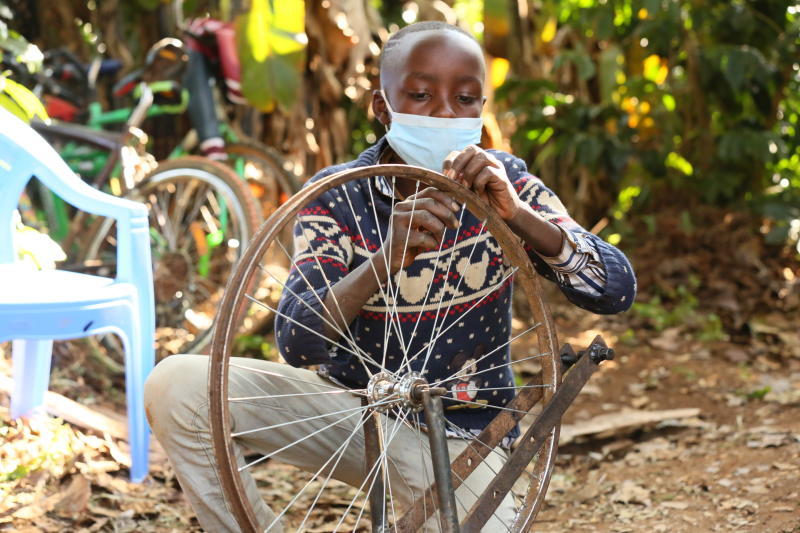 Attempts by teachers to aid in cheating in the national examinations have raised questions on the fairness and feasibility of planned school tests under the 2-6-3-3-3 education system.
This comes only months after the government adopted planned school-based examinations under the Competency-Based Curriculum (CBC).
In the recently concluded Kenya Certificate of Secondary Education (KCSE) and Kenya Certificate of Primary Education (KCPE) examinations, for example, some teachers were accused of going to the extent of breaking the national tests security seals.
Speaking at the end of the examinations, Education Cabinet Secretary George Magoha said 27 officials, including school managers, supervisors or invigilators, were "relieved of their duties" over allegations of violating regulations guiding the administration of the examinations.
Another 37 civilians, including three university students and two businessmen, were arrested for attempting to engage in examination irregularities.
And 50 cell phones were confiscated from candidates at examination rooms during the exercise.
Overall, cases of impersonation and collusion attempts to expose contents of the question papers ahead of time were reported.
Education experts are now poking holes into the proposed Competency-Based Assessment (CBA) concept envisaged in the CBC, which will give teachers more powers over learners' marks.
Take a quick survey and help us improve our website!
Take a survey
Teachers will play a key role, administering and scoring the learners 60 per cent of marks for the school-based assessments.
Under the proposed plan, one national examination for primary school learners will be developed, managed and marked under the supervision of the Kenya National Examinations Council (Knec) at Grade Six. And this examination will only constitute 40 per cent.
A similar practice will be witnessed in secondary schools, where national examinations will be administered at Grade Nine and 12.
Educationists are now worried that the new powers teachers have been handed to determine the future of children may be abused.
They argue that it may be used to propel some schools for commercial gains or award fictitious marks that may be detrimental on a child's professional growth.
"We have seen teachers and even principals working hard to beat the security measures to leak the KCPE and KCSE examinations. If they can do this under the present tight circumstances where they even face jail terms and loss of jobs, what if they are in charge?" said Emmanuel Manyasa, Usawa Agenda Executive Director.
"How will we trust the teachers to fairly score the learners, given that they will literally determine whether your child passes or fails in the basic stages of learning?"
Teachers will play critical roles in identifying and nurturing children's talents under the four pathways of Arts and Sports Science, Social Sciences, or Science, Technology, Engineering and Mathematics (Stem).
The pathways are expected to exploit learners' imagination and creativity, solve problems, use critical thinking and apply digital literacy, among other aspects.
Overall, the marks scored will be based on a holistic assessment of the learner, including established values and character and also how they relate with their environment and respect for others.
This means children who may perform well in academics but do not manifest mastery of good values may have their scores by teachers affected.
A high school teacher, Moses Ayier, said implementation of the school-based assessment with such high premium scores will be a major challenge to fairness.
"The societal pressures that prompt cheating will largely remain the same. Need for high scores, appetite for money and promotions for best scoring schools will remain and will likely affect scoring," he said.
Ayier, also a leadership and mind coach, said moderation of the schools' scores by Knec may also be a challenge.
"Who is this who will be moderating the teachers' scores and will not trust the teachers' assessments? How about if the scores will be doctored at that level to skew performance?" he said.
The Kenya Institute of Curriculum Development Chief Executive Officer Charles Ong'ondo, however, defended the system, saying adequate safeguards have been put in place.
Prof Ong'ondo said officers will visit sampled schools to check how scoring was done against the past performance trends of the child. "If any anomaly will have been done it shall be detected," he said.
Knec will use learner's portfolios written in children's handwriting to detect foul play. "And based on the Monitoring Learners Progress tests administered recently it was evident that teachers scored the deserved marks," added Ong'ondo.
He noted that the assessments will start from pre-primary and it will be easy to monitor a child's progress every term.
"We shall be tracking to see whether teachers administered the continuous assessment tests at every stage as is required, so that at Grade Six we only have the aggregated marks," he said.
Paul Wanjohi, the national organising secretary for Alternative Provision of Basic Education and Training Association, termed the school-based assessments as a tall order.
"If I am a teacher who has been working hard to steal examinations under the tight circumstances what happens if I am now in charge of the tests scores?" said Wanjohi.
"Unless we get rid of the notion that puts high premium on grades we shall never move forward. Employers ask for grades instead of competence."
Under the new plan, assessment at pre-primary level will be administered by classroom teachers to inform not only learning progress but also assess readiness for transition to primary school and advice on required interventions and appropriate placement, especially for children with special needs as well as the talented.
Assessment at primary school level will be mainly formative. In Grades One to Three, teachers will conduct classroom assessment, and at Grade Three, Knec will develop a standardised assessment tool to be administered, scored and feedback given to individual learners by teachers.
The schools will then submit the results to Knec for analysis of the achievement of competencies at national level.
It is also envisioned that the assessment will facilitate the placement of learners in junior and senior secondary schools.
Amos Kaburu, an education expert, said the entire philosophy of examinations must be re-looked.
"Exams should be minimal. The delegation of assessment to teachers is a failed project. It won't work," said Kaburu.
He said problems in examinations administration has nothing to do with supervisors. "It's human nature to try to outsmart the system," he said.
"The ministry should be supported to deconstruct this examination system, including its philosophy. Within the same philosophy is the question of overlap in what is assessed."
In addition to imparting knowledge, the teachers will also oversee holistic education of learners, which will include character and behaviour.