Chrispo wants to study law after scoring 413 in KCPE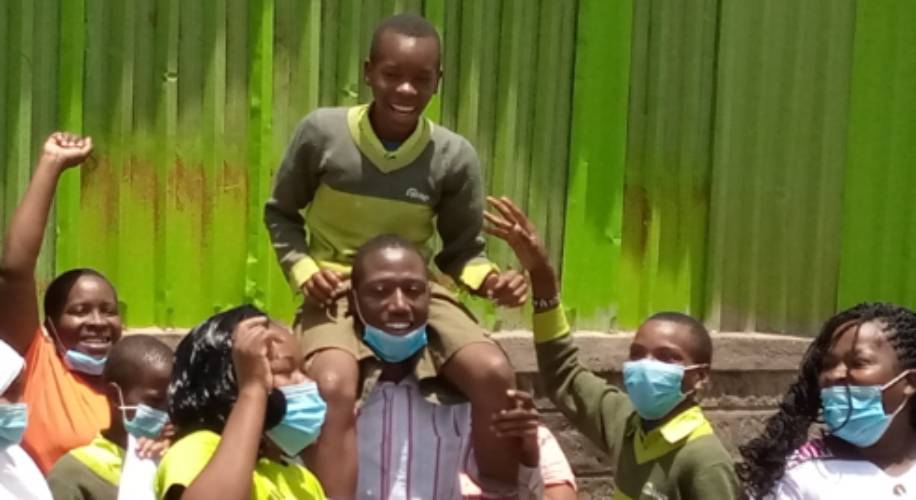 As the country continues to celebrate the Kenya Certificate of Primary Education (KCPE) results released last week, Chrispo Oseko is jubilant for defying odds to score an impressive 413 marks out of a possible 500.
Chrispo is from the larger Mukuru community, an informal settlement in Nairobi. Born and raised in Mukuru slum to a family of two boys and a girl, Chrispo's dream is to become a Human Rights Lawyer.
"I would like to fight injustice in the society and the best career that fits this kind of work is to be a lawyer, in this way we can transform society into a better place for all," says Chrispo.
He scored 79 points in Mathematics, 83 points in Science and 83 points in Social Studies. In both English and Kiswahili subjects, he garnered 82 points and 86 points respectively.
But this was not an easy task due to the Covid-19 pandemic that resulted in a total shut down of all learning institutions across the country.
Chrispo recalls, "During the lockdown, our teachers were instrumental by ensuring that we had learning materials delivered to us at our homes, we also had online learning sessions called the @home learning which was organised by the school. This was very key in improving our learning and also helped us cover the education syllabus. As candidates, we also organised group discussions where we helped each other on different subjects."
Despite all the challenges most slum dwellers face, Chrispo's parents ensured that he had a good learning environment to ensure that he concentrated on his studies.
"Today I am happy that my son is among those students who have performed well in last's years KCPE, it gives me joy and he has lifted family name. Life in the slum areas is not easy at all, there are drugs, teenage pregnancy, gang life and all sorts of negative things, but my husband and I decided that we have to ensure that all our children have time to concentrate on their studies," says Gladys Kemunto, Chrispo's mother.
"Chrispo desires to join Alliance Boys High School and I hope he gets a slot there."
"This kind of performance is a key indication that if we offer equal opportunity to every child then they can all excel in their studies. Chrispo has made us proud and he has set a new record in KCPE results in this school. In 2019 KCPE the highest pupil scored 374 marks out of 500 marks, this is a great improvement. Chrispo has set a new record in our school and he also challenged us that we have to work extra hard to ensure that our candidates' performance this year must either be at par with his score or higher," said Emmaculate Ojanji, Bridge International Academies academy manager at the school in the Mukuru community.
Ojanji reveals that the remote learning resources helped to prepare the candidates for the KCPE examination.
"When the lockdown was implemented, as a school we had to create a new method of ensuring that our candidates have access to learning materials. We partnered with different cyber cafes within the slum areas where we ensured that our candidates or parents have access to learning materials including KCPE revision papers and this helped the candidates improve on their learning session, "adds Ojanji.
She also revealed that the lessons are structured in a manner that the teachers ensure that no pupil is left behind.
"Our class sessions are made up of between 20-35 pupils and our lessons are 40 minutes, with this kind of arrangements, we can offer extra lessons to the slow learners who are coached to be at par with first learners, "comments Ojanji.
Sarah Ondimu is the Nairobi East Area Supervisor; she reveals that the success of the academy is based on the method of teaching.
"When Covid-19 disrupted physical learning, we had to readjust our learning sessions and that's why we introduced remote learning which has bored fruits for us, "says Sarah.