KCPE top candidates dare to dream of better future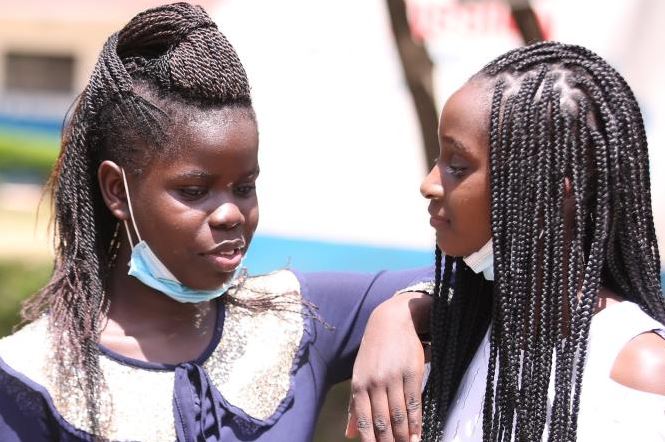 Top performers in the Kenya Certificate of Primary Education (KCPE) examination yesterday continued to celebrate their good performance and reveal their dream career choices and the inspiration behind their success.
Although many held muted celebrations, due to the Covid-19 protocols, the top candidates could not hide their joy.
They are happy to have set a good base for their dream careers.
Faith Mumo, who emerged top nationally, believes she will attain her desire to join Kenya High and later pursue a course in neurosurgery.
"I owe my success to my class teacher and headteacher, who were very patient with me even when I panicked.
"At times, I feared I was not going to do well but they encouraged me and assured me all would be well," she said.
Samuel Wanyonyi, of Nzoia Sugar Primary School, who scored 431 marks, says he hopes to join Mang'u High School.
Take a quick survey and help us improve our website!
Take a survey
"After my secondary school I want to be a pilot," an excited Wanyonyi said.
Castro Williams, 13, from Crystal Hill Academy scored 431 marks to claim fourth-best position nationally and number one slot in Kericho County.
"I was confident because I had answered most of the questions correctly and that I would not disappoint my parents and my teachers," he said.
William, whose father is a high school teacher, added that his teachers had adequately prepared his class for the examination and had completed the syllabus on time.
An excited William expressed confidence he would be admitted to his dream school, Kapsabet Boys High, for his secondary education and he aspires to be a physician.
William's school mate, Dan Chris Mboya, was happy after scoring 429 marks to emerge sixth nationally.
Best surprise
"I am surprised by the results. I was an average pupil but God has done his miracle and I performed beyond my expectations," he said.
Mboya, like Williams, is hopeful to join Kapsabet Boys High school for his secondary education.
However, Mboya dreams of becoming an electric engineer.
"I want to be an innovator. I draw my inspiration from my uncle, who is an engineer," he said.
Angel Gakenia of Maseno Girls Boarding scored 432 marks and was ranked 13 nationally.
"I dedicate my performance to my teachers and mother. They supported me when the country was ravaged by corona virus, and learning was disrupted," said Gakenia.
"I put in more efforts and my mother supported me by ensuring I had online lessons to ensure my mind was engaged. My ambition is to join Kenya High School and become a neurosurgeon.
"However, I would advice candidates to focus and know that everything is possible if they believe and work towards it," said Gakenia.
Lanisha Akoth of M. M. Shah Primary was overjoyed after scoring 425 marks.
"I now understand that hard work pays. I did stretch myself beyond limits and it has paid off.
"I was humble and I will continue to work hard so that I can achieve my dream of becoming an Engineer, just like my dad. My dream school in Alliance Girls' and I hope to get admitted there," she said.
Margaret Mwangi of DEB Karatina in Nyeri County, scored 430 marks and hopes it is enough to secure her admission at Alliance Girl's High school.
She attributed her success to hard work and support of teachers and her parents.
"My performance came as a surprise. I could not believe TV news that I was among the 10 best candidates in the country. I was lost for words," said Mwangi, who want to be a lawyer.
She attributed her success to prayer and dedication to God.
Victor Tenai, a parent at St Mathews Septonok, lauded the top academic standards and consistent performance registered by the school in Nandi.
Tenai's daughter, Marion Cherono scored 422 marks and expects to join Kenya High.
"Hard work and good efforts by teachers are what made me score 422 marks. Kenya High is my dream school and I aspire to be an ophthalmologist in future," said Cherono.
Her colleague, Laureen Chepkemboi Tarus, who garnered 431 marks to emerge position six nationally was lost for words.
Her performance placed her sleepy village on the national map as she was the best in Rift Valley.
"I want to join Alliance Girls and actualise my dream of becoming a cardiologist," she said
Mburu Bridgit Waithira, of Moi Primary School in Gatanga, Muranga was equally elated after she scored 420 marks.
She also hopes to get admission at Kenya High School and hopes she will work hard to pursue her dream course in pharmacy.
"All my efforts were directed at studying hard to ensure I got the requisite marks to join my dream school," she said.
Stacy Njoki of Emmanuel Academy in Kangari, Murang'a county was also on top of her class after she got 420 marks.
She hopes to join Alliance Girls and to eventually study medicine at the University of Nairobi.
Eleanor Njoki, of Lily Academy Kiambu county got 420 marks and was the top girl at her school in Githurai 45 in Ruiru sub- County.
She wants to become a neurosurgeon.
However, for Christabel Nkatha of St Ann Mission Primary School, Kariene in Meru county, she attributed her good performance to her background.
She scored 417 marks and hopes to join Pangani Girls in Nairobi.
She said the her parents, classmates and teachers kept her on her toes, which eventually led to the top grades although she expected a better performance.
Ronny Kihara of St Ann Mission Primary School, Kariene in Meru county was equally happy with his good grades after he scored 415 marks.
Ronny attributes his good performance to a challenge from his best friend and former schoolmate Roy Koome, who scored 433 marks in last year's KCPE at the same school and joined Friends School, Kamusinga.
"He used to tell me that if he performed well, I had no option.
"I also wish to thank my parents and teachers for keeping me challenged and focused," says Rony, who wishes to join Alliance High and eventually achieve his dream career of becoming a lawyer.
Elvin Kimathi of St Ann Mission Primary, Kariene in Meru county was third in her school scoring 413 marks.
Draw inspiration
Kimathi, who wants to join Nairobi School and eventually pursue a course in engineering, said his father was his biggest motivator.
"My father would remind me every day to work hard and get a ticket to join Nairobi School," said the pupil, who expected a little better performance but is content with what he got for now.
The best candidate at the Coast, Master Brown Baya Msanzu, 16, scored 426 marks said he wants to become an architect because "I love sketching."
Msanzu sat his exams at Mtwapa Elite Academy in Shariani, Kilifi South constituency. It is one of the schools from rural areas in Coast that beat giants that have for years dominated national exams.
In Mombasa, little-known Chris Preparatory in Mishomoroni slum got a mean score of 354. Six of its 29 pupil attained over 400 marks with the last had 300.
"As other learners took to e-learning, we relied on direct teachers' assistance and this made us do well in our final examinations," elated Msanzu said.
He explained there was limited access to internet during his studies, and he relied on his books and teachers as he prepared for his examination.
In Kwale, Master Moses Furaha Charo, 15, of Bethany Christian Academy, scored 424 marks and hopes that he will be the country's Chief Justice.
[Reports by Mercy Adhiambo, Kevin Omolllo, John Shilitsa, Caroline Chebet, Kennedy Gachuhi, Nderitu Gichure, Wainaina Ndung'u, Nderitu Gichure, Fred Kibor, Edward Kosut, Stephen Rutto, Peter Ochieng, Patrick Beja, Philip Mwakio, Ishaq Jumbe, Weldon Kipkemoi, Renson Mnyamwezi, Nehemiah Okwembah and Earnest Ndunda]
Four IEBC jobs now up for grabs
The selection panel as per the IEBC Act of 2020 shall consist of two men and two women nominated by the Parliamentary Service Commission (PSC) chaired