Which way universities: The big dilemma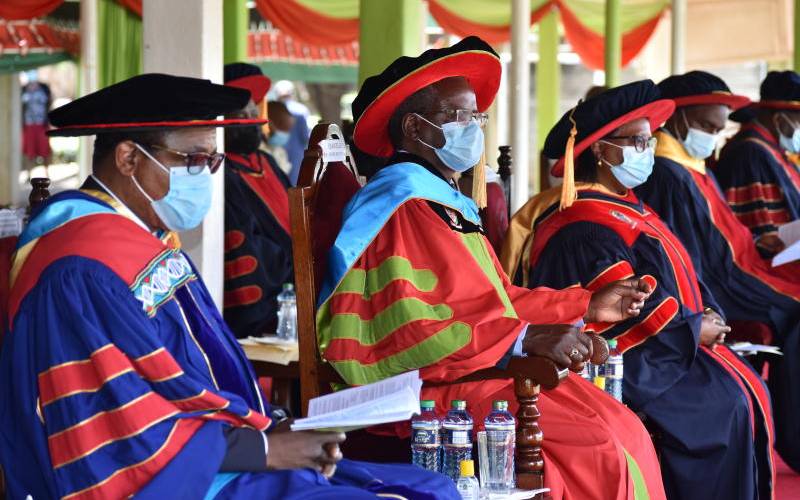 Questions have emerged over plans to reform public universities to improve their financial status and streamline operations to keep them afloat.
Details have emerged that three of the largest public universities are lined up for major reforms to enhance their viability as part of the loan conditions set by the International Monetary Fund (IMF). This has sent panic across the higher learning institution sector.
Vice-chancellors and university sector players are now questioning why only three top institutions are targeted, given that nearly all public institutions need serious reforms to stay afloat. Additionally, lack of finer details on the nature of anticipated reforms has further thrown the sector into panic, re-igniting talks of mergers.
The revelations are contained in an IMF statement titled Kenya: Requests for an Extended Arrangement Under the Extended Fund Facility and an Arrangement Under the Extended Credit Facility.
The IMF statement announcing the executive board's approval of a new Sh257 billion loan listed 'three of the largest universities' among the State-Owned Enterprises (SOE) earmarked for reforms to operate optimally and efficiently for maximum profitability.
Even though the report did not name the specific universities, available data shows that the hummer may fall on University of Nairobi, Kenyatta University and Moi University, which are Kenya's largest public institutions of higher learning in size, student population and staffing.
UoN Vice-Chancellor Stephen Kiama said he held a meeting with the IMF Executive Director for Kenya on the need to position the university by according it full support. "We have been a leader in the region and I told them there is need to be anchored properly and this is a strategic discussion for the country," said Prof Kiama.
The VC said after 50 years of dominance, the university cannot be lumped together with other small institutions and must be supported to fly. "It's about rationalisation for optimal performance," said Prof Kiama.
In the IMF want the SOEs­, in this case the three largest universities, for the financial evaluation be selected according to transparent criteria and the analysis will include a forward-looking assessment of cash flows and of associated fiscal risks.
"The financial evaluation will inform any extraordinary SOE support in FY2021/22," reads the statement.
It further says, the strategy for addressing financial pressures in the SOE sector will include a framework for deciding on interventions and reforms to rationalise government involvement in the sector and ensure the viability of SOEs' continued operations.
Though the specific nature of the proposed reforms in the universities under the IMF conditions still remains scanty, VCs who spoke to The Standard on Saturday termed as unfair the move to only target three institutions.
Debt burden
They said all varsities are sagging under a Sh40 billion debt that has frustrated their efforts to sustain operations and quest to offer quality education. They argue that all universities require huge support, most of which is hinged on funding.
University Education PS Simon Nabukwesi said the institutions have over-relied on Module II students, whose numbers have dropped, to generate additional money.
However, he admitted that universities are facing hard times with changing tides of funding by the Government and reduced appropriation in aid.
"The survival of universities depends on the resource mobilisation from development partners and other creative sources," said Nabukwesi.
The Universities Fund, mandated to apportion funds and to develop a transparent and fair criterion for allocation of funds to universities, still remain in paper.
The Universities Fund fronted a review of funding model by full implementation of the Differentiated Unit Cost (DUC) and performance and competitive grants to encourage improvements in the sector.
The Fund has also proposed aligning of finances with national priorities, ensuring equity, objectivity and transparency in awarding of grants and development funds.
Also proposed has been funding universities based on sustainability and specialisation, establishing a university data management system, improve research for resource mobilisation and seeking industry collaboration to supplement government funding.
Overall, the Fund has also proposed the introduction of Public-Private Partnerships (PPP) for infrastructure development, starting joint endowment fund programs and attract more foreign students to cover costs.
VCs have also pitched a strong case for proper funding targeting each student as opposed to the present blanket financing of the universities.
They also suggested need to set up a special fund to bail out all public universities even as adequate resources are provided to meet payroll demands and operations and maintenance costs.
Self-assessment
The Vice-Chancellors also proposed that their debts be written off, more money be allocated and they be allowed to downsize to enable them to stay afloat.
In addition to these, the VCs proposed an increase of student fees from Sh16,000 to Sh48,000, as one of the options to plug their deficits.
The funding structure, which presently gives the universities recurrent capitation of 60 per cent, will be reviewed to 80 per cent.
"These are reforms proposals that targeted all the universities and were well-intentioned. We cannot only target three universities and claim to be reforming higher education," said a VC of one of the public universities.
The IMF only listed three top universities among the nine State-owned enterprises with the largest fiscal risk to the FY2020-21 budget.
The statement said these institutions would undergo a complete financial evaluation to include the projection of related urgent fiscal needs in FY2020-21, supported by clear presentation of their necessities.
"By July 2021, completing a draft blueprint that will indicate the needed legal reforms as well as the implementation actions to operationalise efficiency in oversight and management of SOEs," reads the statement.
What has irked the VCs is that the institutions will be selected based on largest financial and fiscal risks.
In their recent memorandum signed by Prof Geoffrey Muluvi, vice chancellors' committee chairperson, the VCs revealed the total amount owed to their institutions as of September last year was Sh37.3 billion, most of which were due to KRA. On pensions, VCs report says since 2010-2013 CBA, they have been unable to remit about Sh3 billion.
But the financial mess is even worse as was revealed by Treasury Director of Planning Samuel Kiiru, who said universities debts under the pensions component alone is about Sh10 billion, inclusive of CBA arrears.
In addition to these, VCs report also revealed that their monthly payroll and capitation has a shortfall of about Sh1.4 billion. However, Treasury PS Julius Muia told Parliament universities received Sh111.9 billion, Sh123.6 billion and Sh113 billion in the last three budgets.