MKU releases first medical graduates
Mount Kenya University (MKU) has released its first cohort of medical doctors since it was accredited to offer Bachelor of Medicine and Bachelor of Surgery (MBchB) programme.
Dr Eva Njenga, the chair of the Kenya Medical Practitioners and Dentists Council (KMPDC), presided over the administration of Hippocratic Oath to the 24 medical doctors.
The medical doctors who successfully undertook the six-year training will now proceed to various hospitals for their 13-month internship
The university was accredited in 2014 to teach medicine.
MKU becomes the first university founded by a private education entrepreneur to graduate medical students.
Others who have had similar graduations are public universities and faith-based institutions.
Speaking during the oath ceremony on Wednesday, Dr Njenga said while the demand of doctors in the country remains high, KMPDC was keen to ensure the level of training remains above board.
"We have the national training and standard of medical schools and teaching hospitals in Kenya.
"This is one of the aspects that as a council we are taking seriously because we want to make sure that the doctors that are coming out of the medical schools are safe for the people we work for," Dr Njenga said.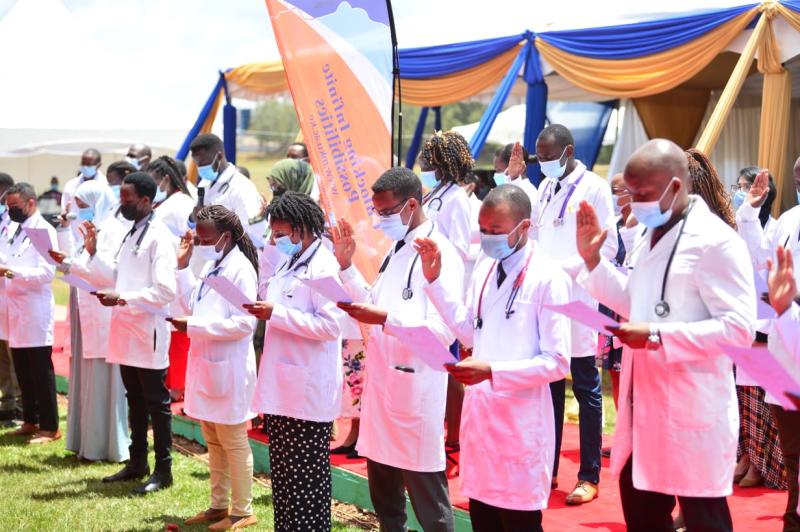 Also present were Dr Daniel Yumbya, the chief executive of KMPDC, MKU founder Simon Gicharu and the new Vice-Chancellor Prof Deogratius Jaganyi.
To anchor the programme, Dr Gicharu said the university invested Sh300 million in a well-equipped anatomy laboratory through a public-private partnership with Thika Level Five Hospital in Kiambu County where the medical doctors have undergone practical training.
"Through research and technology, we want to be part of the solution to the many challenges affecting the country," he said.