Learners to know fate of KCPE exams today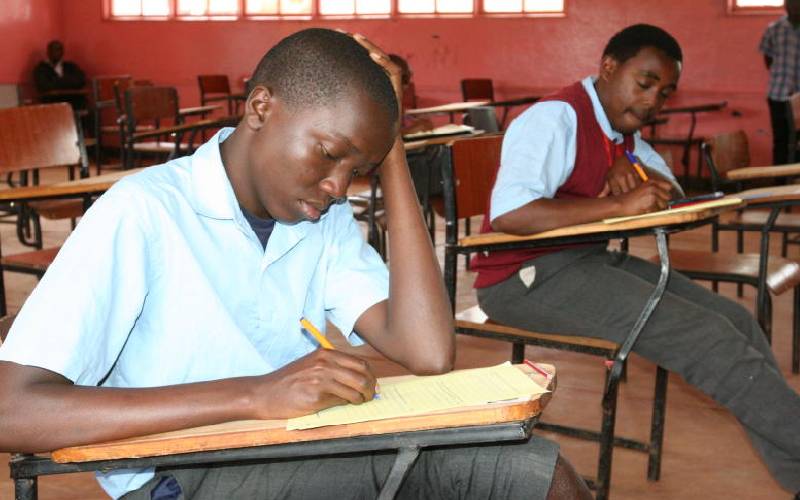 Parents' tough burden of managing their school-going children will be laid bare today, as a report recommending an end to boarding is released today.
Preliminary findings of the Competency-Based Curriculum (CBC) task-force report show a proposal that all children joining Junior Secondary schools be day scholars.
According to the proposals, all learners will be required to join secondary schools, within five kilometres radius, effectively giving parents more time with their children.
Inside sources in the team put together by Education Cabinet Secretary George Magoha said the recommendation was floated to increase parental engagement in their children's discipline.
The members said the proposal was mooted to stem the rising cases of indiscipline in schools, including the perennial school fires that destroy institutions' property and threaten learners' lives.
President Uhuru Kenyatta is expected to launch the report today.
If report proposals are not changed, boarding facilities will only be retained in Senior Secondary Schools that will be picked to support pathways.
Parents who spoke to The Standard had mixed feelings about the proposals, with some questioning what would happen to regions where schools were wide apart.
Competition for prestigious schools will set in, as children will scramble to be admitted to nearby top schools.
Others also questioned the rationale, saying integration and cohesion among children would be hampered.
Whether there would be adequate infrastructures in nearby schools to accommodate the potentially huge number of learners has also been raised, as stakeholders debated the practicality of the proposal.
Under the new 2–6–3–3–3 education system, learners will spend two years in pre-primary education, six in primary, three in junior secondary, and another three in senior secondary schools. The other three years will be taken by vocational training or university education.
Reports indicate that the team chaired by Kenyatta University Deputy Vice-Chancellor in charge of Administration, Fatuma Chege, proposed an end to primary school examinations.
This means the examinations, known as the Kenya Certificate of Primary Education, would be abolished. Learners will now sit school-based assessments, which will be used to gauge their understanding of the subject areas.
According to the team's recommendations, the first national examination should be done at the end of Grade Nine (Junior Secondary).
This exam will be used to place learners in various pathways at Senior Secondary Schools. The pathways under the new education system will include arts and sports science; social sciences; or science, technology, engineering, and mathematics.
A second national examination shall be done at the end of Senior Secondary education (Grade 12) and will be used to place the learners in Universities and Colleges.
As the government launches the report today, the headache of learners' transitioning from primary to secondary schools under the new curriculum will be laid bare.
Part of this is how learners will be allocated slots in prime national and extra county schools, which are some of the best institutions.
Reports indicate that the top schools will be converted to anchor the pathways. Sticky issues include logistical nightmare of placement criteria to be used to allocate learners slots in secondary schools.
The team gazetted in June last year was tasked to undertake critical analysis of the national roll-out of the CBC.