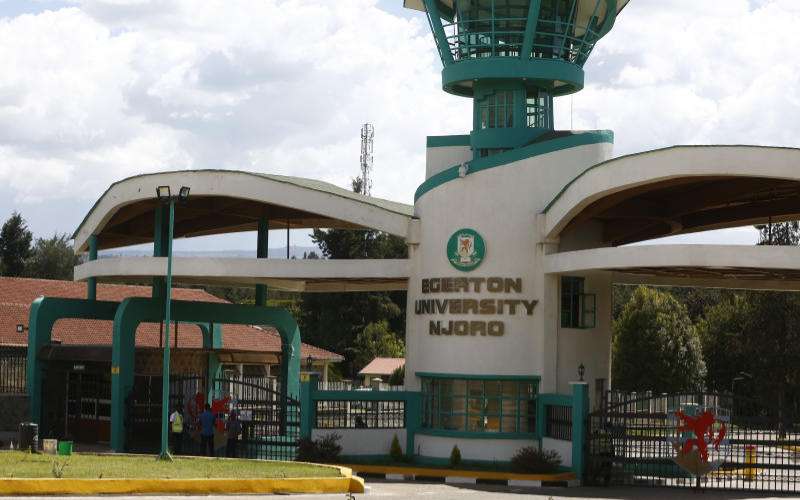 The Kenya Union of Domestic, Hotels, Educational Institutions, Hospitals and Allied Workers (Kudheiha) has sued Egerton University over Sh2.8 million unremitted dues.
Kudheiha wants Employment and Labour Relations Court judge Hellen Wasilwa to order the university to remit Sh2,818,600 to the union's bank.
The union also wants the university to pay accrued interest and the cost of the suit.
Through an affidavit by Albert Njeru, the Kudheiha secretary-general, the union avers that it entered into a Collective Bargaining Agreement (CBA) with the university and has been entitled to union dues.
"The dues were to be collected from its members working in different departments within the respondent (university) and remitted to the claimant's (union) bank," reads Njeru's affidavit.
Accumulated debt
The suit avers that the dues have accumulated between 2017 and 2020.
"The union is owed Sh1,448,400 accumulated between February and December 2018, Sh362,700 between April and June 2019, Sh120,900 for August 2019, Sh886,600 between November 2019 and December 2020 and CBA arrears from 2017 to 2021," reads the suit.
The union documents depose that the university has without any valid reason refused to release the money and has withheld the already deducted dues for the union.
"The claimant has demanded the respondent to remit the amount due through several notices and demand letters but the respondent has refused to take heed of the notices," reads the suit.
Due to the alleged action, the union says it has been exposed to serious financial crisis and difficulties that has impacted on its operations.
The union says it cannot pay its workers, maintain its branches and carry out its mandate as a trade union.
"The claimant can no longer pay its rents, workers' salaries, taxes and deductions, including the NHIF," reads the suit.
The suit adds that the university has prejudiced the union and if the court doesn't intervene, the union will suffer irreparable damage.
The suit terms the alleged illegal action by the university as a total violation to Labour Relations Act.
In response, the university wants the parties to sign consent and come into an out-of-court settlement.
In its reply, the university urged the court to grant it 30 days to sign the consent and come into an agreement over the alleged accrued debt.
The case will be mentioned on March 16 to confirm the progress of the matter.