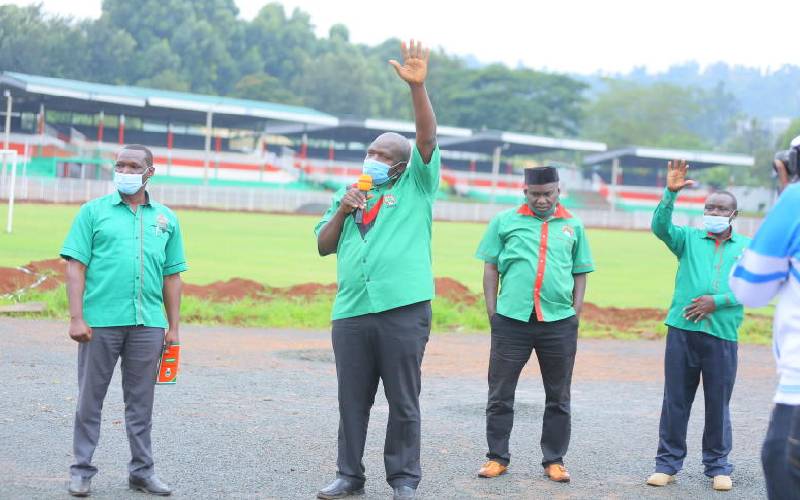 Kenya National Union of Teachers (Knut) Secretary-General Wilson Sossion has urged teachers to stand firm and defend the outfit, even as a section of officials want him ousted.
Mr Sossion, who is also a nominated MP, has termed Knut's frustrations by the Teachers Service Commission (TSC) a witch-hunt to paralyse the union and silence its members.
"What you are seeing TSC doing is to make you members shy and run away from the union, which has been in the forefront in fighting for your rights," Sossion said in Kabarnet, Baringo County, where he oversaw union branch elections at the weekend.
Medical cover
Read More
"Like now we have a comprehensive medical cover, thanks to the union, unlike doctors who got nothing," he said.
He urged the members to support the union and never agree to be victimised by the government.
"We should not allow being used by the government. The problem with government officials is that they have failed to listen to unions' grievances. The only language they understand well is a strike," Sossion said.
He said the teachers' union should be independent, as stipulated in the Constitution.
"The Constitution of Kenya has granted us independence as a union. That should be observed by the government. All labour unions should be respected," he said.
Some officials have echoed Sossion's sentiments, calling for a stronger union.
On Saturday Joshua Tarus, who was elected the chair of Knut's Baringo branch, called on President Uhuru Kenyatta to support teachers in their mission.
In Siaya, Knut officials asked teachers to stay put in the union and have a collective voice.
Collins Oyuu, the acting national chair, said leaving the union was dangerous, as no one would speak on their behalf.
He was addressing teachers during the election of branch officials at Siaya Central Primary School.
In Bomet, teachers petitioned TSC to reinstate the Knut register.
"It is our appeal to TSC to reinstate the Knut register and check-off system so that we can resume normal operations and make teachers proud of their union," said Malel Lang'at, after winning the Bomet executive secretary position.
Mr Malel, who retained the seat for the second time, said the branch had not received funds for more than a year.
Only 500 teachers participated in the election of the branch's officials, which has 6,000-odd members.
Clement Githau, the Knut assistant secretary-general, oversaw the elections conducted at Bomet Teachers College.
All previous officials retained their positions.
In the executive secretary position, Lang'at trounced Desmond Kibet despite earlier indications that teachers pushed for a new face.
All is not rosy at the giant teachers' union. Union officials from Butere, Mumias, Kakamega North, Lugari, Bungoma North, Teso, Kakamega Central and Hamisi have blamed Sossion for mismanagement of union affairs, leading to a mass exodus of members.
They vowed to push for Sossion's removal, saying the union that was once great was on the verge of collapse as a result of bad leadership.
In the resolution read by Emily Mito, the Kakamega North branch treasurer, the officials called on National Executive Council members to allow a change of guard through a free and fair election.
Sossion is set to present himself for reelection, again, this year, a move that has rattled the branch officials calling for his ouster even before the elections.
The union had earlier announced that the elections would be held on January 4, but the date had to be changed as it coincided with the reopening of schools.
"We call on Sossion to allow branch leadership to elect a new national leadership to save the giant union that has previously assisted teachers of this country," Mito said.
[Yvonne Chepkwony, Brian Kisanji, Gilbert Kimutai and Olivia Odhiambo]