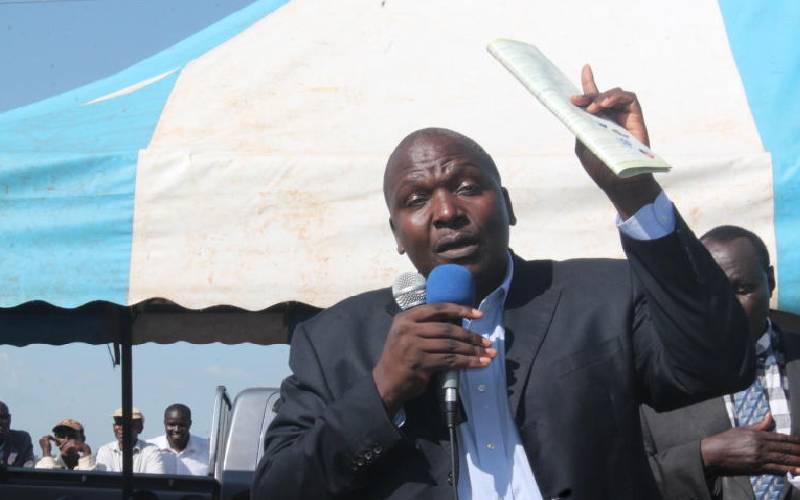 Kenya National Union of Teachers (Knut) National treasurer John Matiang'i has hit out on the Teachers Service Commission (TSC) for forcing teachers to attend educational seminars and workshops during weekends and holidays.
Matiang'i said the move by TSC to force teachers to attend the said workshops was illegal and individualistic aimed at intimidating teachers.
Speaking in Kisii on Sunday, while presiding over the branch elections, the treasurer said the commission's action is unconstitutional as it interferes with freedom of worship.
"The official working hours have been gazetted by the Ministry of Education. It is wrong to subject teachers to training when they are supposed to carry out their social activities."
Read More
Matiang'i was referring to TSC circular directing agencies and Non-Governmental Organisations undertaking educational tasks that require teacher participation to schedule them to weekends and school holidays.
He also accused TSC of threatening teachers not to participate in politics, saying teachers too have a right to elect leaders.
"It is our right as citizens to elect political leaders. The intimidation has to come to an end. There is religious liberty all over the World," he said.
He faulted church leaders and politician for remaining silent as teachers suffer in the hands of TSC.
"Teachers are low in morale and feel threatened. Warning letters are becoming the norm of the day. It is high time politicians and the clergy to talk against the ill teachers face in the hands of their employers," he said.
On Friday, ODM leader Raila Odinga issued a statement accusing TSC of undermining teachers unions.
"The Teachers Commission and Knut must return to the table, go through the rulings of the court and resolutions of Parliament and begin a new journey of good faith that benefits all."
Raila said the parties don't need to be permanently in court or at war. "In fact, the courts have asked the two to negotiate. In the long run, the absence of a strong and credible teachers' union will be extremely costly to the country."
The former Premier noted that through a series of intentional actions, TSC has disabled and is now en route to killing Knut.
"The teachers may have been subdued and gone silent as the monumental movement they have built from scratch since 1957, and which they took pride in, is brought to its knees. But they are certainly not happy. Learning in school require full dedication of the teachers; TSC must be aware of this."