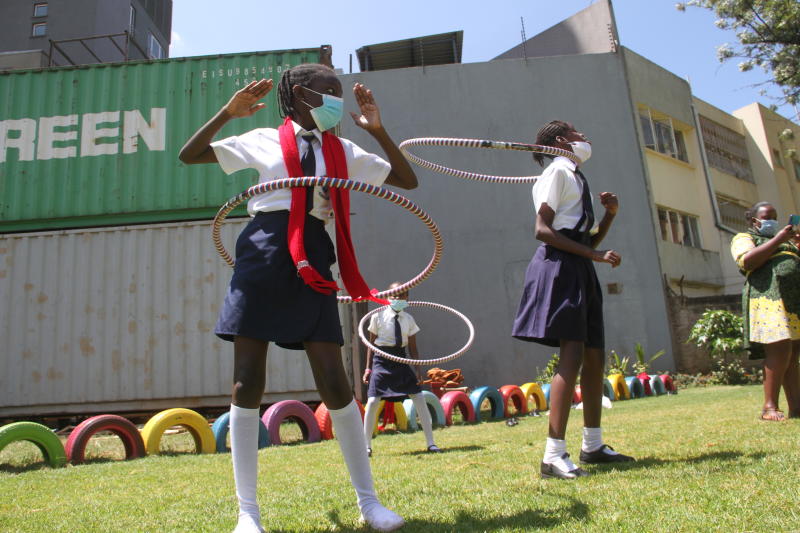 The government is staring at a huge funding headache ahead of schools opening as head teachers also push for additional money to plug huge deficits occasioned by Covid-19.
It is now emerging that with nearly 10 million children going to school in January, new hand-washing points must be acquired to accommodate all learners.
School heads also said they will require money to buy masks for learners who will report to schools in January without any.
They said purchase and refilling of hand sanitisers will also require more money as the number of learners will increase.
Innovating ways to immediately create additional spaces for learners within schools will also require money as the government continues to plan for the bigger infrastructure project.
Read More
These details emerged just a week after Education Cabinet Secretary George Magoha released a detailed school calendar that will see all learners resume classes on January 4.
With the Sh14 billion released last month already stretched, primary and secondary school heads said funding will remain the biggest concern when schools open next year.
The Sunday Standard has established that school heads now want the annual government funding per child increased to Sh30,000 from Sh22,244.
The additional Sh8,000, the heads say, will cater for Covid-19 mitigation measures, including purchase of sanitisers, additional emergency masks for heads and teachers and installation of additional hand-washing points.
The government pays Sh22,244 towards fees per child in secondary school per year, with parents in day schools required to pay lunch fees of about Sh9,374.
Boarding schools charge between Sh40,000 and Sh53,000 per child per year.
If adopted, the additional funding will also nearly cater for all meal costs for children in day secondary schools.
"There have been proposals from head teachers that the capitation be increased but this has not been firmed up yet," said Kahi Indimuli, the chair of Kenya Secondary School Heads Association (Kessha).
Parents also weighed in, calling on the government to review the capitation.
Nicholas Maiyo, the chair of National Parents Association, wants Sh6,000 additional funding from the government.
He said Sh5,000 more to be sent to all secondary schoolchildren and another Sh1,000 to primary school learners.
This will bring to Sh27,244 the amount per secondary school student per year.
"This will also include parents' stimulus package as many of us have also suffered income drawbacks under corona," Maiyo said.
But he appealed to school heads to allow a two-month grace period for parents to clear school fee arrears.
Zack Kinuthia, the Education Chief Administrative Secretary said fee will be calibrated to match weeks learnt.
"No parent should be worried at all because we will not burden them. What we need a serious engagement on is what will happen on State funding," Kinuthia said.
Infrastructure plan
Wilson Sossion, the secretary general of Kenya National Union of Teachers (Knut) said funding of schools will require deep thought.
"The elephant in the room is funding. Who will buy sanitisers, who will provide masks and how will social distancing be achieved?" Sossion posed.
On additional classrooms, the government is rolling out an infrastructure plan in public schools to beat the social distance problem.
Magoha said an Sh8.2 billion project is running to construct additional facilities in select primary schools and also expand classrooms and laboratories in targeted secondary institutions across the country.
"This will also ease pressure on the demand for Form One places in already existing national schools and satellite extra-county schools admitting students across the 47 counties," he said.
Kenya Union of Post Primary Education Teachers (Kuppet) Secretary General Akello Misori said schools must be adequately funded to mitigate effects of Covid-19.
"It goes without saying that capitation in schools has been inadequate and with the pandemic more resources will be needed when schools open," said Misori.
In an earlier interview, Indimuli said funding will be a major issue when schools open and pleaded with the government to also come up with a financing model that will suit overlapping scenarios.
"Next year will see academic calendars stretched across the year. It would be prudent if they explained to teachers which funding model will be used to avoid a crisis," he said.
Under the new school calendar, term two and three sessions that have been lost this year will be covered by June net year.
He said the Sh14 billion released to schools was not adequate, prompting heads to cut corners to plug deficits.
In the money sent to schools, each child was allocated Sh3,726 instead of Sh4,426.
Indimuli said some Sh700 capitation money was retained at the ministry to pay teachers employed by the boards.
He said another Sh500 was hived off capitation fees to cater for each student's Covid-19 mitigation measures.
After the deductions, Indimuli said schools were eft with only Sh3,226 to cater for the rest of vote heads such as electricity, water and pending bills.