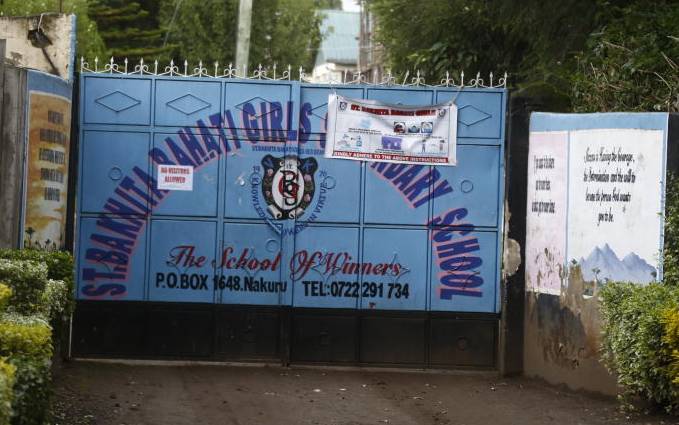 Nine schools in Nakuru have reported cases of coronavirus with a total of 114 students and seven teachers testing positive.
Department of Health in collaboration with the Ministry of Education have turned the nine schools as isolation centres and restricted movement in and out of the institutions.
County Chief Officer of Health Samuel King'ori said 212 students who were contact persons to the sick have been quarantined.
A team of surveillance officers has been dispatched to the schools to monitor the state of the learners, who are reported to be in a stable condition where the majority are asymptomatic.
Read More
"Though a number of students have tested positive for the virus, they are stable and undergoing treatment at their respective schools," said Mr King'ori.
He said the 212 contact persons will be tested for Covid-19 after 14 days.
"Students in boarding schools will remain in school, while those in day schools have been sent for home based care," he said.
King'ori added that to boost the war against the pandemic, sensitisation program targeting teachers, non-teaching staff and learners is ongoing in both public and private schools in the county.
The initiative is to be conducted in all 1,137 [public and private] primary and 520 secondary schools including higher learning institutions.
"Learners are trained on the importance of hand-washing and wearing face masks. They are also encouraged to keep social distancing while in schools to break the transmission chain," said the health official.
Kenya National Union of Teachers (KNUT) Secretary-General Wilson Sossion asked the government to guarantee the implementation of public health set measures in case of infections.
Preparations
In a phone interview with The Standard, Mr Sossion said each learning institution should be assigned a minimum of three nurses, equipped with thermo-guns and learners supplied with face-masks.
"All indicators are clear that health measures have not been implemented in schools at all, a reason why infections are on the rise," he said.
According to the union, at least 20 teachers have succumbed to the virus, with several hospitalised.
Sossion has however maintained that schools should not be closed as they are safer for children than staying at home.
"We cannot close schools forever, the government should revamp health measures to guarantee the safety of teachers and students," he said.
The infection in schools within Nakuru is reported at a time the county has reported a surge of patients in need of specialised care and supplementary oxygen.
County Health Executive Dr Kariuki Gichuki said a number of ICU and ventilators are almost full to capacity due to a surge in the number of patients in a critical state.
"We have 38 critically ill patients in hospitals, 6 in ICU and 17 on supplementary oxygen," he said.
At least 231 health workers and 145 inmates at the Nakuru GK Male Prisons and Naivasha Maximum Prisons have contracted the virus.
The attack rate of the virus in Nakuru stands at 169.2 out of 100,000 populations, with case fatality being 2.2 per cent.
Since the pandemic was reported in the country, more than 3,600 cases have tested positive for the virus with 81 deaths.
At least 1,780 patients have recovered from the virus, among them, 403 from hospital admissions and 1,377 in home based care.
Whereas the county ICU and isolation wards are reported to be almost full to capacity, the alarm has been raised over the referral of Covid-19 patients from neighbouring counties.
The referrals are reported at the Rift Valley Provincial General Hospital (PGH).
The facility serves patients in Nakuru and those from Bomet, Samburu, Laikipia, Nyandarua, Baringo, Narok and Kericho counties.