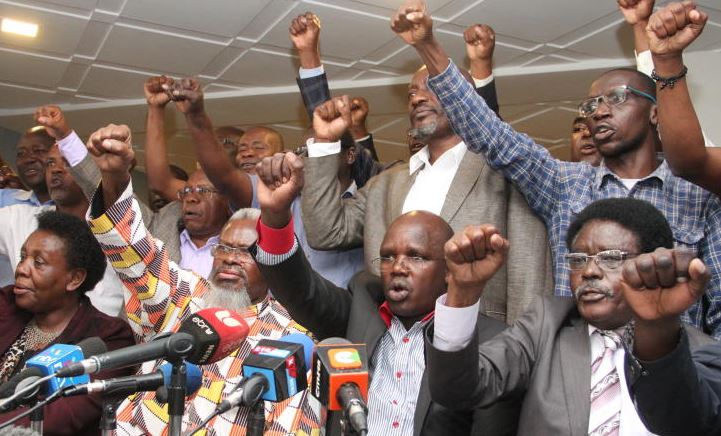 Fresh storm is brewing between universities teaching staff and the Salaries and Remuneration Commission (SRC) over an ongoing job evaluation.
The University Academic Staff Union (Uasu-above) has raised concerns over the evaluation tool being used by the SRC, saying it only recognises staff in management positions as opposed to the teaching staff.
In a letter to SRC Chief Executive Officer Anne Gitau, Uasu says the work done by teaching staff will not be duly recognised and rewarded under the evaluation tool being used.
"Under the template, the categorisation of responsibilities is aligned to mainly assess managerial responsibility and financial control, which is not in tandem with the mission of public universities of creating and imparting knowledge, undertaking research and innovation," said Uasu Secretary General Constantine Wasonga.
In the letter dated October 19, Wasonga says the evaluation template being used for academic staff will effectively describe university administrative positions such as heads of departments, deans and directors.
"… which are less important to the mission of public universities compared to academic university positions such as assistant lecturer, lecturer, senior lecturer, associate professor and professor," said Wasonga.
He said in the past, the SRC has used the Paterson Model but with the current circular, the methodology remains unclear.
In response to Uasu, Gitau says the SRC conducts job evaluation using analytical and point-factor-based job evaluation system, which evaluates jobs using its compensable factors.
"The SRC will deploy PricewaterhouseCoopers' (PwC) REMeasure Job Evaluation system, which was customised and used to evaluate jobs in public universities in 2015-2016 to evaluate jobs in the public universities for the 2021/22-2024/25 remuneration review cycle," he said.
In her letter dated October 29, Gitau told Uasu that the job description template already released is generic and can be customised.
"The template can be customised by public sector institutions' job descriptions analysis committees during development of job descriptions for as long as generally accepted standards are adhered to," she said.
Uasu however argues that the teaching staff may not be well recognised and the administrative positions such as those of chairmen of departments, deans or directors were already discarded in deference to academic positions during the 2017-2021 job evaluation review cycle.
The development may set stage for rejection of evaluation results that may further frustrate talks of new a Collective Bargaining Agreement (CBA) by universities and unions.
It is understood that universities and unions are set to start negotiations, but advise from SRC on job evaluations is key.
Vice chancellors had already written to the SRC in May, requesting to know the fate of new job evaluation.
In a letter to SRC Chairperson Lyn Mengich, vice chancellors said the matter has been pending for a long time.
"We would like to know the way forward in the matter since it has been outstanding for sometime," reads a letter by the Vice Chancellors Committee.
Top Uasu officials yesterday expressed fears that the job evaluation may once again disenfranchise the teaching staff as was the case in previous evaluation exercise.
In the previous grading rejected by unions, the academic staff said the system failed to recognise their special role, banding them lower than junior administrative colleagues.
Uasu also argued that the SRC, in previous grading, categorised some administrative positions according to the size or establishment of universities.
Knowledge flows
"If our nations highest level of human resource, from whom knowledge flows to the rest of the citizens, would be this lowly regarded it would be a sad commentary indeed of where our beloved country places the pinnacle of knowledge," said Wasonga in reaction to previous evaluation results.
For instance, vice chancellors of older institutions – University of Nairobi, Egerton University, Moi University, Kenyatta University, Maseno University and JKUAT – were placed at higher job groups (E5) compared to those in the newer or smaller universities who were placed in group E4.
Deputy vice chancellors (DVCs) of older universities were placed in E4, while their counterparts in newer institutions at E3.
Overall, professors fell under grade E2, associate professors (E1), senior lecturers (D4), lecturers (D2) and assistant lecturers (D1).
The evaluation results shall inform salary bands of the academic staff during the next phase of CBA talks.