Schools yet to receive money for printing exams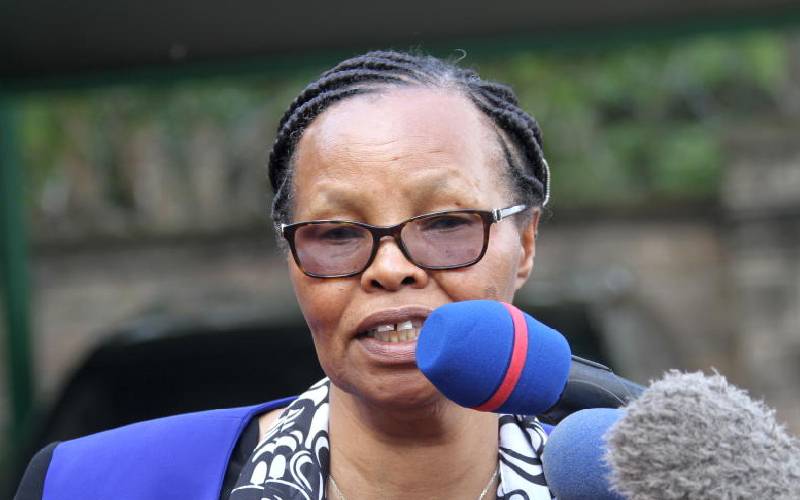 Confusion has rocked schools assessments set to start today as headteachers say they have not received money to facilitate printing of the tests.
The heads said they are unable to print the assessment tools a day earlier as was directed by the Kenya National Examinations Council (KNEC).
KNEC acting Chief Executive Officer Mercy Karogo (pictured) had directed all school heads to download the assessment tools from its website and make them ready a day before start of the tests.
In a document titled 'guidelines for the conduct of school based learning assessments', KNEC directed that the assessment tools such as timetables, advance instructions, scoring guides and learners questions were to be ready ahead of the start of the tests.
KNEC instructed that these test materials be stored safely in the headteachers' offices and only produced when needed.
Headteachers were also instructed to ensure the stored assessment tools are only retrieved and issued to the teachers administering the tests based on the timetable.
But even after the tests were postponed from Monday to Wednesday October 21, school heads said they were yet to receive money to prepare for them.
"As we speak we are still waiting for any official communication with regards to the assessments because we have not received any money from Knec," said Nicholas Gathemia, Kenya Primary School Heads Association (Kepsha) national chairman.
Gathemia, however, said school administrations are ready to cooperate as long as they are facilitated to administer the tests.
The assessments for Grade Four and Standard Eight pupils is part of the Sh1.5 billion Global Partnership for Education's boost towards the government's schools reopening preparations.
The Teachers Service Commission and Kenya Institute of Curriculum Development are also set to benefit from the grant, which the World Bank will supervise.
Baseline for interventions
It was not immediately clear how much each school was to receive towards the administration of the tests, which, Knec says, seek to provide a baseline on which interventions towards improved learning outcomes during the post Covid-19 pandemic can be hinged.
The tests were to be administered from October 19 to 23, but were delayed due to Mashujaa Day celebrations, which fell on the second day of the tests.
Some school heads said they had used school resources to purchase printing papers, which they will reimburse once Knec sends the cash.
KNEC had directed school heads to ensure they have the necessary infrastructure to download and print the assessment material and also facilitate uploading of the scores.