Varsity don demands Sh33m for unfair sack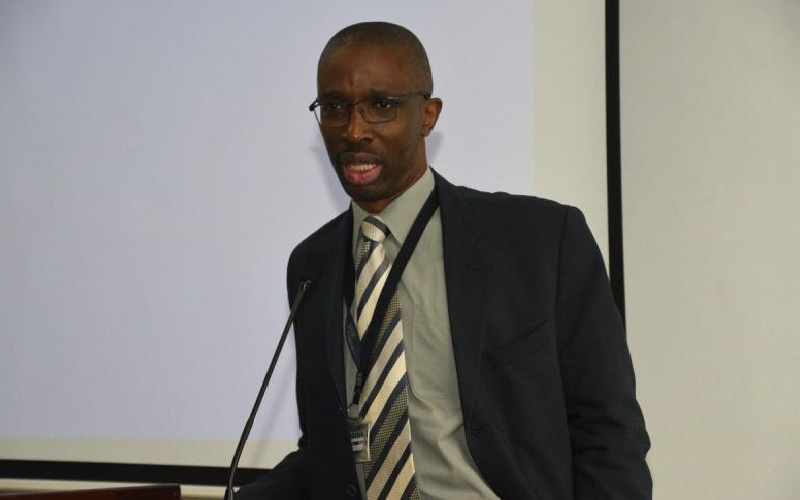 The controversy surrounding demotion of a top University of Nairobi don took a new twist as he moved to court to challenge the disciplinary process by the council.
Madara Ogot (pictured), former deputy vice chancellor for Research, Innovation and Enterprise, has accused the institution of victimising him without due process.
In his suit challenging his demotion, Ogot claimed he acted on the advice of the University Council to stop the installation of Stephen Kiama as vice-chancellor. This is after Education Cabinet Secretary George Magoha quashed the appointment of Kiama as VC and appointed Isaac Mbeche as acting boss.
"I only relied on instructions from then acting VC Isaac Mbeche and resolution of the University Executive Board to issue the memo that stopped the installation. The decision against Prof Kiama was taken collectively yet I am the only one who was unfairly punished," said Ogot. And now, Ogot is seeking over Sh33 million as compensation for unfair termination of his contract as DVC, arguing that he was sacked without a fair trial by the university disciplinary council.
He is seeking to be reinstated to his former position or in the alternative be paid Sh33,128,284 as salary, house, responsibility, entertainment, car and leave allowances for the four-year duration of his contract that was to end on October 2, 2024. Ogot was thrown into the drama of Kiama's appointment as VC in January before Magoha revoked the same.
Through a memo dated January 18, the DVC also informed the university community that Magoha had revoked Kiama's appointment and appointed Mbeche as VC in an acting capacity until the process of recruiting a substantive VC was completed.
However, when the dispute was resolved through a court order and Kiama installed as the VC, the University Council resolved to sack Ogot and appointed Horace Ochanda to replace him.
"The disciplinary proceedings were flawed from the very beginning as I was being subjected to punishment for acting as per instructions of the acting VC and the resolution of the University Executive Board," said Ogot.
According to the don, he was issued with a notice to show cause why disciplinary action should not be taken against him on alleged insubordination on June 19 before he was invited for the disciplinary hearing on July 24.
Although the disciplinary council had given him a right of appeal within 14 days, Ogot argued that the University Council is the highest decision making organ that made the decision to sack him, therefore his appeal to them will be a waste of time.
"The council even declined to provide me with the minutes and resolutions of the University Executive Board meeting, which would have demonstrated that I was acting under their instructions to issue the memo of their decision to cancel the installation," he said.