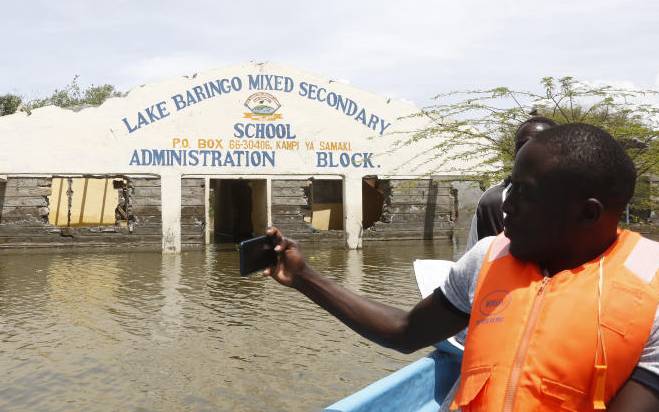 At least 39 schools in Baringo County are yet to reopen as they have been marooned following the swelling of lakes Baringo and Bogoria.
As a result, stranded learners have now been transferred to nearest schools that were spared the flooding, creating a different problem; that of learners crowding at a time social distancing is emphasized by the Ministry of Health.
Twelve primary, five secondary and 22 Early Childhood institutions have been submerged.
Read More
Plans by national and county governments to rehabilitate the institutions have hit a snag, as there is no end in sight to the lakes' swelling.
Rehabilitation plan
Last August, State officials expressed optimism that by the time schools reopened the affected institutions would have been rehabilitated.
On Tuesday, Education PS Belio Kipsang said it was impossible to rehabilitate the schools since there was no sign the water would recede.
"We've decided to look into the dynamics of how we place our children so that we address proximity for day scholars and capacity for boarders, as well as ensure their comfort, progression and settling is the primary driver of the decision to be made," he said.
The schools affected include Ngambo Secondary and Primary, Kiserian Primary, Nosukro Primary, Lake Baringo Secondary and Kiserian Secondary.
Kampi Samaki Primary School now hosts Lake Baringo Secondary students, while Meisori Secondary hosts Salabani Secondary learners. Lake Bogoria Girls is hosting Ngambo Secondary students.
On Tuesday, it was reported that 305 learners in the affected institutions reported back to school.
Grade 4 recorded the highest number of pupils at 161, Standard Eight at 71 while Form Four had 73.
Dr Kipsang, while on a tour to the area, said the 305 pupils who reported constituted only 10 per cent of the learners expected back in school.
He attributed the low numbers to flooding and resultant displacement.
A visit to various schools hosting displaced learners indicated that the available facilities were inadequate. Some classes, as is the case in Kampi Samaki Primary, had been turned made dormitories.
The PS revealed that they are trying to marshal other plans to ensure learners are comfortable.
Belio said although new sites for construction of schools had been identified, the Ministry of Education will have to carry out due diligence first to avert cases of individuals claiming the land after investing.
"The most important thing today is that our children are in schools learning as they prepare for exams come March. Therefore, there will be a mismatch between putting up a school and have learners waiting. We will rather have them somewhere learning," he said.
The PS urged parents to postpone plans to initiate their children and allow them invest in their future.
Last month, the Ilchamus conducted a ceremony that marked the beginning of their initiation ceremony. More than 5,000 youth underwent the rite of passage.
Baringo County Kenya Union of Post-Primary Education Teachers Executive Secretary Christopher Kimosop said they were happy the government had rolled out the reopening of schools.
"We urge parents who had not taken children for initiation to wait and allow them to go back to school," he said.