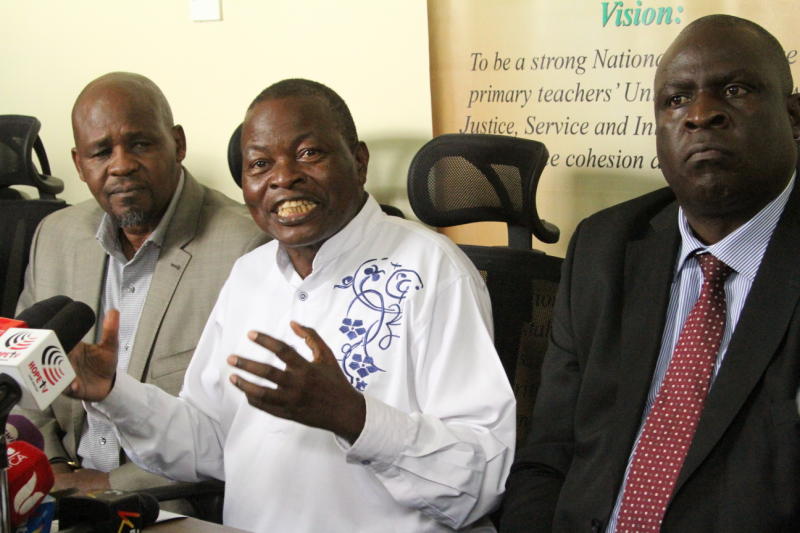 Kenya Union of Post Primary Education Teachers (KUPPET) has directed the government to ensure all students receive three re-usable masks as schools re-open in October.

"We encourage the government to ensure that every student has a mask that will be bought by the government of Kenya," said KUPPET chairman Omboko Milemba.

With approximately 12 million students in primary and secondary schools, Milemba projects the cost of getting three masks for every student to about Sh1 billion.

With overflowing optimism and excitement coming from education stakeholders concerning the school reopening, Milemba emphasizes on the need to have clean water for washing hands and sanitizers in schools to ensure that all the necessary protocols are observed in school.

The KUPPET chairman expressed his sanguinity saying it won't be hard but will just need installation of water tanks in schools.

In a more ambitious statement, KUPPET has asked the Ministry of Education to ensure that students who were studying in private schools that closed down due to the economic constraints caused by Covid-19 to be identified and taken to public schools so that they don't continue missing out when schools open.

"The government should take action to identify which private schools closed down and have those students transferred to public schools which are close to those private schools," said the convicted chair of KUPPET.

Milemba has also emphasized on the need for schools to be opened with caution starting with candidates and those in class seven followed by form fours and form threes later and lastly the rest of the student population.

Milemba says that money should be sent to all public schools to ensure they operate effectively even as parents find ways to raise the school fees which may not be acquired immediately.

"The Ministry of Education and Cabinet Secretary of Education should request funds from Treasury prior to the opening of schools. The money should be disbursed to all public schools to allow the institutions to able to meet their needs after six months with no work," said Milemba.

KUPPET also addressed the contentious issues surrounding school calendar, syllabus coverage and curriculum which has left many Kenyans wondering if the 6-month break will change the entire term dates of schools. Milemba assured Kenyans that the issues will be streamlined by the teachers, Teachers Service Commission and the Ministry of Education.

"Have faith in our teachers. They will work on the curriculum, they will teach the curriculum in this term so that the exam can be done early," said Milemba.