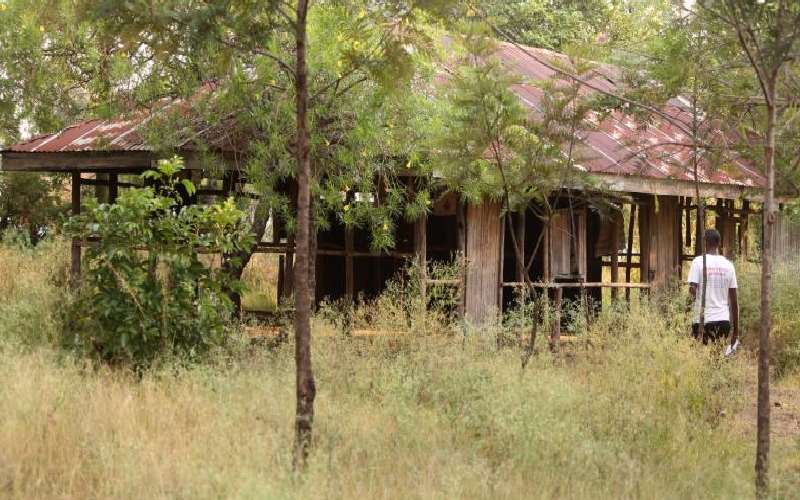 As the government gears up to reopen schools and colleges after six months closure, the sorry state of some institutions puts to question the level of preparedness.
A spot check in some schools in Western found they had overgrown grass and dilapidated structures unfit for occupation by learners.
Headteachers interviewed said they are working to put things in order before students report.
The government has issued a raft of guidelines to be observed once schools reopen.
Read More
New measures require that classrooms should have appropriate physical distance between learners to curb the spread of Covid-19.
Some schools are renovating structures while the construction of additional classrooms is ongoing to ensure the social distance between learners.
The 450 students of Shinamwenyuli Secondary School in Butere sub-county will have to share the available nine classrooms when schools reopen.
The school principal Sammy Ogalla said another classroom being put up is 80 per cent complete.
"Our classrooms are few, we require at least 10 more classrooms to ensure the 1.5 metres spacing is achieved before the students report back. The available classrooms can each accommodate a paltry 20 learners if we adhere to the sitting arrangement recommended by the Ministry of Education, this means we may require 14 more units to meet the directive," said Mr Ogalla.
At Namawanga High School there was overgrown grass and bushy fence.
So far, most schools have acquired water tanks which shall be installed as hand washing points.
Seven schools in Butere have benefitted from eight classrooms funded by Butere Constituency Development Fund.
Building dormitory
Koyonzo High School in Matungu, Kakamega County, has started construction of an additional classroom and a dormitory.
The school Principal Boaz Adit said they are facing budgetary constraints in putting in place some of the requirements by the government.
"We are setting up the two structures to ease congestion and we hope the government will release more funding to help us construct more before January," said Mr Adit.
The school has a population of 950 students.
At Mumias Muslim Primary School there was no activity.
At Ebubole Primary School in Mumias East, the headteacher Josphat Kweyu told The Standard that they are cleaning up the school ahead of reopening.
"We have no funds to keep this compound clean but we will work to have the overgrown grass cut and school clean before we reopen as communicated by the Ministry of Education," said Mr Kweyu.
And in Nakuru, a number of public primary and secondary schools have begun putting in place Ministry of Education guidelines to allow the resumption of learning.
At Nakuru Girls High School construction of more classrooms is ongoing.
The school principal Rose Menjo said several structures have been converted into classrooms to ensure social distancing of learners.
Each classroom will accommodate about 15 girls.
"Spacing inside and outside the school is not a problem because we have more structures and safety of learners is guaranteed," said Ms Menjo.
Nakuru Boys High School headteacher Mike Yator said everything is in place and they are set for reopening.
"If we are told to open tomorrow, we shall comply. We are waiting for government officials to come and assess the preparedness," Mr. Yator said. The school has a total population of 1,280 boys, including 276 candidates.
But a section of private school owners faulted the Ministry guidelines on reopening schools saying they was need for further consultation.
Miriam Kinyua, the proprietor of Kagaki School in Rongai Sub County, said it is hard to ensure social distancing among learners in lower primary.
St Peters Elite School director Peter Macharia noted that although the school has adequate space and compound, most schools will not be able to meet social distancing rule due to limited space.
Mr Macharia said it is also hard to ensure social distance among learners during break time. The school, with day and boarding section, has a population of 1,400 pupils.
"Congestion is the main issue facing schools, and to avoid infections, the government should support school management in setting up more structures," he said.
A spot check of schools in Meru revealed that water points had only been installed at the main gates. There was no marking to ensure social distancing of learners.
At Meru Primary School, the taps are dry after Meru Water and Sewerage Services disconnected supply over unpaid bill.
The public school which has about 400 students has received one water storage tank from the Imenti North Constituency Development Fund. The headteacher Judith Ntumbari said they can only accommodate Standard Seven and Eight students to allow social distance due to limited facilities.
"We were expecting to be given desks but we have not gotten any so social distancing will not be ok except for Class Seven and Eight who use lockers. We need at least 200 new desks. We need funds to ensure everything is ready but at the moment no money has been disbursed," said Mrs Ntumbari.
Meru branch Kenya National Union of Teachers Executive Secretary Caxton Miungi has expressed concern over the huge burden on the shoulders of parents in preparedness to reopen schools.
Meanwhile, at Nyambare Mixed Secondary School in Usonga, Siaya County, the deputy headteacher George Onyango expressed fears of congestion as the classrooms are few.
He said despite having access to clean water and toilets, ensuring social distance for more than 600 students will be a challenge.
At Goro and Dibuoro Primary Schools in Usonga, the management has called for financial support after River Nzoia burst its banks and destroyed most classrooms.
Goro Primary School headteacher Wilson Atinga noted that two classrooms were washed away.
"The nursery classroom is down. We have no access to clean water and social distancing will be impossible considering the high number of students. We don't have an administration block for teachers," Mr Atinga said.
In Kisumu County, Paw Teng Primary School head teacher Paul Aluoch said they will meet with the Board of Management and stakeholders to agree how to complete the construction of additional classrooms.
"We have more than 700 students but only two complete permanent classrooms. For us to reopen, the government has to chip in by providing tents to accommodate students," he said.
Nyaksure Primary School in Nyakach, Burkamwana Primary School and Nyalunya Primary Schools in Kisumu lack water and classrooms are in deplorable condition.
At Kisii High School, Old Boys Association members came together to put up a four-storey building that will have 25 new classrooms at a cost of Sh30 million.
[Reports by Brian Kisanji John Shilitsa, Mercy Kahenda, Olivia Murithi Washington Onyango, Harold Odhiambo and Edwin Nyarangi]