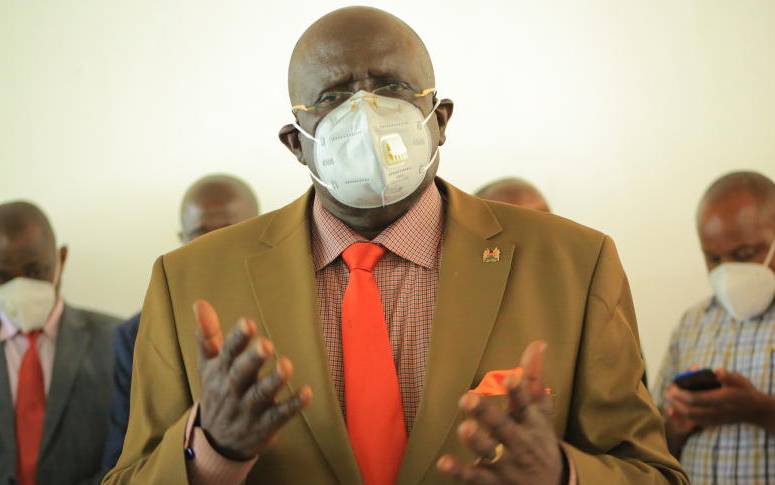 Education Cabinet Secretary Prof George Magoha has revealed the intention to initiate phased reopening of schools beginning November 2020 to allow Form Four and Class Eight learners to sit for examinations.
The CS said that the Ministry of Education would commence training targeting schools on Covid-19 preparedness beginning Monday, September 7, to enable the sector resume operations.
He, however, lauded the progress made by some learning institutions saying that a good number of them were on course with the preparations.
"About 50 per cent of the institutions are on a trajectory towards reopening. What has annoyed me is that this is the sixth week, yet we have to keep on saying the same things over and over. Once we are ready we will allow the students to sit their exams," he said.
But according to Magoha, who was speaking during a visit to Meru National Polytechnic; most TVET institutions are yet to conform to the preparation measures for obeying the health safety protocols.
Read More
"Institutions must ensure no one enters any facility without having sanitised. This is why sufficient water points have to be put up. There should be someone to ensure social distance is observed in the dining halls and if that is not possible, the table arrangement must be changed," he said.
He recently pointed out that just a handful of tertiary learning institutions in the Rift Valley region had complied with the preparations.
"A sizable number of institutions are not ready. The only two that are absolutely ready are somewhere in the rift valley but we want them all to be ready. I hope the other principals will follow the recommendations I have given here," he said.
The slow pace of preparations for the resumption of learning at the institutions could jeopardise the initial plans to reopen tertiary institutions by September.
Magoha explained the delay in the reopening saying Kenya's infection rate was 5 per cent, which required patience according to the World Health Organisation (WHO) guidelines.
"WHO says when you hit five per cent you wait for two weeks. Why are you in a hurry? By the way, I have lost a relative to Covid-19. This is a serious issue let us not take it as a joke. Would you rather risk the children going to school before we are ready?" he posed.
He insisted that the technical institutions had to initiate physical learning process because most of their curricula involve face-to-face tutoring.
"As much as we encourage virtual learning, it is of paramount importance in technical institutions to deliver the content practically to skill them unlike in universities."
The government wants learning institutions to set up adequate water points for handwash, sanitiser booths, first aid kits and thermometers to enable them to deal with any suspected cases.