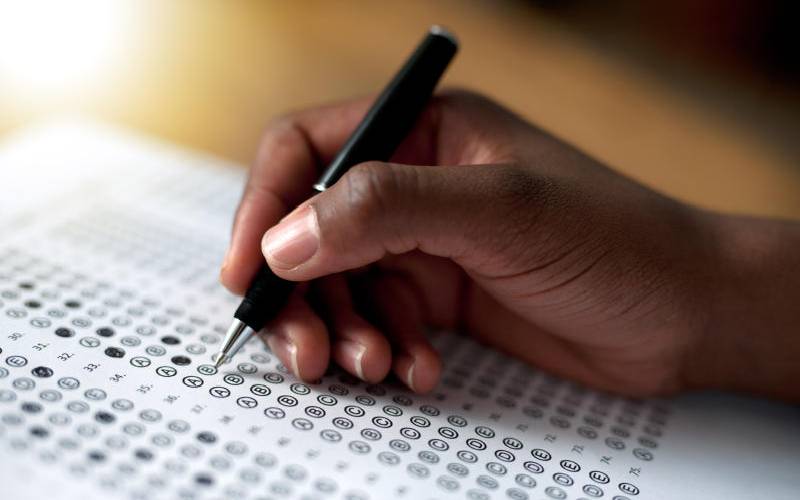 More voices are pushing for early reopening of schools through accelerated community-based teaching and learning.
The Teachers Service Commission (TSC) is already fine-tuning guidelines that will see all teachers assigned not more than 15 learners within their locality under the community-based teaching and learning model.
Now a report published by Riara University proposes that the community-based teaching and learning model be fine-tuned to ensure candidates have a shorter period to prepare for the Kenya Certificate of Primary Education (KCPE) and the Kenya Certificate of Secondary Education (KCSE) examinations.
The report recommends that the Ministry of Education reviews the curriculum, condenses it and applies an accelerated learning approach where only essential or examinable subjects will be taught through community learning.
Read More
"Thus it can be possible for KCPE/KCSE candidates to sit examinations by March of 2021," states the report dubbed Community Based Teaching: A solution to managing learning during Covid-19.
Recovering lost time
According to the report, it is possible for learners to proceed to the next class but with some of the units missed out spread across the grades within the academic calendar.
In addition to examination subjects, the university proposes a model where children in pre-primary and Grades 1 to 3 are taught storytelling, modeling, art & craft, music, public speaking, wellness and health/Covid-19, sign language and culture and society.
The model proposes that learners between Grade 4 and Form Four be taught entrepreneurship, waste management, environmental conservation, Covid-19 and its impact, economic and financial literacy, culture and society.
These groups, the report proposes, should also be taught ICT and society, drug and substance abuse, agribusiness and general knowledge.
To achieve this, the report proposes active learning approaches such as problem-based, research-based, flipped and collaborative learning to link curriculum content to real world experience.
In its draft guidelines for community-based learning programme, the Teachers Service Commission (TSC) has proposed that emphasis be placed on modern teaching and learning practices such as group work, peer feedback and blended or 'flipped' learning.
The TSC guidelines place emphasis on the use of peer-to-peer learning, proposing that teachers encourage grading among peers.
Education Cabinet Secretary Prof George Magoha has ruled out any national examinations this year, announcing that the 2020 Standard Eight and Form Four candidates will sit the national examinations in 2021.
However, the report authored by Julius Otundo, a senior lecturer and director at Riara Institute, argues that the planned community-based learning can be modeled to facilitate the examinations.
"Most of the candidates, especially Form Four students, are in panic and if made to wait for another year to sit exams may attract a myriad of challenges like school dropouts, truancy, student unrest, early marriages/pregnancies, drug and substance abuse and mental ill-health among others," argues Dr Otundo in the report.
The report further proposes that to supplement efforts by teachers, university and colleges' graduates, social workers and counseling psychologists be deployed to support community-based learning.
It proposes involvement of more volunteers from faith-based organisations and community health workers.
The report comes amid renewed calls among education stakeholders for a clearer road-map by the Education ministry on resumption of learning and growing concerns about mixed signals sent out by Magoha on opening of schools.
Speaking in Nakuru, Magoha said schools might be opened before end of this year if virus infections go down.
This, after announcing that this year's school calendar year will be considered lost due to Covid-19 ?restrictions.
"I want to state here that on daily basis we get reports and the position of opening schools in January was not cast in concrete. Should the position change at any time, nothing stops us from re-looking the timetable and coming backwards," said Magoha.
Parents who spoke to The Standard yesterday said they were yet to get a comprehensive school opening road-map from the Education ministry.
Primary and secondary school head teachers said the government had not released any money to enable them prepare for reopening of schools.
"They will require adequate space for social dancing, hand washing points and even thermo-guns, but we do not have money. Schools are shut and no preparations are underway," said one school principal.
Former TSC Commissioner Cleopas Tirop, yesterday recommended what he described as a "social solution" to the Covid-19 crisis facing schools.
"The Education ministry has over-prescribed a medical solution to the crisis. But education is a social issue. They must do something to facilitate learning because we shall live with the virus for at least two years," said Tirop.
More voices warned that keeping students at home was counterproductive.
"The impact of keeping children at home for an academic year might be huge," said Bishop David Oginde of Christ is the Answer Ministries.
"Many pundits have made some very plausible proposals that it may be possible to have KCPE, KCSE candidates resume earlier and take their examinations this year or early next year," he said.
September second term
Other education experts argue that with the first term of the school calendar already covered, the second term can start in September and run to December for all examination candidates.
They propose that third term be pushed to next year between January and March after which the national examinations can be administered in April.
During this period, the rest of the learners can start their second term and proceed for third term between April and June after which a new academic calendar for all can start in July next year.
Another option that has been floated has been to move all learners to the next class and instruct teachers to cover lost time during the subsequent years.
Another proposal is to review school-based examinations to have past grades used to allow transition to next class.